The worst thing about watching the Chargers on Sunday is that they weren't even fun to watch. This isn't a team you want to root for. They are soft and appear to still be stupid.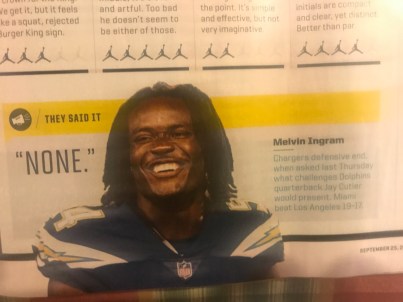 As I said before the Miami game, it's not talking shit if you can back it up. But we didn't back it up. You can wonder at how other teams (and quarterbacks) always make the plays that they need in crunch time against the Bolts. But all you need to do, as the Trey Wingo video suggsts, is wait for the Chargers to unravel. Hayward, one week after dropping a pick six, had the ball snatched away from him. Ingram was fine, but where were the meaningful stops?
The defense was annihilated on the ground all day. The penalty on Bosa was questionable. It made Sports Illustrated, as did Ingram's quote. As you can see, I'm letting subscription lapse after all these years. Good teams tend to get the calls. This team has zero poise. Tre Boston, who decided to join the Chargers after having some out of body experience in a gas station in the offseason, also had a costly penalty. The defense forced Miami to attempt a long field on their final scoring drive, but you know how that turned out.
The offensive line continues to be awful. Barksdale, who is the worst of all, goes down and Hairston comes in. He's now out for the year. After seeing a little of what KC did to the Eagles, I can't imagine how Rivers won't be shellacked. The run game is nonexistent. Gordon was limited in Thursday's practice but hasn't been good thus far. There aren't many holes and like Rivers he's often hit the second he gets the ball. But he hasn't broken the tackles he needs to. Oliver looks slow as shit. His long run could have been far more meaningful if it didn't appear he was running in quicksand. Seriously, remember his run against the Jets in 2014? I know he's coming off a season-ending injury but that looked bad.
Mike McCoy is talking about scoring every time they get the ball in Denver. He was still a shitty coach, but is Lynn any better? I thought so but the game management and discipline on the field is seriously lacking. Joey Bosa said that there was a different feel after the opening loss. Did you see any difference? I sure as shit didn't. Clearly, Wisenhunt isn't doing his part. His offense has only worked for the Chargers when Mathews was running out of his mind at the end of 2013. But that 3rd down before Koo's first missed field goal was one of the worst things I have ever seen. Was that Wisenhunt trying to be too cute on a 3rd and 1? Was it the fact that we can't block for shit? How is it that Rivers is still spazzing out in these situations? I asked that question after the Denver game and wondered if Pulley was a problem. But Nick Hardwick and Phil botched the snap on Halloween night in KC that one time as well. Plus, Pulley is hurt anyway so I'm sure the next man will be just great.
Anthony Lynn said playing KC is just what this team needs. Really? For all of Reid's clock management issues, he's taken the chains of Alex Smith this season. Smith grew up a San Diego fan so I'm sure the city will be all to happy to see him light up his childhood team this week. Koo is off to the worst debut for a kicker since Wade Richey. We at least brought in Steve Christie to stop the bleeding that season. No one knows better than a Charger fan that once a kicker chokes like that there is no coming back. Yes, it's nice that Nick Folk and Blair Walsh seemed to rebound with new teams. But not even bringing in another kicker shows what in terms of accountability?
There is so much wrong right now beyond the kicker. The Chargers didn't deserve to win either of their first two games. If they had, it would have been just like the 2011 season when they jumped out to a decent record and looked like shit. I still remember Eric Weddle talking about how they would clean things up. Yeah, they didn't.
I'm hard-pressed to imagine even going to the game against the Giants at this point. Then again, it might be one of the few we could win. I'll be watching on Sunday, but not believing one bit.
Happy Rosh Hashanah however.
JIC,
RLW