Contributor: Nolan Howell
Leo Santa Cruz and Abner Mares took to the StubHub Center in Carson, California intent on setting a rematch of their 2015 fight where Santa Cruz took a majority decision. Standing in front of them were two tough challengers, a game brawler in Chris Avalos for Santa Cruz and a younger prospect in Andres Gutierrez for Mares.
WBA Super World Featherweight Champion Leo Santa Cruz found some trouble early against Chris Avalos as Avalos was active inside against the lanky and looping punches of Santa Cruz, but a right hook stiffened Avalos a bit at the end of the first round. Santa Cruz found his range in the second as he worked more behind his jab and unloaded after Avalos moved back out of his combos. The jab started setting up a laser of a right cross from the champion and it followed in the third by keeping Avalos backing up towards the ropes as he continued to find his range.
Avalos came out aggressive in the fourth round and had perhaps his best offense of the fight, but Santa Cruz exploited the lack of defense and unloaded with the jab 
and right cross combo to set up windmill hooks that left Avalos stumbling around the ring. While Santa Cruz dropped his volume a bit compared to usual outings, he was still susceptible to being drawn into a brawl and taking more punches than necessary. Avalos was too worn and torn after the early onslaught to put together anything that could trouble Santa Cruz and the end came in the eighth round after a series of jab and cross combos prompted the referee to stop the fight due to accumulation throughout the fight.
WBA World Featherweight Champion Abner Mares looked to reclaim his old form against the up-and-coming Andres Gutierrez. Mares came out strong against the younger opponent, throwing and connecting with three or four punches for every one Gutierrez threw. Mares opened up with the lead left throughout the second and opened a cut to the left eye of Gutierrez, prompting Mares to spam the overhand right to the bloodied area. Mares continued to pick up activity to wear down Gutierrez. Mares slowed a bit at the midway point of the fight, but he continued to land power shots and the cut expanded under the left eyebrow to almost the length of the eye, forcing a cut stoppage to decision.
Mares pitched a shutout through the fight on one card and dropped only a round on the other two and continued to look like a fighter regaining his peak in his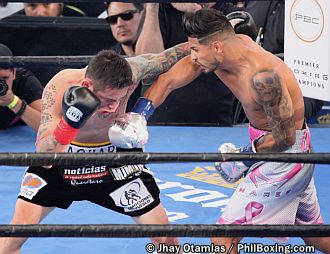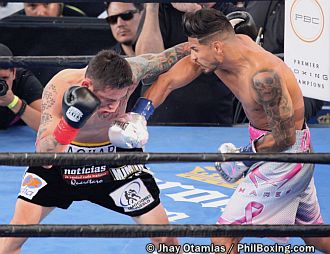 second fight under trainer Robert Garcia. This sets an interesting match-up between Mares and Santa Cruz next and with Mares looking impressive under Garcia, Santa Cruz could be in for his toughest fight to date if he gets drawn into a firefight and putting on a show.
Elsewhere at welterweight, Antonio DeMarco was in a tough position after losing three of four and taking on prospect Eddie Ramirez, who knocked off Ryan Karl and Erick Bone. Ramirez pressured DeMarco early and worked him into the corners, landing body shots. DeMarco would catch Ramirez in the middle of combos and a left hand would send the prospect on the retreat. DeMarco went to work in a corner and a right hand seemed to put Ramirez out on his feet according to the referee, prompting the perhaps premature first-round stoppage.
-Nolan can be reached @undercardnolan or at nth993@gmail.com