PITTSBURGH PENGUINS VS EDMONTON OILERS
The Paint Can. Pittsburgh, PA.
7:00 PM EST. ATTSN
---
Call me a homer, tell me I have my Eastern Conference glasses on, tell me all about the points total last season, tell me what you wish. The truth is we have too many sources being labeled as fake news today, and the hockey world doesn't need to be one of them, so once and for all, Sidney Crosby is still the king of this league.
Yes, McDavid is very, very good. But Crosby is also very, very good and 10 years older. He's been dominating the league for a decade, and just because there are new toys to choose from doesn't mean the old ones are no longer good. There will be a time when this league is McDavid's league, there is no doubt about it, but there is a guy in Pittsburgh that just took his team to back-to-back championships  that isn't ready to pass the torch just yet.
UPDATE: Not sure if Sidney Crosby ever took the torch back from Giroux, stay tuned.
The Penguins and the Oilers. Some have prematurely picked this as a Stanley Cup Final matchup. Regardless of how you feel about that, one thing for sure is the teams should just dress 18 forwards because defense will be optional tonight. The Penguins enter the game after trying to sleep through a Saturday matchup in Tampa while the Oilers have been off since a 2-1 loss to Philly on Saturday. The Oilers are currently 2-5 which puts them 3 points ahead of last place Arizona (0-7-1), someone forgot to tell them you have to win the Stanley Cup in order to enjoy a cup hangover.
The Oilers have the same team that got them to the second round in last years postseason. They haven't improved much from there but when you play in the Pacific you don't have to. Their approach to the season from an outsiders view point is "we made it that far last year and we are older now." It's like when you find out the least amount of work you have to do to coast through a group project, and then take it as a personal challenge to do even less the next time around.
The Oiler fanbase loves to talk about the golden years. About the Great One. About how they won Stanley Cups…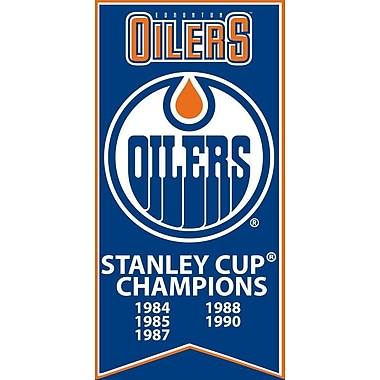 Math is hard and all, but that number of cups seems familiar…
5 cups won in 7 years when Gretzky was scoring goals on a guy that had a day job as a janitor. The Oilers are on the right path of rebuilding, but trust us Oiler fans, you can't just assume a generational talent is going to carry you to 5 cups in 7 years again. This isn't your fathers NHL, and ask the Capitals how much the regular season means.
STARTING LINEUPS
Tonight should be the debut of Riley Sheahan in the black and gold (wearing #15). Sheahan was acquired from the Red Wings Saturday evening for Scott Wilson and due to an unfortunate bounce to Carter Rowney, figuring out tonights roster is pretty simple. Rowney was placed on IR after a puck hit his hand Saturday night, which should mean Greg McKegg just became the coolest named 4th line center in the business. Though these are the lines Sully used in practice I would be really interested in seeing Hornqvist and Sheary switch places. It should also be noted that Archibald has been getting a lot of reps in practice and is yet to crack the lineup, so maybe he gets in soon.
Also, there is a 0% chance that Niemi will play tonight since he was waived yesterday and Casey DeSmith was called up and yes this is going to be a run on sentence in honor of every team having runaway games whenever Niemi was in net thank you Mr. Rutherford for nipping this situation early instead of waiting and waiting and eventually dying on your hill like your predecessor would've done. DeSmith will back up Murray, and with the way he has played in the AHL this year there's a chance he won't disappoint; DeSmith is yet to allow a 5v5 goal this season in the AHL, something Niemi could say for 34 seconds of his Pittsburgh tenure.
WHO TO WATCH
FOR PITTSBURGH: Sidney Crosby
Crosby has a tendency to step up his game when facing the competition that is getting all the praise. I'm not featuring him here for that reason, though it would've been obvious. Crosby has also been taking a few liberties this year and is currently second on the team in penalty minutes with 28, trailing only Ryan Reaves (40). Crosby managed 12 penalty minutes within the first two minutes of Saturdays game for continuous chirping at the refs. It's most likely nothing, though I am sure DK Sports will run a story about how it's because Sid misses Kunitz. Sid most likely sat in a dark room the last two days with his stick getting ready to put up 5 points tonight.
FOR EDMONTON: Connor McDavid
We currently get to enjoy a time in NHL history with the most talent, hands down. Yes there was Gretzky, Lemieux, etc., but turn on any almost given game on almost any given night and you will see great hockey. It's an incredible time to be a fan and a perfect time to look beyond your team colors and enjoy what is happening around the league. Connor McDavid is a player you just love to watch if you're a fan of hockey.
---
The Penguins have had 2 days off to recover from the Tampa beating and they have a chance to continue to pour salt into the Oilers wounds. I would expect a good amount of line juggling going on tonight by Sullivan with the addition of Sheahan.