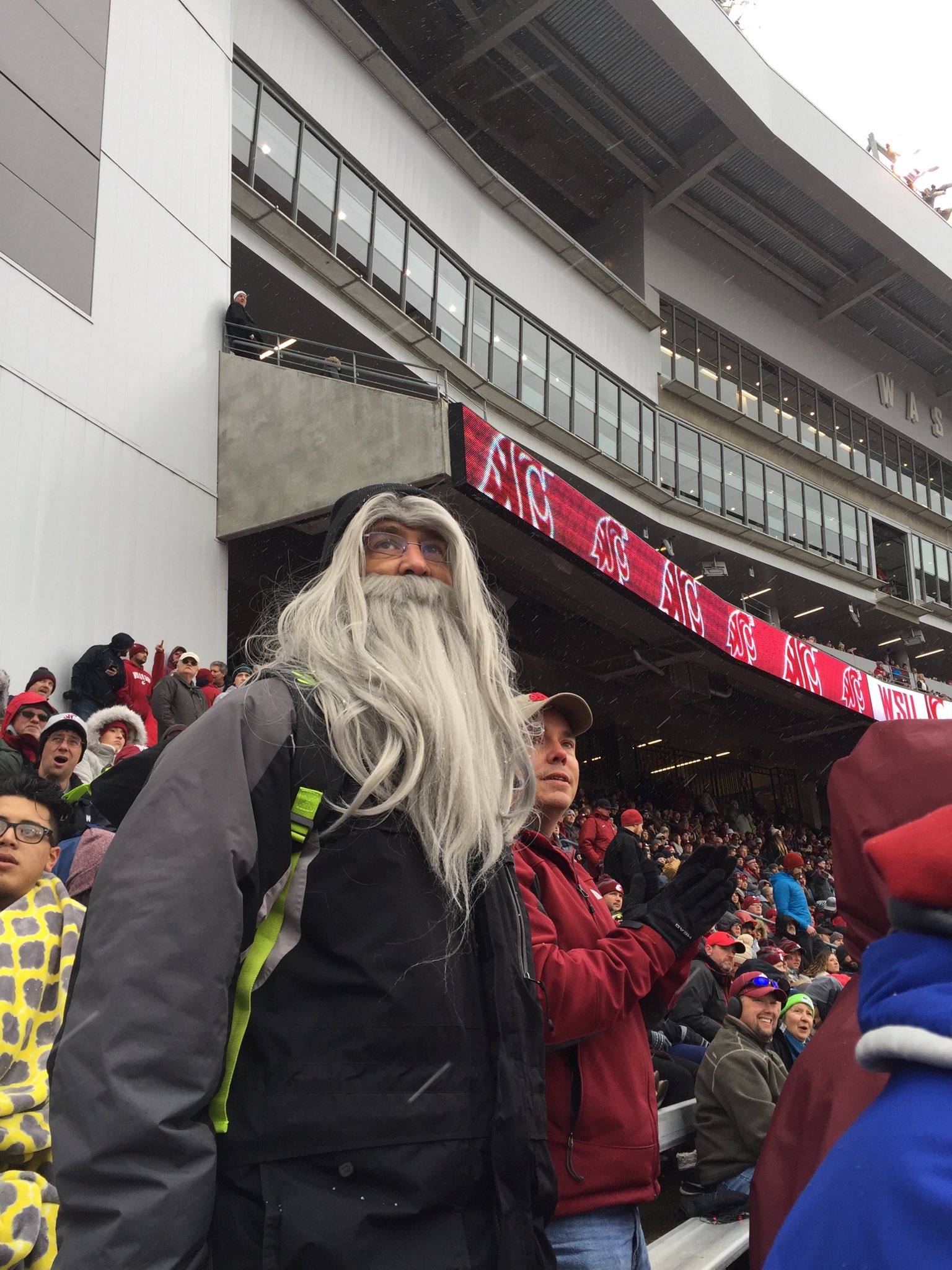 Hello Followers.  Hope you are doing great.
Time is really short for me today, so this post is going to be even more brief (and uninformative) than normal. But since we are guaranteed only 1 more Football Friday after this one, I figured that its important to take the opportunity to write about this team whenever given the chance to do so.
To begin, as many of you know, I was able to visit Pullman this past weekend for the first time in 23 years. There were MANY unforgettable moments about that amazing trip, but let me list a few of them:
It was especially great spending time with my good buddy Sean Hawkins. But it was also incredibly amazing to finally spend time with Longball, Aimeable, their beautiful and adorable daughter, as well as their family who took us into their homes and treated us like family. I simply cannot wait for another chance to go back!  And to each of you, I say, "THANK YOU, THANK YOU, THANK YOU, THANK YOU!"
I was also extremely fortunate to meet several members of the #CougFam including (especially) Mama Cracraft, Jamal Morrow's Mom, Nick Begg's Mom, Willie Taylor's parents, Kirkland Parker's father, as well as a couple of others who asked me to never let anyone know that they ever talked to me. Needless to say, all of them are/were marvelous people, and I left each of those exchanges completely blown away by what a high quality program has been built at WSU.
Martin Stadium is beyond an A-List experience in my book. The number of concession stands was a bit thin for my beverage needs (cough! cough!), but other than that the stadium provides such an intimate game experience without sacrificing a big time feel. Having been to several games now in Bryant Denny Stadium in Alabama, I can say unequivocally that I would rather see a game in Martin Stadium.  And it's not even close.  (the tail-gating might be a different story)
Overall, the speed of the game between Pac-12 and SEC is pretty darn similar. Stanford looks about as big as Alabama, we look MUCH smaller than both (because we are), especially on defense. But our offensive size and speed is quite similar to BAMA and I left feeling more than confident that we would hold our own in that conference  if we were in the SEC West. Again, I was SUPER impressed.
So, thanks again to all the folks who made my visit so darn special.  It is my hope to make the pilgrimage back home an annual affair.
+++++++
One of the more striking aspects of last Saturday's game was our utter domination of  Stanford in every statistical category other than the scoreboard.  I mean, we had the ball for nearly 7 minutes longer than the Trees, had 16 more first downs, we held Stanford under 200 yards, led them in total offense by nearly 230 yards, and we won by merely 3 points.  And throughout the game, Sean, Longball, and I just couldn't understand why our lead wasn't greater than it was.
So, on the flight back to #BAMA, I did a little crack-pot research and came up with one theme that, in my view, is HORRIBLY problematic for us moving forward.  And that *problem* concerns our #SpecialForces and their consistent inability to win the field position battle.
As you will see in the *Tables* below, the failure of our #SpecialForces cuts the offense and defense in nearly equal ways:  Our offense is consistently unable to start drives in good field position, while our defense is consistently put behind the 8 ball before drives even start.
Because time is short, I decided to chart our drives from the CAL game according to one criterion:  The number of drives that started at the 35 yard line or better (I did that just to give our return game a chance to be even semi-decent on both sides of the ball) The results are as follows:
| | | |
| --- | --- | --- |
| | WSU ( Starts at Own 35 or Better) | Opponent (Starts at Own 35 or better) |
| CAL Game | 3 | 7 |
| COL Game | 3 | 7 |
| AZ Game | 4 | 6 |
| STAN Game | 0 | 6 |
Mind you, those figures, save the Stanford game, may not seem that bad—although please do keep in mind I am omitting the near 2 to 1 deficit we have in pinning teams inside the 15 versus the other way around.  But when you factor the role of turnovers into above chart (that is, you subtract the number of times that we've gotten decent field position because of turnovers), then you get the following s-sandwich:
| | | |
| --- | --- | --- |
| | WSU ( Starts on Own 35 or Better) | Opponent (Starts on Own 35 or better) |
| CAL Game | 3 | 7 |
| COL Game | 1 | 7 |
| AZ Game | 1 | 6 |
| STAN Game | 0 | 6 |
THAT'S TERRIBLE.
And so, when I dare to look forward and try to think objectively about what teams generally need to do to beat sound teams like Utah and Washington on the road?  Well, for starters, you need to give your offense and defense a chance, and that means limiting the number of opportunities you give a home opponent to play with a short field.  And we're doing the OPPOSITE: We're forcing Falk and company into completing 80+ yard drives to score touchdowns while providing the opposition with short fields from which to score.  NOT. GOOD.
The Keys to Winning
WILL LUKE FALK THROW FOR 400 YARDS?  Utah is down a safety and the weather report calls for good weather.  If there's a day for the #AirRaid to break out, it is this one.  But so far, I think we've seen that this offense isn't up for that kind of production.
Will WSU Rush for 100 yards?  No. But if we can get the 93 yards we got last week with the similar number of touches, we'll be in really good shape.
WILL WSU SCORE 35 OR MORE POINTS?  The answer:  NO.
WILL WSU BE +1 OR BETTER IN THE TURNOVER MARGIN:  My answer is no.
Prediction:
This game is one of the most important games we've had over the past 15 years.  Win tomorrow and the Cougs are guaranteed to play for the Pac-12 North in two weeks no matter what happens tonight in Palo Alto.  Moreover, with a win on Saturday, the Cougs are bound to be ranked at the end of the regular season even if we lose the Apple Cup.  So, a win tomorrow provides a golden opportunity for a 10 win season that puts WSU in the polls at season's end.  And that, my friends, would be a historic season for us—and that's assuming a loss in the Apple Cup.
Ultimately, I think Utah is starting to come into their own a bit offensively and that means that they are bound to score some points. That said, their defensive line is nothing to write home about, and their secondary—though young and talented—is not better than the Stanford group that Luke handled pretty well last week.
So, the key to the game, in my view, is going to be field position.  With the high altitude and good conditions, one would hope that we would get our kickoff coverage in order.  But that still leaves the kicking return game, the punting return game, as well as our punting game.
Ultimately, I am going with a 31-21 Cougar victory.  But if we lose or have another close one like last week, I think we'll know the reason in advance.
This is a championship caliber team, folks, that is playing with a #SpecialForces unit that is a bottom feeder outfit, Erik Powell notwithstanding.  But, if the Cougs can get that third phase of the game straightened out over the next two games, I think we'll find ourselves playing in early December.  And if not, we'll know why we went 8-4  even with that wonderful defense.
Elsewhere:
UW 38 Stanford 10.  People are thinking that this one is going to be close. And who knows?-maybe UW's receiving corps really isn't very good and that will allow Stanford to stick around and gain some confidence.  But I don't believe that.  And I also don't believe in Stanford—at least not until they improve their quarterback play.
USC 41 Colorado 28.  I expect that this one is going to stay close for a while.  But USC seems like they're starting to find "it" again, and they are, at least in my book, the odds on favorite to win the conference in a month.
Zona 62  Beavs 10.  Tate needs to go to New York and this performance will greatly help in that effort. But beware of next week, Mildcats cuz the fighting ducks are a comin'!
Arizona State 38  UCLA 28.  I can't quit Sparky no matter how hard I try. My weekly reminder to all about how darn glad I am that we do not play them this year.
Miami 28 Notre Dame 27.   The Cardiac Canes pull out a miracle stunner and provide a lock for the ACC into the College Football playoff as a consequence.
TCU 28  Oklahoma 24.  Oklahoma has no defense and I'm just not convinced that Baker Mayfield is all that. Sooners OUT of playoff race, while TCU gains the inside track.
Wisconsin 31 Iowa 17.  Anyone else get the feeling that Wisconsin is the same team as Iowa in 2015?  You know, win all your regular season games, lose a close one in the B1G title game, and then get resoundingly SMOKED in their NY6 contest?
That's all the time I have for today.  Enjoy the games this weekend. I'll be back early next week with a post about the implications of Saturday's outcome.
All for now. Go Cougs.