WBC World Junior Bantamweight Championship: Srisaket Sor Rungvisai (c) (44-4-1) vs. Juan Francisco Estrada (36-2)
Nolan Howell: While Estrada is likely the more technical fighter of the two, it is hard to discount the toughness of Sor Rungvisai and the power he demonstrated the last time out in his knockout victory against "Chocolatito" Gonzalez. While it is easy to write that off as a fighter having the number of a particular opponent, the ability of Sor Rungvisai to pressure opponents and draw them into his game could spell the end for the more technical fighter here. Sor Rungvisai will get behind early, but rally to the finish late to retain. Srisaket Sor Rungvisai by tenth-round TKO.
Luke Irwin: It's Srisaket's time now. Estrada is a game challenger, but I don't think he gets it done, here. Rungvisai via UD.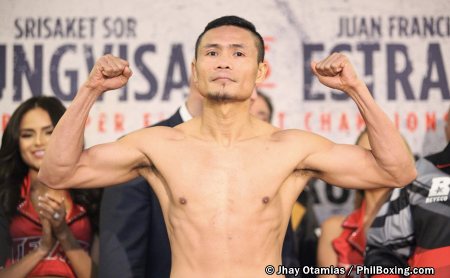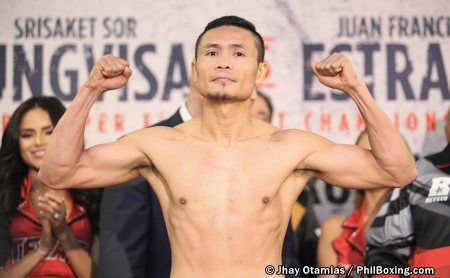 IBF World Flyweight Championship: Donnie Nietes (c) (40-1-4) vs. Juan Carlos Reveco (39-3)
Nolan: Nietes hasn't lost since 2004 and Reveco is mostly an international feeder while winning against South American talent in his home country of Argentina. Nietes gets a showcase. Donnie Nietes by unanimous decision.
Luke: Nietes is now a world champion in his third separate weight-class, and while Reveco was a flyweight champ, two losses to Kazuto Ioka, one to lose his title, one to fail to win it back, might have sealed his fate as a top guy. Nietes via R7 TKO.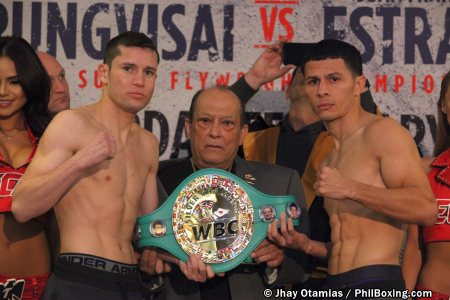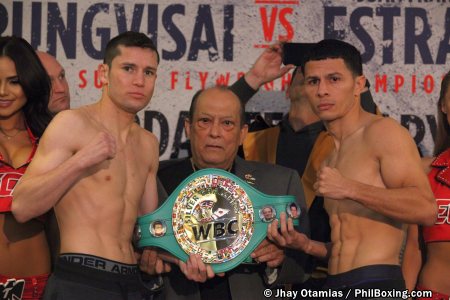 Vacant WBC Silver Junior Bantamweight Championship: Carlos Cuadras (36-2-1) vs. McWilliams Arroyo (16-3)
Nolan: Cuadras has dropped two of his last three, but there were nothing to scoff at as he hung in there with "Chocolatito" in a unanimous decision loss and did the same against Estrada. Arroyo is mostly a test opponent and should be good for Cuadras on the rebound, unless the two losses are indicative of more than losing to the elites of the division for Cuadras. Carlos Cuadras by unanimous decision.
Luke: Cuadras via SD.