While the Minnesota Twins made some additions this past winter in hopes of solidifying their rotation for the immediate future, it sure looks like they have a budding ace for the foreseeable future in 23-year-old right-hander Jose Berrios. His first 58.1 big-league innings weren't all that fun (posting an 8.02 ERA rarely is), but he took a huge step forward in 2017.
And although Berrios' last three starts haven't been nearly as eye-popping as his first four to start this season, his curveball has been mostly impressive once again. He doesn't lean on that pitch like Lance McCullers Jr. does — who throws it a league-leading 47.4% of the time — but it's the first pitch he typically goes to after his four-seam fastball.
The young right-hander increased the usage of this pitch greatly between 2016 (21.6%) and 2017 (30.0%). It's been more of the same story through 40.2 innings this year, too — he's thrown it at a 27.5% rate in 2018, which is among the highest in baseball.
It's just about impossible to deny that Berrios' curveball is not only his most effective pitch when looking at a number of statistics, but it's also helped him continually improve at the big-league level.
The Overall Progression
Comparing stats from the last couple years to just over a month's worth of work in 2018 isn't fair since the sample sizes are so uneven. However, it's a good way for us to see exactly how he's become a more effective pitcher throughout his short MLB career.
Here's a quick peek at how Berrios' SIERA, strikeout rate (K%), walk rate (BB%), swinging-strike rate (SwStr%), ground-ball rate (GB%), soft-hit rate (Soft%), and hard-hit rate (Hard%) have changed since 2016.

Every single one of these metrics are on track to improve for the third consecutive year. We didn't even include his chase rate, which is on the same trajectory (27.3% in '16, 30.5% in '17, and 32.3% so far in '18).
Berrios' career didn't got off to the greatest of starts, but this is the kind of trend any pitching coach would want to see from a young hurler — especially one entering just his second full season in the majors.
A Second to Appreciate the Filth
It wouldn't be fair to gush about Berrios' curveball without having some examples on hand, right?
Check out a small sampling of this particular pitch — in a few different forms — doing nothing but befuddling hitters.
Jose Berrios, Curveball shapes/movement. pic.twitter.com/hDNyfN8R7j

— Rob Friedman (@PitchingNinja) May 24, 2017
Here's another Jose Berrios Curveball GIF because why not pic.twitter.com/Xpsuw0EgSl

— Nick Pollack (@PitcherList) July 7, 2017
And because it also wouldn't be fair to not see this coming out of his hand from the hitter's perspective, there's this.
https://twitter.com/PitchingNinja/status/988929467652460545
And just in case none of that was sufficient, this should do the trick.
https://twitter.com/twinsdaily/status/871520166047338497
The Curveball Progression
When using FanGraphs' pitch values, Berrios' curveball doesn't necessarily compare to the ones Corey Kluber and Gerrit Cole have been throwing this year. Still, it's been among the 10 most valuable curveballs in the league when looking at qualified hurlers.
We can't necessarily say that this pitch has been the biggest reason behind his quick improvements — after all, he throws his four-seamer and sinker over 60.0% of the time. It has certainly been a driving force when breaking down the results, specifically to see how his curveball has performed over the past three seasons.
The below table shows how the walk rate, strikeout rate, swinging-strike rate, chase rate (O-Swing%), and opponent wRC+ stack up against one another from year to year for Berrios' best pitch.

All of those 2018 numbers are currently far and away the best of any pitch in his arsenal.
Crucial to His Overall Success
To get a glimpse as to how important Berrios' curveball is, it's a worthwhile exercise to look at how the right-hander's usage, value on a per-100-pitch basis, and overall game score have varied through his first seven starts.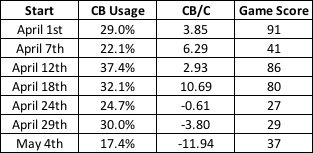 As mentioned earlier, this isn't to say that the performance of Berrios' curveball determines everything — again, he does have other pitches to execute — but it's clear that the pitch's success helps drive his overall success. A lot more will have to go right for the Twins to dig out of a 13-17 start, but having Berrios be closer to the version he was in his first four starts than his last three would be awfully helpful.
And from what we can tell, getting the performance of his curveball back on track will help make that happen.
---
About Matt Musico

Matt Musico currently manages Chin Music Baseball and contributes to The Sports Daily. His past work has been featured at numberFire, Yahoo! Sports and Bleacher Report. He's also written a book about how to become a sports blogger. You can sign up for his email newsletter here.
---
Read next