The Pittsburgh Pirates rotation has been struggling to find their horse this year. It's fairly easy to argue that the best start the Pirates have received so far, that actor is currently in Triple A. Now, the rotation will rely on a guy who few in Pittsburgh have seen throw in person. 
Joe Musgrove makes his Pirates and PNC Park debut tonight against the St. Louis Cardinals. A big piece of the return for Gerrit Cole, fans have waited to see Musgrove as he has been on the DL since spring training due to a muscle strain in his right shoulder.
Now before I get too ahead of myself here, I have no clue what to expect from Musgrove. He's tabbed as a guy with a live fastball and number of secondary pitches who had one big moment in the 2017 World Series with the Houston Astros. Aside from that, my expectations are just that.
This Pirates rotation has been all over the place this year. One moment, Nick Kingham carries a perfect game into the seventh inning in his major league debut. Next thing you know, Ivan Nova has allowed 20 runs over his last four starts.
This was to be expected though, right? Entering the year, the starting rotation was a bit of a wild card.
No one thought that Trevor Williams would be having the best season of all the starters. Just about everyone expected Jameson Taillon to be the undisputed ace of the staff and it just hasn't happened yet. It's just been an odd year all around. 
Now is the time the Bucs need someone to step up.
The unknown is scary
Musgrove has but a few spring training appearances and rehab starts in under his belt as a Pirate. He's performed well in those rehab starts but it's still a far cry from pitching in a regular season major league game.
Are we putting too much pressure on a kid whose career numbers are nothing to write home about? Probably.
But as the team continues to churn through arguably their most important stretch of games this season, the staff can use his arrival as a "hopeful" breathe of fresh air.
He fits the bill
The Pittsburgh Pirates are known for employing a pitch to contact approach for their hurlers. Neal Huntington acknowledged this on his radio show last Sunday.
While it is a dying approach across major league baseball, and much to the chagrin of some of the fan base, that is just how the Pirates want their pitchers to throw. Throw the fastball early and often to try and get ahead on the batters.
In his two years in the bigs, Musgrove has shown he has no problem with relying on his heater early.
In his limited time with the Astros in '16 and '17, he threw a first pitch fastball 43 percent of the time with the next closest being his slider at just over 26 percent of the time.
However, it's his success after he gets ahead that is notable.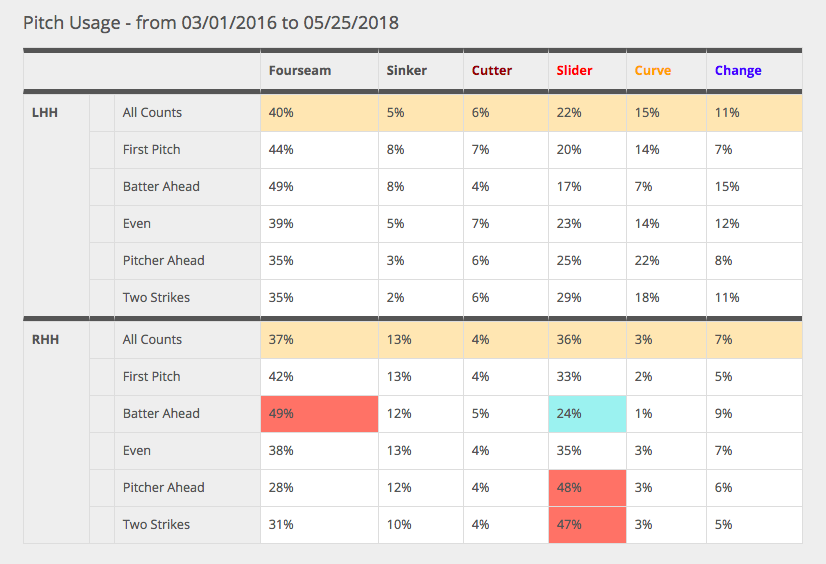 According to Fangraphs, when having a batter behind 0-1 in the count, he ends up getting a batter to hit a ground ball 49 percent of the time and also draws a Soft Contact % of 25 percent.
To the contrary, when he gets behind 1-0, he allows either Medium or Hard Contact a combined 87 percent of the time.
While the situations aren't able to correlate perfectly, it shows how different an at bat can progress just by the first pitch, which almost half of the time is a fastball.
I see this as he should have had no problem getting comfortable learning Ray Searage's system. So once he is finally able to step on the mound, he should be ready to just go about his business and not have to think too much.
His Pirates debut has come at a time where some might have forgotten about him. However, he should ready to go and make a statement that he belongs.
His performance will also restart chatter about the Cole trade and if the Pirates got enough. So let's hope that Musgrove is actually as comfortable on the mound as he seemed during his rehab assignments because the Pirates pitching staff needs a pivot in the right direction.