Entering Monday, Pittsburgh Pirates first baseman Josh Bell has a .333 batting average in his last eight games. Since that stretch of games started on June 9, Bell has been hitting either sixth or seventh in the lineup.
So far in 2018, the 25-year old has been a disappointment for the Pittbsurgh Pirates to say the least. 
There is no doubt this recent surge is a plus for Bell as he had been hitting .237 on the season, mainly batting in the cleanup spot before getting bumped down.
Hidden behind that .333 average, he has eight hits with four being doubles. He's driven in just two but has scored six times. He's also drawn seven walks, which if you have have watched the team for any extended period this year you would see that number as eye popping.
While he's finding gaps, he still not finding bleachers. His last home run was May 31 which was his first since May 11. This can prove worrisome after last year's 26 long balls; however, if his minor league career is anything to note, he was always more of a gap hitter than a home run hitter.
Either way, it's necessary to see what is so different about his recent success compared to his early shortcomings.
He's sitting fastball
It's actually quite simple. Overall, he's having better at-bats, which is leading to him getting better pitches to hit which leads to better, harder contact.
For example, of the 52 fastballs he has faced since June 9, he's put it in play 15 percent of the time. He's hit a line drive seven percent of the time it's in play with a groundball just under four percent of the time. This is almost flipped from the beginning of the season.
Before June 9, he put 18 percent of fastballs faced in play with almost nine percent being a groundball and only three percent being a line drive.
Obviously that's over a longer period of play which means his surge could be a fluke. However, it's ok to be hopeful that the change in the order is actually doing him some good.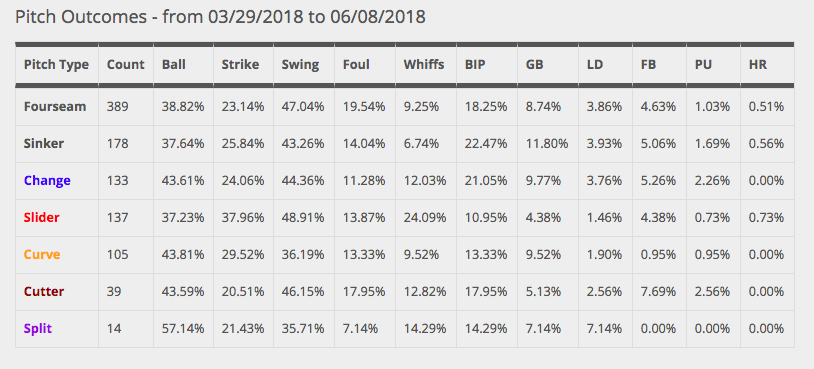 Keen Eye
Like previously mentioned, he has seven walks in those eight games. Although it is pretty heavily weighted from June 9-11, which is when all seven walks occurred.
Regardless, it's good to see this approach at the plate.
Paired with his ability to sit on the fastball, being able to work at-bats shows that his plate discipline is is improving ever so slightly.
If you will recall the stretch in April where he honestly looked like he had never stepped into a batters box before.
Time will certainly tell if this positive stretch of games is a fluke or if Bell is on the mend. If he is, does Hurdle keep him there or does he bump him back up in the order? I guess the only real answer is, time will tell.