NBA superstar LeBron James has until Friday to exercise his $35.6 million player option. Though his decision has not been officially made, it can be assumed that the three-time NBA Champion will be exploring his options this summer.
A recent change to his Instagram account can be viewed as a major indication of his unclear future with the Cavs.

This is a screenshot of LeBron's Instagram home page taken earlier this morning.
The uniform he is donning in the image is almost as big of a mystery as his free agency decision. This must have been done on purpose as some sort of cryptic message to the NBA world.
In his career LeBron has certainly not shied away from hiding messages by way of social media.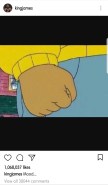 Remember this Instagram post?
LeBron posted this image from a popular TV show called "Arthur" minutes after Kyrie and the Celtics won their ninth straight game early into the 2017-18 season. The NBA world speculated it was directed specifically towards Irving in this instance.
Then there was this gem.

This was posted on James' Instagram account on January 31st. The Cavs had hit a wall at that point in the season and the team appeared to be collapsing in on itself. This tweet was speculated to be directed towards either his teammates or Isaiah Thomas and his tight relationship with owner Dan Gilbert. The two formed a much tighter relationship than most of the other guys on the roster despite being injured and having seen no actual court time at the time.
As if the NBA world has enough to speculate about as the league creeeps closer to the start of free agency, now LeBron had to go dump gasoline on the fire with his latest social media move.