For the majority of the early 2000's, New York Knicks fans have been longing for any semblance of respectability from their beloved franchise. In the past 20 years the team has seen postseason action only seven times. Now, coming off of five consecutive playoff-less seasons, the question remains: when will the Knicks finally be good again?
Through the years, we've seen glimmers of hope from the Knickerbockers. 2010's "the Knicks are back" proclamation by Amar'e Stoudemire/ their first postseason berth in seven years. 2011's "Linsanity" and their first playoff game victory in 11 years. 2012's 54-win season, Atlantic Division champions, Carmelo Anthony's scoring title and the team's first playoff series victory since 1999-2000.
As we all now know, however, these consecutive accomplishments ended up leading the team nowhere. Five years removed, we see New York in the midst of a rebuild and culture shift. The team's main point of attraction is rising star Kristaps Porzingis. Outside of this, and the hype surrounding rookie forward Kevin Knox, the Knicks do not appear to be the most enticing place for free agents to take their talents.
We've seen the franchise strike out on big-name players in free agency numerous times over the years. With the tumultuous situation they find themselves currently in, there's no way they'll be able to right the ship any time soon…. right? Well, according to the league's rumor mill, the Knicks may be closer to getting back on track than you'd expect.
According to multiple sources, Boston Celtics superstar point guard Kyrie Irving is expected to strongly consider signing with the New York Knicks if he hits the open market next summer. This should come as no surprise to anyone familiar with the NBA for, when he requested a trade from the Cleveland Cavaliers last offseason, reports came out that he gave the front office a list of his four preferred destinations: San Antonio, Miami, Minnesota and, you guessed it, New York.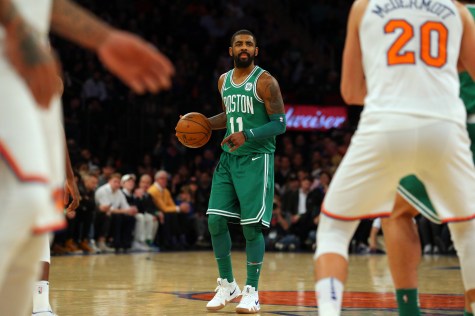 Rumors started circulating that Irving could potentially head to New York as a free agent when the seven-year veteran told the media at All-Star Weekend that he "would love to play with a big" like Porzingis.
"I told him I would love to play with a big like you, man, when we played them in the beginning of the season when he came to Boston. He's so versatile….."
With this statement, coupled with the close proximity to Madison Square Garden,  the point guard (a native of West Orange, NJ) joining the Knickerbockers is a relatively believable scenario. However, the hypothetical summer of 2019 fortunes don't seem to end there.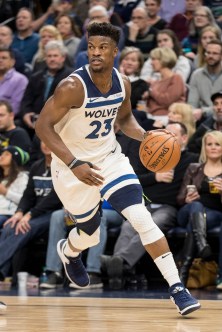 Over the past couple of weeks, rumors have surfaced about Minnesota Timberwolves All-Star forward Jimmy Butler's desire to team up with Irving in the Eastern Conference. Butler recently added more fuel to the fire, as he liked an Instagram comment saying he and Kyrie should come to the Knicks next summer.
This, along with Butler's recent rejection of a contract extension with the Timberwolves, will for sure send the New York media into a frenzy in the coming days.
Signing a superstar to a team's roster will without a doubt cost a boatload of money. Inking two, obviously, will cost even more. However, with the league's cap projected to spike up to around $110 million (a $9 million bump from what it is today) achieving things like this should get a little easier for teams. With this, the idea of New York having $30 million (at least) in cap space is highly plausible. Financially, this would put the Knicks in a good position to sign these two highly-coveted stars.
If this dream becomes a reality, the team's starting lineup could look as follows: Kyrie Irving, Tim Hardaway Jr., Jimmy Butler, Kevin Knox and Kristaps Porzingis. Barring injuries, this squad could easily contend for an Eastern Conference championship run.
Superteams are the new norm in the National Basketball Association. Frankly, it appears to be the only way to win nowadays. By adding both Irving and Butler to a team already rostering a talent like Porzingis, New York would be laying the groundwork for yet another super-talented team to contend for a championship.
The Knicks are in the midst of a rough patch, and have been for quite some time. However, as of now, a reason for hope has finally emerged. Though fans may be weary to believe it, New York's favorite basketball team may find its way back to relevancy — sooner rather than later.