Friday, the Brooklyn Nets agreed to trade Isaiah Whitehead to the Denver Nuggets in exchange for Kenneth Faried, Darrell Arthur, a protected 2019 first-round draft pick and a 2020 second-round pick. With this move the Nuggets are partaking in a salary dump (Denver waived Whitehead) while Brooklyn receives future draft picks, a savvy veteran in Arthur and a once promising big in Faried. Though Nets fans may be excited about welcoming the "Manimal" to the metropolitan area, expectations must be tempered.
Drafted 22nd overall back in 2011, Kenneth Faried was seen as a guy who could potentially be the ninth man in a teams rotation, providing energy and exceptional rebounding skills coming off the pine. Though his rookie year got off to a relatively slow start, once given more minutes, Faried managed to prove he was capable of holding his own at the NBA level.
The, then, 21-year-old ended the season with averages of 10.2 PPG, 7.7 RPG and 1.0 BPG. He was named to the NBA All-Rookie First Team and finished third in the running for Rookie of the Year. With these highly unexpected achievements, the pressure was on for Faried to take his game to new heights in year two and beyond.
In 2012-13, Faried was officially the teams full time starting power forward. In his new role he managed to up his numbers from the year prior by averaging 11.5 PPG and 9.2 RPG to go along with 1.0 BPG. In year three, the forward continued to improve statistically. Per 36 minutes, Faried was averaging 18.1 PPG, 11.3 RPG and 1.1 BPG.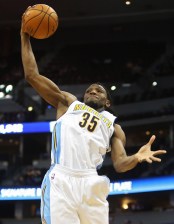 Within his first three seasons, the power forward managed to collect 70 double-doubles and made a name for himself as one of the best offensive rebounders in the game. He looked the part of a future star in the league and, right before the start of the 2014-15 season, Faried signed a four-year, $50 million contract extension with the Nuggets. With this, Denver seemed confident that they found their teams centerpiece for years to come.
That season, though, Faried managed to stay relatively productive, the franchise saw its worst finish in 12 years with a record of 30-52. Since then, the 6-8 power forward's minutes have steadily decreased.
In the ensuing years, Faried constantly looked to be on the cusp of having a breakout campaign but, inevitably, never did. Now, three full seasons removed from his contract extension, the Nuggets do in fact have their star big to build their team around. Unfortunately, however, his name is not Kenneth Faried but, rather, Nikola Jokić.
Let me make one thing clear: Faried is NOT a bad player, as we've seen him put up solid statistics in the best basketball league in the world. The problem, however, is the fact that he does not possess the skillset needed for a big to thrive in the modern NBA.
For starters, Faried is a 6-8, 238-pound power forward. With these measurements, the man is simply too small to go against bigger opponents which, unfortunately, makes him a below average defender. Another problem with his game and, quite possibly the most detrimental, is his inability to shoot.
For his career, Faried has attempted 20 three-pointers. He has connected on two, giving him an average of 10% shooting from beyond the arc. This is quite a troubling statistic. In today's NBA, the three-point shot is in high demand. If a player can't shoot the long ball, they may find themselves towards the end of the bench collecting dust. This is where we saw Faried last season.
Once seen as a promising star in this league, Faried now heads to Brooklyn with the potential to resurrect his career. Though the Nets bringing on his expiring contract has a low-risk, high-reward appeal, I wouldn't expect to see earth-shattering performances from the seven-year vet. He struggles defensively, doesn't pass all that well and can't shoot. Though he is a high energy player with a knack for gobbling up boards, his skill set is simply not suited for today's NBA.
Am I rooting for him? You bet. Still, if I'm a betting man, I'd be weary of putting my money on Faried bringing his talents up to snuff with the league's modern day big anytime soon.