During his first year in Brooklyn, combo guard D'Angelo Russell showed promise and production when on the floor. Though he saw a career-low in minutes, Russell managed to post career-highs in many other areas. Now, heading into year four of his young NBA journey, the 22-year-old seems primed for a breakout campaign.
Picked second overall by the Los Angeles Lakers back in 2015, Russell was seen to be the successor to Kobe Bryant in La La Land. At 6-5, with outstanding court-vision and an impressive outside stroke, the Ohio State University standout was seen as a fascinating prospect to attain. His skillset was that of a point guard but, due to his size, the team could also insert him at the two spot if needed. With Russell in tow, LA's future seemed bright once again.
Enthusiasm was soon curbed, however, as the rookie registered a relatively underwhelming campaign. In 28.2 MPG Russell averaged 13.2 PPG, 3.3 APG and 3.4 RPG. While many attributed his struggles to the pressures playing during Bryant's send-off tour, fans began to worry if the guard had what it takes to succeed in this league, let alone take the reigns from arguably the franchise's greatest player.
In year two, Russell was given more responsibility as he was named the team's starting point guard as well as their offensive focal point from day one. With his newly found role, he upped his numbers in essentially all categories, boasting a stat line of 15.6 PPG, 4.8 APG and 3.5 RPG. However, though it was obvious he had made improvements from year one, it seemingly was not enough evidence for the front office to believe he was their guard for the future.
A little over a month after the 2016-17 season had wrapped, the Lakers shipped Russell, along with Timofey Mozgov to Brooklyn in exchange for Brook Lopez and the draft rights to Kyle Kuzma (27th pick in 2017). With this, the Nets hoped to be adding a young/ talented player at a position in desperate need of improvement. Now, as his first year as a Net has ended, the move seemed to do wonders for the third year pro.
As stated earlier, Russell recorded career-highs all across the board during the 2017-18 season. Per 36-minutes, the combo guard saw averages of 21.7 PPG, 7.3 APG and 5.5 RPG on 41% shooting from the field. Had it not been for a left knee procedure that sidelined him for 33 games, both he and the Nets (28-54) could have seen even greater season turnouts. Now, heading into 2018, Brooklyn seems to be all in on Russell.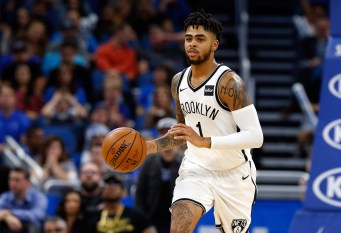 On June 13th, the Nets shipped Jeremy Lin to the Atlanta Hawks in exchange for the draft rights to Isaia Cordinier and a future second-round pick. That same day, the franchise made another deal to acquire athletic power forward Kenneth Faried from the Denver Nuggets. With these moves, it is apparent that management will be giving Russell every opportunity to prove his worth for, not only have they given him the keys to the offense but, they've also added more talent to surround him with.
In just 48 games played in 2017, Russell proved to the Brooklyn front office that he was worth acquiring. Now, heading into the fourth and final year of his rookie deal, the point guard must prove that he's worth retaining.
It's D'Angelo Russell time in Brooklyn. In a contract year, the guard must show his worth if he wishes to cash in during the summer of 2019. The front office has done their part of providing a solid supporting cast. Now, it's up to Russell to produce. In a potential career-altering season, bet on seeing a career year from the über-talented guard.