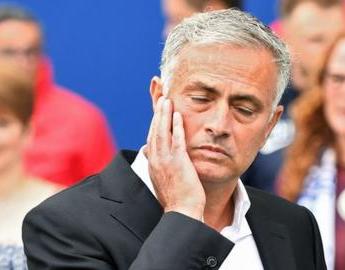 It seems that all is not well at Old Trafford, that is if you are to believe their manager Jose Mourinho. The man who has managed some of Europe's top teams during his illustrious career is currently making no secret of his discontent while in charge of Manchester United.
And although the self-appointed 'Special One' has won many trophies during his time as a manager, he does tend to take a nomadic approach to the coaching reigns that he has had previous to taking charge of the Red Devils.
And it is something that has many fans and pundits alike asking whether history will repeat itself once more, especially as Mourinho now enters his third season at the helm of a Manchester United side that has had a lacklustre start to the 2018/19 Premier League campaign.
THREE AND OUT
Wherever Mourinho has gone in the past, it has usually been a stay that has been just three seasons in length. Inter Milan, Real Madrid and Chelsea have all laid previous witness to the three-year cycle and it could well be something that we see again happen in Manchester.
The Red Devils finished second in the Premier League last season, that in itself is perhaps something that shouldn't be sniffed at. However, the fact that they finished a staggering 19 points behind crosstown rivals Manchester City is the obvious sticking point.
Not only that but critics will say that their second-place finish was something of a false position. Now obviously the table does not lie as they finished ahead of the likes of both Tottenham and Liverpool, but at the same time a lot of their performances were not ones that were befitting of a team that finished second in the division.
With Pep Guardiola's Manchester City winning the Premier League last season at a canter, the objective for Jose Mourinho and his squad of superstar players was to try and mount more of a challenge this time around.
However, it is an objective that looks like it could be one that is unfulfilled. Perhaps for a number of reasons, firstly Manchester City have picked up where they left off last season, something that was evident in there 6-1 win over Huddersfield.
This means that if anyone is to get to close to the defending champions they are going to have to raise their game considerably as City do not look like dropping off anytime soon, if anything they look like they are going to only get better.
While also United have failed to land a marquee signing over the course of the Summer in a bid to bridge the ever-widening gap to their nearest rivals. Manchester City only made one major signing in the shape of Riyad Mahrez for the simple reason being that was all they really needed.
ROOM FOR IMPROVEMENT
Whereas when you look at United there are a number of areas in which you feel could do with improvement, the failure to land a big-name centre back being arguably the most glaring omission for the United squad this season. Maybe Jose has taken his eye of the ball, got to complacent and enjoyed to maybe late nights playing slots and casino games with all of his wealth and celebrity status. Maybe Mourinho has become focused on virtual championship manager games as opposed to the real life version, who knows what is in the mind of the "'special one".
It was long reported that the club were in the hunt for Tottenham's Belgian defender Toby Alderweireld, a move that looked like it could have gone ahead in the final few days of the Premier League transfer window.
However, to the surprise of many the player who helped his country finished third in this Summer's World Cup has opted to stay with the North London outfit until the end of the season at least, where he would then be available for £25m.
And although he would be much cheaper to buy 12 months down the line, it could well be that Mourinho is not in a position to complete a deal for the simple reason that he may not be in charge at Old Trafford.
REACHING A CROSSROADS
The season that has just begun is going to be a pivotal one for Mourinho, he is at the crossroads of not just his time at in charge of his current club, but maybe also his status as one of the elite managers in world football.
Should he end up burning another bridge, you get the feeling that there are not many clubs that will be willing to take a gamble on his services. Not only that but will the risk that comes with his appointment be worth the reward.
Wherever he goes he has a habit of alienating either his star players or the fan base that is linked to the club he is in charge of, sometimes it ends up being both. Not only that but when he takes the reigns of one club, he then comes persona non-grata at their nearest rivals.
For Real Madrid, it means the door is firmly shut at Barcelona. Likewise, any hope of managing elsewhere in either Manchester or London. Therefore, it is not just a return to former pastures that look highly likely, but also the clubs that are most connected to them.
This means that the only elite routes left for him are either PSG, Bayern Munich or Juventus. However, one also has to question whether he would even be a good fit for those clubs, should the opportunity ever present itself.
THE INTERNATIONAL ARENA
Mourinho has mentioned in the past that a move into the foray of international management seems likely towards the tail end of his career, it might be one that almost becomes a necessity due to the paucity of post United options.
That said you would imagine that he could name his price if he was to leave club football behind, not only for nations such as Portugal or perhaps England, but also for nations further afield who are looking to finally arrive on the biggest stage.
Imagine somewhere such as China being the home for Mourinho in a couple of years, once he has called time on the weekly cut and thrust of league football. The schedule would be a lot lighter while his bank balance would only swell further.
The boom and bust cycle is one that Mourinho can only seem to work with due to the nature of how he manages, it's as if players have nothing else to give after three seasons or simply no longer have the will to work under him.
If that is to be the case then it looks like the club that was fearsome under Sir Alex Ferguson, may have to start all over again in their search for a manager who can fill the very big shoes that the legendary Scot has left behind.
Read next