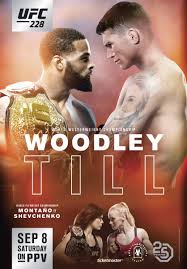 The Prelim Breakout Star is a once per event article that helps fans get to know those who will be entertaining them from the undercard. The intention of the article is not to bring attention to the most talented fighter on the preliminary card, but rather one that the common fan may have overlooked or underestimated.
Prelim Breakout Star has now hit 10 in a row. Not only did Cory Sandhagen prove us right last fight card, but he also picked up a smooth 50k in the process. I'm not saying that this fighter is going to have an equally impressive Fight of the Night, but it has to be one of the front runners for the big bonus.
Geoff Neal

Nickname – Handz of Steel
Affiliation – Fortis MMA
From – Copperas Cove, Texas
Height – 5'11"
Weight – 170 lbs (Welterweight)
Record – 9-2 (1-0 UFC)
What makes him impressive
They may call him Handz of Steel, but the fact of the matter is, he is far more impressive in his grappling. A lot of his transitions and takedowns are reminiscent of an early career Kevin Lee. He's stocky, powerful and just keeps chaining them together. Also similar to Lee, he has punishing ground and pound while he's there. He keeps ripping shots regardless of his position, plus it doesn't stop him from improving his position.
Why he has been overlooked 
It really is a shame that Fortis MMA has not received more attention than it has so far. In the last couple years, they've brought an impressive stable of youngsters into UFC fighters. Neal, Alonzo Menifield, Charles Byrd, Steven Peterson and Kennedy Nzechukwu are all in the UFC from the Texas Gym. Once one of these guys makes the big step forward, their gym will get more notice. When that happens, the up and comers will get a closer look out of the gate.
What makes this a good match-up
There's no question of what Frank Camacho's gameplan is when the cage door closes; this dude likes to bang. If you look at Camacho's body of work so far, it make Justin Gaethje look a bit cautious. The problem with this caution to the wind approach is that every winging right hand he throws leaves him open to a counter takedown. Basically, Camacho's game plays right into Neal's hands and Neal should be able to work him over on the ground.
Prelim Breakout Star Record: 152-64-1 (2 NC) (6 DNF)