Penguins @ Oilers
Rogers Place – Edmonton, AB
9:00PM | AT&TSN, SNO
The Penguins pick back up on their tour de Canada as Connor McDavid and his Edmonton Oilers welcome the Penguins to town. The Penguins will look to keep a lengthy streak alive, as they have earned at least a point in 8 straight games against the Oil dating back to January of 2014, when Connor McDavid was still trying to figure out how to unlock the secret hangar halfpipe in Tony Hawk Pro Skater 2 (you're welcome).
The Penguins eliminated the Toronto Maple Leafs from Stanley Cup contention were able to benefit from getting all the calls shut out a high-powered Leafs offense in their barn last week and will be back in action for the first time since Matt Murray got into a groove that should (but won't) quell the fears of the Bring Back Fleury crowd.
The Penguins took advantage of the extended break in travel, heading to Banff for a nice little team bonding trip.
I think it's a great opportunity for our guys to spend some time together. When they build relationships and become close off the ice, they play hard for each other on the ice. – Mike Sullivan
No word on if the Penguins left Daniel Sprong to find his game while he was there. Whatever they did with him, they won't be using him in the lineup tonight as Derek Grant will draw in for the Penguins for his season debut.
It's not often you get centre talent like this in a game, so it should be interesting to see how McLellan deploys his top 2 pivots in McDavid and Draisaitl against the fabled duo of Malkin and Crosby. That's not to say that all four of these guys have been lighting the world on fire, though. In fact, Crosby and Draisaitl have struggled, relatively speaking; 87 has put up 5 assists and no goals through 6 games, where Draisaitl has tallied 6 points in as many games (2G+4A).
The Oilers' former MVP Hall McDavid has 11 points on the year (4G+7A), but has been bested by Malkin's 12 (3G+9A). Malkin recorded his third three-point game of the season in the shutout of the Leafs, including a power play marker that opened the scoring and proved enough to be the game-winner.
Keep an eye on Brian Dumoulin, who will likely draw the assignment on McDavid for the bulk of the evening. We don't make words as good as most wordmakers goodly make them, so here's a goodword makerman's words on what to make of a good matchup.
Guentzel – Crosby – Rust
Hagelin – Malkin – Kessel
Simon – Brassard – Hornqvist
Grant – Cullen – Sheahan
Dumoulin – Letang
Maatta – Oleksiak
Riikola – Johnson
Murray
Sure, the Oilers have McDavid and Draisaitl down the middle, but Ryan Nugent-Hopkins has continued to benefit from riding shotgun with McJesus, as youngsters Kailer Yamamoto and Jesse Puljujarvi have shows signs of life after finally getting some competent linemates. Speaking of competent, how about Milan Lucic – he of the $6M cap hit – on the third line with Ryan Strome and Alex Chiasson. It's not that bad, he's only signed for that number until … checks notes … 2023!
Oh yeah, and the last two years of that deal have a modified NMC. CHIARELLI!
Cam Talbot has played all 6 games thus far for the Oilers, running up a 3-3-0 record with a pedestrian .906 SV% and 2.Nice GAA.
Nugent-Hopkins – McDavid – Yamamoto
Rieder – Draisaitl – Puljujarvi
Lucic – Strome – Chiasson
Marody – Brodziak – Kassian
Klefbom – Larsson
Nurse – Russell
Bouchard – Gravel
Talbot
Get ready for a couple of late nights, Pens fans.
Grease 'em up.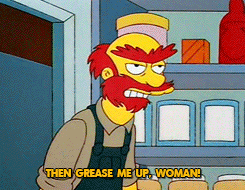 Go Pens.