So before we begin today's installment of #TBT, I want to give you all a quick backstory on how the #TBT post is typically orchestrated.
At some point every Wednesday afternoon it crosses my mind that I have to write a blog that evening, which needs to be published the following morning. Nine times out of ten (more like ten times out of ten, but who's keeping score) I have literally no clue what I'm going to write about. I'm talking absolutely zero idea whatsoever. Solid planning, right?
So what's my strategy? Well, the first thing I do is I start scouring the internet like a crack fiend looking for anything remotely relevant to Penguins hockey, past or present. As for the past, I try to get a sense of what happened on that particular date in Penguins history. To my surprise, nothing even remotely exciting has occurred on November 1st over the past fifty-plus years. So if that fails (which it did), I try to get a grasp of what's going on in the present. Have there been any amazing plays lately, any funny or sentimental moments, any pivotal upcoming matchups, or maybe any all around big stories that have broken within the past few days? The answer – well, yes. Specifically, I'm talking about the part about big stories that have broken over the past few days. As you all know, there was a tragedy that occurred over the weekend involving the shooting in Squirrel Hill. And, as a result, the Penguins organization has done quite a lot over the past few days to offer their support to the victims/community affected by that horrific massacre.
But if I'm being totally honest here, I didn't start blogging to cover heavy topics (nor did the rest of the staff at tPB, really). Rather, I started doing this to entertain myself when I would get bored at work on my lunch breaks. I look at this way – I do this to try to entertain people (as well as myself). Maybe even give someone a laugh at work that needs a break from whatever monotonous task they're in the middle of doing. So while it might've been more appropriate to write something today that revolves around some of the good things the Penguins organization has done throughout its history in the wake of tragedies, I'm gonna try and keep it lighthearted today. After all, you probably didn't come here today to read our takes on something truly serious.
One last thing – shoutout to Pat and G for giving me the idea to write about the Penguins – Islanders brawl today after the Islanders took it the Pens this past Tuesday night. An idiot like me has a hard time putting two and two together.
---
So now that I've stepped down from my soapbox, it's time to get down to business.
Let me paint the picture for you.
February 2, 2011 – Pittsburgh, PA. Penguins vs Islanders. Much like over the past thirty years or so, the Islanders were a dog shit team. As for the Penguins, well, they were good (per usual).
The Penguins season was all but over a few weeks prior once Sidney Crosby went down with quite possibly the most documented concussion in the history of sports. Not to mention, three days later, Evgeni Malkin would also be sidelined for the remainder of the season with an ACL tear. So essentially, the 2010-2011 Penguins were like the Atlanta Braves of the 90s that season – good enough to make the playoffs, but you knew they weren't going to do a fucking thing once they got there (spoiler alert: they ended up losing in 7 games to the Lightning in the first round of the playoffs).
So back to the story.
It all started in the first period when *extreme Pierre McGuire voice* Maxime Talbot laid out noted terrible playoff performer, Blake Comeau, with a clean open ice body check.
Comeau would go on to play the remainder of the game, but apparently his brain got scrambled as he was diagnosed with a concussion two days later (apparently the Islanders doctors sucked, too).
Two periods later, Dick DiPietro decided enough was enough and attempted to take matters into his own hands by taking out Matt Cooke (who was also a scumbag) in his crease with less than 20 seconds remaining in a 3-0 hockey game. What proceeded to follow was by far and away the best video ever captured via the "AGH Cam" whenever Brent Johnson skated nearly 180 feet down the ice to break DiPietro's orbital bone to pieces with a single punch (DiPietro would also somehow hurt his knee on the way down LOL).
As one might've suspected, the Islanders were none too pleased. Was it the because their playoff superstar, Blake Comeau, went down with a concussion? Was it because the Penguins beat their asses again on home ice for like the 50th time in a row? Or was it because Rick DiPietro went back on IR for the 93rd time in his career (this time for having a glass face)?
Well, it was probably a combination of all three (and the fact that Marc-Andre Fleury couldn't help himself from flashing his pearly whites in excitement like a little kid in the aftermath of Johnson's TKO).
Fast forward nine days.
February 11, 2011 – Long Island, NY. Penguins at Islanders. A regular season hockey game that has its own damn Wikipedia page for chrissakes (it's a good read if you have the time).
Spoiler alert: the Islanders didn't forget what happened nine days earlier. Like I mentioned in the previous paragraph, I highly recommend giving the Wikipedia page above a read for the full details since I won't do this justice, but here are some of the highlights from the multiple brawls that ensued:
65 penalties were assessed in total (team records for both the Penguins and Islanders in terms of combined penalty minutes), including 15 fighting majors and 21 game misconducts for a total of 346 penalty minutes (or the equivalent of over 5.7 hockey games).
Islanders forward Michael Haley fought three different times before ultimately receiving a game misconduct.
Islanders enforcer Trevor Gillies received a nine-game suspension for being an absolute LUNATIC and delivering punches to the back of Daniel Sprong's Eric Tangradi's head after concussing him with an elbow just a few seconds prior (video below). Gillies would also proceed to taunt Tangradi on the runway while Tangradi knelt on the ice in complete disarray after the melee.
Penguins enforcer Eric Godard was suspended an automatic ten games for jumping onto the ice to protect Brent Johnson from being attacked by Michael Haley. Somehow this may have been the most responsible thing any of the players did on the ice all game, and he received the worst punishment of all.
Matt Martin was also suspended four games for his actions.
Mario Lemieux would go on to release a statement a day or so later basically saying peace out to the NHL if the league didn't change the direction they were going in (surprise: people were upset about his statement).
Here's video evidence of every fight that night courtesy of the Islanders feed:
But if I'm being totally honest (and biased), the Pittsburgh feed of the second brawl, in particular, is much, much better:
A few of my favorite highlights from the FSN Pittsburgh clip:
:50 mark – Check out Penguins longtime head athletic trainer, Chris Stewart, rocking the Reebok Zig Techs.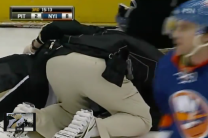 What a stupid fucking shoe (full disclosure: I owned a pair as well).
1:40 mark – Steiggy tells Trevor Gillies to go back inside his cage. LOL funny line.
3:39 mark – Check out the Albino? kid yelling obscenities at Brent Johnson from the crowd while masking his lips with his hand. Bad boy move on a hundred thousand, trillion.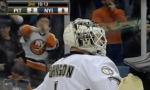 All in all, it was an absolute shit show inside of the dump that is the Nassau Coliseum that nobody will ever forget. What a night. What an era. What a blog (I'm never writing this many words ever again for a #TBT post).
Go Pens.