The EYE (now in its 12th year of myopic coverage of the most interesting franchise and fans in the NFL) was chosen as one of the "Top 20 Philadelphia Eagles blogs" by the Feedspot organization. This is an unexpected accolade due to the format changes and network shuffle we have endured together the past year as both writers and readers. EYE was this close to hanging it up last spring when we suddenly got a new spark of life from the USA Today/Sports Daily network. The revitalized "comments" engine they gave us is far from perfect, and it will never replace the legendary "Livefyre" fan base we lost in the transition…but at least it reconnected me with the real stars of this show—the readers who drop the real knowledge in the comments section.
The Feedspot rankings are based upon a combination of content quality ratings plus audience numbers, with the emphasis on the numbers. Our numbers are down understandably with all the network transitional stuff which plagued us earlier. But we still came in at numero 12.
Coming in at the top of the rankings are:
1. Philadelphia Eagles.com— the Evergreen mother ship where most of us first met each other;
2. Eagles Wire — they have a ton of Facebook followers;
3. Bleeding Green Nation — in terms of sheer audience numbers, they should be higher;
4. Iggles Blitz — Tommy Lawlor has been doing his thing out of Chapel Hill, North Carolina since 2011. His following has grown because he puts out solid football content;
5. Eagle Eye In The Sky Podcast — Fran Duffy's brainchild started as a PE.com spinoff in 2014, and it's really taken off. Check it out sometime at eagleeye.eaglesradio.libsynp..;
6. Eagles Sports Radio Podcast — This is another fast-growing podcast which compiles "the best of" local Philly talk radio. You can dial it up at eagles.vsporto.com ;
7. Eagles Gab — They're the guys from Mount Laurel, New Jersey, and they've been churning out Eagles stuff since 2007;
8. Eagles Addict — This is the one from our old buddy Dave Stoessel. He only does one or two posts a month, but he's getting numbers from his Yahoo affiliation;
9. Eagles FanCast — Another podcast, but this one features "fans only" talk. They've got nice Twitter numbers. You can dial them up at eaglesfancast.net/blog ;
10. Audio Boom/Eagles — This is the international fan's mecca for Eagles information, with many European and Australian followers. Their numbers are huge because they combine audience ratings for all 32 NFL teams and other sports leagues as well—but that's okay. I'm gonna give them a try at audioboom.com/channel/philad. ;
11. The Morning Call — Yep, it's Allentown's own Nick Fierro still doing about two blog posts a week at mcall.com/sports/football/ea . Somehow he has amassed over 75,000 Facebook and Twitter followers;
And then at #12 is EYE.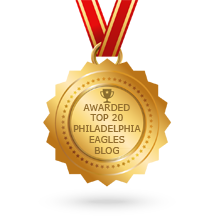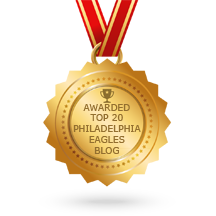 Behind us are a bunch of news compilation sites like SportsSpyder, which basically gather redirects to all the original content blogs; and there's Gary Cobb, the former Eagle and Lion, who's still doing two blog posts a week at GCobb.com. He comes in at number 16.
There are many Eagles blogs and podcasts who have come and gone over the years, and many still left who are pounding out content. Some of them deserve to be in the Top 20, but for some reason don't show up.
One of them which I really enjoy is written by a local Philly guy called the BEAST. I think I know his real name, I think he is a radio deejay by day, but I'm not sure so I won't try to unmask him here. But he does a wild blog called Eaglemaniacal.com. It's wild-ish because the BEAST is often over-the-top in his passion and his criticism, and not ashamed to make a scene!
But every now and then the BEAST comes up with a genuine football insight. Here's an excerpt from a recent post in which the BEAST addresses the drought in the Eagles' running game so far in 2018:
"One of the first things killing us, is not running the ball effectively. Some fans and media types people put it on our RB's. Folks like me have been blaming the Offensive Line. Turns out both of those camps are wrong. It's the coaches. It's our alignments. Those are the reasons why we can't run the ball.
"Look at these game shots:
"The disclaimer on this is, I had to cull these shots from highlight videos. (I chose the Panthers game.) Since our running game sucks, the rushing highlights were, well… Yeah these are all passing plays, but they're still our typical alignments.
"You may recognize that these alignments with the WR's tight to the O-line, are typical of our Offense this year. We did some of this last year, but this year it seems to be our Default Setting. Go back and look at each picture, and you'll see 8 and 9 man boxes. A couple of them "loose" boxes. Again those pictures are all from pass plays, but we run the ball out of these same alignments.
"This has been great for play-action, but it means zero room inside, on actual hand-offs. That was fine when we had bruising inside runners, to mask the Offense's true intent, but without a physical runner to help, all our smoke and mirrors are easy to see through. While our Offense puts up 22 points per game (21st in the league, 11th worst), the inability to run, has kept us from being explosive.
"The simple fix is to spread our formation during the early part of the game when we want to establish the run, then later on when we need to sit on our lead, and close the game out. Rotate the slot receiver and put him in motion to move that 8th man out of the box. When room opens up inside for the ball carrier to find a crack, hit it, and step on the gas."
Say what you will about the BEAST, but he makes a solid point. With Doug's running so many 12-personnel and 13-personnel formations (2 and 3 tight ends or tackle-eligible receivers, and only one wide receiver), opponents have figured out how to clamp down on our running game. Maybe that's the real reason we went out and got Golden Tate—a projected return after the Bye to an 11-personnel spread offense.
You may not agree with the BEAST or relate to his emotional style of blogging, but in my opinion he deserves to be in the Feedspot Top 20.