Hi friends! It's me – your favorite incompetent blogger who's only capable of writing recaps with a "quick" in front of them. Not that I can't write a lot of words (I can!), but instead, I know my skillset. I'm not good at detailed recaps (or analytics or just about anything that doesn't involve dick jokes). So either deal with it or @ me on twitter. Besides, Jeff will be back next week to resume his role as Head of tPB Operations (aka very good and detailed recaps).
Alright, so before we get into the nitty gritty of the details, let's pause for a moment to acknowledge a very good thing the Washington Capitals did last night by donating money to the Jewish Federation of Pittsburgh in support of the recent tragedy at the Tree of Life Synagogue in Squirrel Hill.
Sure, we may hate these guys with the passion of ten thousand burning suns while they're playing against the Penguins on the ice, but off of it, they seem like a very classy organization (minus Ted Leonsis preventing Penguins fans from buying playoff tickets at Capital One Arena every spring). Hat tip to the Caps.
The Lineup
So what happens when you get shit pumped four straight games to mostly inferior opponents? Well, Sully puts the roster into a Magic Bullet and it looks something like this:
A few thoughts here:
That first line. Woof.
Johnson on the top pairing. #Pray4Letang
Safe to say Daniel Sprong is in the dog house. You can have all the offense skill in the world, but if you don't do what's asked of you on the fourth line, well, you're gonna be watching a lot of games from the press box. As for people who do what they're told to do, look no further than the wingers on the top line.
DeSmith in for Murray is kind of a head scratcher considering the defense has mainly been the culprit of giving up 19 goals in the last four games, but like I said, you lose four games and you gotta change shit up. Besides, DeSmith has looked #good so far this year (.932 SV % coming into tonight's game).
Did I mention the Pens lost four straight before tonight's game?
Let's get to it.
1st Period
Considering these two combined for a total of 13 goals the last time they matched up back in early October, you could just tell from the start of this one that it was going to be a low scoring game that would go down to the wire.
Sticking with the theme of the night, the magnet that is T.J. Oshie's head would take its first abuse of the night during the 1st period when Olli Maatta decided to accidentally take out one Oshie's eyeballs with his stick.

Oshie would eventually return to the game with his eyeball intact (another recurring theme of the night).
A few minutes later, the Pens would hop on their first power play of the evening and promptly capitalize off of a Dmitri Orlov arid clearing attempt, resulting in a perfect backhand pass courtesy of Jack Fucking Johnson directly to the tape of 87's stick waiting below the opposite faceoff dot.

And as expected, 87 buried the absolute shit out of it.
1-0 Pens.
2nd Period
After another Penguins power play early in the 2nd that looked much more like a penalty kill, Sidney Crosby would eventually get whistled for a hooking call resulting in a little 4-on-4 action for a little less than a minute before the Caps would hop on a power play of their own. Roughly .7 seconds later, John Carlson would find a wide-open Ovechkin standing beside the faceoff dot for a one-timer that goes in the back of the net 10/10 times.

Spoiler alert: it went in.
1-1.
As for the rest of the period: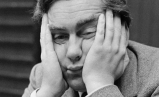 3rd Period
The start of the 3rd period had the classic feel of every single game 1 played between these two in the playoffs over the past three seasons. With the scored tied at one a piece, you just knew shit was gonna go down sooner or later. And sure enough, it did!
Just over three minutes into the period, Evgeni Malkin would take matters into his own hand shoulder by delivering this hit to the head of T.J. Oshie as Oshie approached Geno entering the Capitals' zone.

Stop me if you've heard this before – another controversial hit between the Penguins and Capitals (albeit this time it didn't involve noted scumbag Wom Tilson).
If you ask me my opinion, I feel this hit could've been avoidable, but it's definitely not the dirtiest hit I've ever seen, either. For starters, Geno doesn't drive through his legs on the hit. If anything, he raises his arm ever so slightly as Oshie, himself, skates towards Malkin's direction seeking to lay an open-ice body check. But still, a hit to the head is a hit to the head and it's clear the NHL isn't fucking around with these types of hits anymore. Malkin would ultimately get a 5:00 major and a game misconduct for his actions.
As for Oshie, contrary to popular belief, he did not die. In fact, he would ultimately go through concussion protocol before returning to the ice for the second time after getting whacked in the head in less than two hours. So the question enlies, T.J. Oshie's brain – hurt or injured? You be the judge.
The Pens would go on to kill the Caps ensuing 5:00 power play and follow it up with a ferocious offensive surge that lasted throughout the remainder of the 3rd. However, Braden Holtby had other plans as he decided transform himself into one of these:

And as you probably expected, the game came down to the final minute. Only this time, you knew exactly how it was going to end.
After outplaying the Capitals for roughly 99% of the period, the Caps surged into the Penguins' zone with just over a minute to play and sealed the deal as John Carlson found a not dead T.J. Oshie sliding into open space between Sidney Crosby and a boxed out Olli Maatta for the game-winning goal.

2-1 Caps.
Ball game.
Notes:
There's going to be a lot of talk in the coming days about Malkin's hit on Oshie so let's just get this taek out of the way courtesy of the blabber mouthed fucking moron:
If it were up to Prant, Malkin will be suspended for eternity. Before I go any further, though, let's review his thoughts on the Tom Wilson suspension:
Malkin will probably end up getting a fine and perhaps a game at most. After all, it's important to note he's not a repeat offender unlike scumbag Tom Wilson.
The Penguins have now dropped five straight; however, this was by far and away their best performance since returning from western Canada. The Pens outshot the Caps by a country mile tonight (42-22) and had infinity scoring chances according to the dorks who do analytics.
Prant's happy place = diabetes.
Casey "The Smith" DeSmith had another solid performance (20 saves on 22 shots). Safe to say the Penguins have found themselves a reliable backup goaltender.
It's still only November.
Up next: Arizona comes to town on Saturday night. Buckle up, bitches.