PREGAME
Hey there! Welcome back to another installment of the 2018-2019 Pittsburgh Penguins aka the "we lose to all the shitty teams, but we beat all the good teams!"
Look, I'm no betting man, but if I were, you can bet your ass I would've been all over this spread tonight.

Pens -1.5 after coming off of a loss to the worst team in the NHL.
Let's take a look at the lineups:
A little bit of a different look for the Pens after falling to the Blackhawks (lol) two days earlier. Most notably, Tanner Pearson moves up to the top line to play with Sid and Jake. After all, what better way of improving your chances of scoring a goal for the first time in eight games other than playing on a line with the best hockey player on the planet. Seems logical imo.
Other moves included bumping ZAR up to the 2nd line to play with Malkin and Kessel while Brassers was demoted back to centering the 3rd line with the two hottest motherfuckers on this team right now – Riley Sheahan and Bryan Rust. Yes, you read that right.
As for the B's, well, I don't pay much attention or give a shit about anything Boston sports related*, but it's important to note they've been playing pretty damn well without the likes of their two best players in Bergeron and Chara. Add Jake DeBrusk to the injury report this past Thursday with a concussion and the Bruins are basically a one line team right now on offense. Yet, unlike the Penguins, the Bruins have found a way to win games this year in the wake of any type of adversity as they entered this one in 4th place (17-10-4) in the high competitive and [much] better Atlantic Division.
Let's get to it.
*The Patriots definitely do take up real estate up in my brain.
FIRST PERIOD
The first ten minutes of this one were about as exciting as watching other people open their presents on Christmas day when you were a kid. Besides for the 4th line making its first appearance of the season and drawing a penalty, neither team was interested in scoring goals. Not gonna lie, though. After watching Jaroslav Halak make a couple of routine saves on the Penguins' power play, you definitely had a flashback to 2010 when he single handedly stole the series for the Canadiens. It was at this time, you also probably took off the rose colored glasses and realized Dan Bylsma was just an idiot in a suit and glasses and didn't know what the fuck he was doing. But I digress.
As with another recurring theme of the year, Casey "The Smith" DeSmith made another highlight reel save that made absolutely no sense – this time on the only guy on planet earth that probably has a bigger nose than yours truly.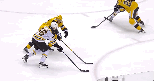 (Peep vs Marchand)
My nose is WAAYYYYYYYYY smaller.
Anyways, it's crazy how a guy can make saves like this, yet fall on his back in Chicago and squirm around like a fish out of water for ten seconds while giving up a goal on a 5 mph wrist shot from one of Matt Cullen's 10-year old sons. But that's neither here nor there.
Shortly after Bryan Rust almost potted his 4th goal in his past two games (after not scoring nearly all season long previous to this past Wednesday), the 4th line reminded us again why it's nice to have scoring depth once every 35 games or so. Dad (I hate myself for doing it) retrieved a loose puck in the corner and fed Derek Grant driving to the net with a sweet no-look backhand pass for the tuck.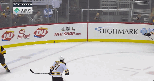 "Keep your stick down on the ice and good things happen, Doc." -Eddie O. (probably)
Also, this is another friendly reminder that Derek Grant is, in fact, a better ice hockey player than Daniel Sprong. ZAR, too, but who's keeping score?
1-0 Pens.
SECOND PERIOD
The Penguins wasted virtually no time coming off a strong finish to end the 1st as Evgeni Malkin and Phil Kessel decided to turn on God Mode within the first two minutes of the 2nd and connect for a beautiful one-time goal that happened quicker than your first time having sex.
So fast it's almost unfair.
2-0 Pens.
Unfortunately, as we are all aware, the two-goal lead remains the most dangerous lead in sports. Roughly ten minutes later, the Bruins would get on the board thanks to an ABSOLUTE MISSLE from Brandon Carlo with no less than all five Penguins in front of Casey DeSmith's face.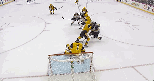 However, there's probably no way of stopping this shot even with zero guys in DeSmith's face if I'm being totally honest. You just know Jack Edwards is probably somewhere right now petitioning for Carlo to be entered into the hardest shot competition at this year's all star game. The only problem is Brandon Carlo sucks.
2-1 Pens.
Just like it's nice when the 4th line actually does something good for a change, we were issued a casual reminder that the Penguins' penalty kill is allowed to score goals as well.
With nearly a minute to go in the 2nd, Riley Sheahan fed Zach Aston-Reese with a beautiful saucer pass on a 2-on-1 to give the Penguins another *gulp* two-goal lead.
*VOLUME UP (for the second tweet, not mine)*
As for those of you keeping score at home, yes, this is the first time the Penguins have scored a shorthanded goal all season. Sure, it only took 'em 31 games to do it, but my god was it beautiful.
3-1 Pens.
THIRD PERIOD
After the Penguins and Bruins traded some chances to start the 3rd, we were again reminded a mere seven minutes later why the two-goal lead remains the most dangerous lead in sports.
Boston's 4th line, too, would decide to show up in this one as B's winger Sean Kuraly came streaking into the Penguins zone and found a wide open Chris Wagner at the top of the slot for an easy slap shot past DeSmith.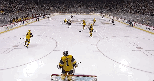 Which poses the question – can Casey DeSmith stop a slap shot?
3-2 Pens.
But the B's weren't done there. Unlike after the first two-goal lead, the Penguins would ultimately blow this one as the Bruins' top line steam rolled directly back into the Penguins' zone not even a minute later to tie up the ball game at three a piece.
3-3.
Just before you fully got that "here we go again the Penguins are about to let another fucking team come back and win on home ice" type of feeling in your stomach, four of the Penguins six best skaters hopped onto the ice and reminded you that it's Friday night and the times are, in fact, #good (for tonight, at least).
Right off of an offensive zone face off, Sid would win the draw and send the puck directly back to Kris Letang waiting at the top of the point. Without hesitation, Letang sent off a seeing eye wrister that would ultimately deflect off of the tip of Jake Guentzel's stick and off of the tip of Jaroslav Halak's dick and in.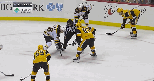 As for your listening pleasure:
4-3 Pens. 
Just a few minutes later we had our first "Oh fuck." moment of the year as Kris Letang crashed into the back of Bruins center Joakim Nordstrom and appeared to have hyperextended his knee while racing into the B's defensive zone.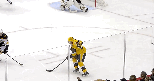 The bad news: Letang hobbled off the ice without being able to bear weight on his left leg.
The good news: Rest assured, we already have folks on twitter requesting @ProFootballDoc to give us specifics on Letang's injury since you just know you'll only find out limited information tomorrow whenever Mike Sullivan announces Letang has a lower body injury and is out x-amount of time.
Please join me in thanking these brave men for their service. After all, we hockey fans need answers!
Back to the good times.
Like I mentioned at the beginning of this post, you just knew the Penguins were gonna cover the spread tonight. And that they did.
With less than 10 seconds left to go in the game and your asshole puckering up like a 12-year old getting ready to kiss someone for the first time in his/her life (if you had money on the Penguins, after all), Vance McDonald Sidney Crosby would lay Torey Krug out with a stiff arm and send a pass over to ZAR racing to the open net to deliver the knockout blow.
5-3 Pens.
Ball game.
NOTES 
Like you saw in the video, the Letang injury didn't exactly look good.
However, there probably aren't going to be any updates from the Penguins until at least 5:00 pm tomorrow whenever Mike Sullivan meets with the media prior to the Penguins' game against the Kings.
Also, so far no reply from @ProFootballDoc to any of the injury report requests. Sad!
The Bruins outshot the Penguins 51-28. I'm no analytics dork, but that doesn't seem very good. Need to find a way to prevent a team with only three forwards I've ever heard of in my life prior to this game from shooting 17 shots/period.
Zach Aston-Reese is playing out of his skull right now. Over his past two games, ZAR has four points, which includes tallying two goals and an assist in this one. It will be interesting to see if he can keep up this type of production while playing alongside Malkin and Kessel on the 2nd line.
While Casey DeSmith looked pretty solid tonight, you can likely expect Matt Murray to make his first appearance back between the pipes tomorrow night against the – old as balls – Los Angeles Kings.
Many people are saying I'm the Anti-Pitt Bayless.
Aka not this guy: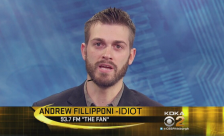 In fact, on Wednesday, I predicted Bryan Rust would record a hat trick.*
He did.
*I predicted this after Rust already scored two goals in the game.
Yesterday, I predicted two more things.
First, it was re: DeSmith:
So the wrister was actually a weak slap shot and the distance was roughly less than 30 feet away. Still counts.
Then, finally, it was at the beginning of this very post where I predicted the Penguins would cover the spread tonight. In fact, I started writing this blog before the game was even over!
So for those of you keeping score at home, that makes me 3-for-3 over the past two games in terms of predictions. Like I said, do I look like this idiot?
Did I mention I nailed my last three predictions?
.
Kings come to town in like 8 minutes.
Go Pens.