Minnesota Wild (17-14-2)  36pts  5th in the Central
3.06 Goals For Per Game (12th in the NHL)
2.85 Goals Against Per Game (12th in the NHL)
24.3% Power Play (7th in the NHL)
85.7% Penalty Kill (2nd in the NHL)
Top 5 Scorers:
1. #64 Mikael Granlund ~ 11G 22A = 33pts
2. #11 Zach Parise ~ 15G 14A = 29pts
3. #20 Ryan Suter ~ 4G 22A = 26pts
4. #12 Eric Staal ~ 12G 10A = 22pts
5. #9 Mikko Koivu ~ 4G 17A = 21pts
Top 3 PIM's:
1. #17 Marcus Foligno ~ 23 PIM's
2. #23 J.T. Brown ~ 22 PIM's
3. #21 Eric Fehr ~ 22 PIM's
Top Goaltenders:
1. #40 Devan Dubnyk (12-11-2)  2.64GAA  .911%SP
2. #32 Alex Stalock (5-3-0)  2.65GAA  .904%SP
Vs.
Pittsburgh Penguins (16-12-6)  38pts  4th in the Metropolitan
3.32 Goals For Per Game (7th in the NHL)
3.15 Goals Against Per Game (20th in the NHL)
22.9% Power Play (9th in the NHL)
83% Penalty Kill (8th in the NHL)
Top 5 Scorers:
1. #87 Sidney Crosby ~ 16G 22A = 38pts
2. #71 Evgeni Malkin ~ 11G 26A = 37pts
3. #81 Phil Kessel ~ 14G 22A = 36pts
4. #59 Jake Guentzel ~ 13G 16A = 29pts
5. #58 Kris Letang ~ 7G 20A = 27pts
Top 3 PIM's:
1. #71 Evgeni Malkin ~ 38 PIM's
2. #6 Jamie Oleksiak ~ 35 PIM's
3. #58 Kris Letang ~ 26 PIM's
Top Goaltenders:
1. #30 Matt Murray (6-5-1)  3.70GAA  .890%SP  1SO
2. #1 Casey DeSmith (10-6-4)  2.49GAA  .923%SP  2SO
Lines:
Pittsburgh Penguins
Guentzel~Crosby~Rust
Aston-Reese~Malkin~Kessel
Pearson~Brassard~Sheahan
Grant~Cullen~Wilson
Dumoulin~Letang
Maatta~Oleksiak
Pettersson~Johnson
Murray
DeSmith
Minnesota Wild
Greenway~Staal~Granlund
Parise~Coyle~Niederreiter
Zucker~Koivu~Kunin
Foligno~Eriksson Ek~Fehr
Suter~Spurgeon
Brodin~Pateryn
Seeler~Prosser
Dubnyk
Stalock
Since most of us are in full Christmas mode right about now, we're going to talk about my favorite Christmas movie. For many of us, at some point between Christmas Eve and Christmas Day, we tune into the 24-hour marathon showing of A Christmas Story. However, I wonder how many of us are going to tune in just to spite that freelance writer who published an anti-A Christmas Story editorial on Yahoo! a few weeks ago. I know that when I read that particular editorial, I pretty much wanted to throw something at that writer, because all of the points she tried to make were pretty pathetic. I really had to laugh at her for calling out the commercialism of the movie. Clearly this writer missed how the movie itself pointed out the commercialism of the time. Yet not once did the writer point out how amazingly commercial our holidays are now. You have to love a hypocrite. I personally love the scene where they're opening their Christmas presents, and both Ralphie and Randy open a present that contains socks. They make that disappointed face and toss them over their shoulders. As kids, we all had those moments.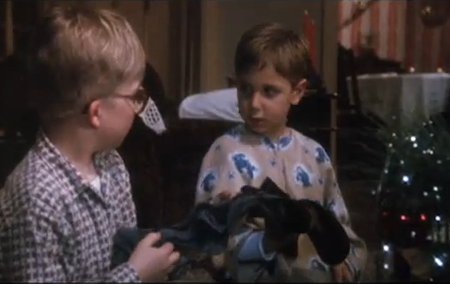 So here we are, the part of the Minnesota Wild season where we're opening the needed, but for the most part unwanted socks (now mind you as an adult, I don't shake my head at getting merino wool socks) part of the season. You know, the slump part of the season. Where you can win a game or two, feel okay, but then get dragged down by a few losses. I'll admit, I wasn't feeling super positive heading into the San Jose game. The Sharks are one of those teams, that have a great way of making Minnesota look bad. And the fact that Minnesota could even get one goal on a struggling Martin Jones, is almost unpardonable. Other teams have lit him up like a Christmas tree, but not the Wild. There were numerous times where the Wild skaters had Jones out of position, but could never take advantage of that. Then there were several pucks rung off the pipes. Again close, but not close enough. Combine that, with not being able to generate continued pressure and possession in the offensive zone, and you're going to have games like Tuesday night. Glad it's a game, but upset that it's not what you wanted. You know, socks.
However, too many socks eventually morph into the horrendous pink bunny suit. And that's what I worry about with this team, that we're at that point. So here we are tonight, heading into Pittsburgh. Now just like the Buffalo Sabres of this season are not the Sabres of recent season, the Pittsburgh Penguins are not the Penguins of seasons past either. I mean they can score in general and on the power play, but their team defense isn't exactly what they need. And because of that lack, it explains their place in the Metropolitan Division. When it comes to our top five scorers, we rarely look beyond goals and assists. If we do, it would be at power play points. We'll get back to those, but we're going to dig a little deeper into the individual stats. Today's stat of the day is going to be the +/-. In the top five scorers, there are two skaters that are in the negative category. Worse, one of those two players has the worst +/- for the team. The player getting that particular goat award would be Evgeni Malkin. It seems that there has been some worry about his scoring pace this season. However, if there's an area that Pittsburgh fans should be concerned is his clear lack of defensive ability, as he's sitting at a -14. While he can score, it seems that most teams' best chance of scoring is going to be when Malkin is on the ice. But let's get back to his scoring. If they're concerned about his lack of scoring, they need to realize that many teams, would gladly take the scoring they have gotten from him. I mean, I certainly wouldn't complain about 11 goals and 25 assists. The other player in the top five scorers but in the negative when it comes to +/-, it's Phil Kessel, with a -7. Interestingly enough, Malkin is also leading the team in penalty minutes. Sure, he "only" has a 11 goals, but if you're scoring is going to be "low" for a high scoring forward, you better improve your +/- and stay out of the box.
Hopefully the Wild can find a way to take advantage of the weaknesses that the Penguins do have. Sure, they have some great players. But they're not invincible. They have a goaltending tandem in Matt Murray and Casey DeSmith which can be beat, however DeSmith is showing that he's the better of the two. Most likely the Wild will have to face the better of the two, since Murray got the start last night against the Washington Capitals. Also, it would be nice if the Wild can find a way to settle in with the roster they're not using due to injuries and illness. Yes, it really stinks that we're without Matt Dumba, but accept it and move on. Yes, Mikko Koivu is back and Jason Zucker will be back after his bout with illness, so that may help matters. Now that the band is back together for the most part, take advantage of that. Stop with the woe-is-me attitude and get on with it. Throw those socks over your should and move on. Because if you continue to play as you did against San Jose, it's going to feel like a combination of the embarrassment of the pink bunny suit and the dad from A Christmas Story (painfully) getting a wrapped bowling ball on his lap.