IBF World Featherweight Championship: Josh Warrington (c) (27-0) vs. Carl Frampton (26-1)
Nolan Howell: After taking a few tune-up fights following his brutal split series with Leo Santa Cruz, Carl Frampton takes a much tougher fight here against IBF Featherweight Champion Josh Warrington, who won the title from Lee Selby last time out. Frampton will be at a height and reach disadvantage against the taller Warrington here, but that really shouldn't matter too much after Frampton found a way to get inside on Leo Santa Cruz. Warrington also doesn't have the power necessary to keep Frampton cautious enough on the outside and avoid getting the fight at his range. Where Warrington might trouble Frampton is using his reach and output to not allow Frampton inside until his punching power fades later on in the fight, no matter the lack of power.
Still, Frampton has shown an ability to keep the pressure inside on taller fighters before and he has faced better opposition than Warrington in his career. Given that and the power advantage that could trouble Warrington from peppering Frampton, Frampton is the rightful favorite here. Carl Frampton by unanimous decision.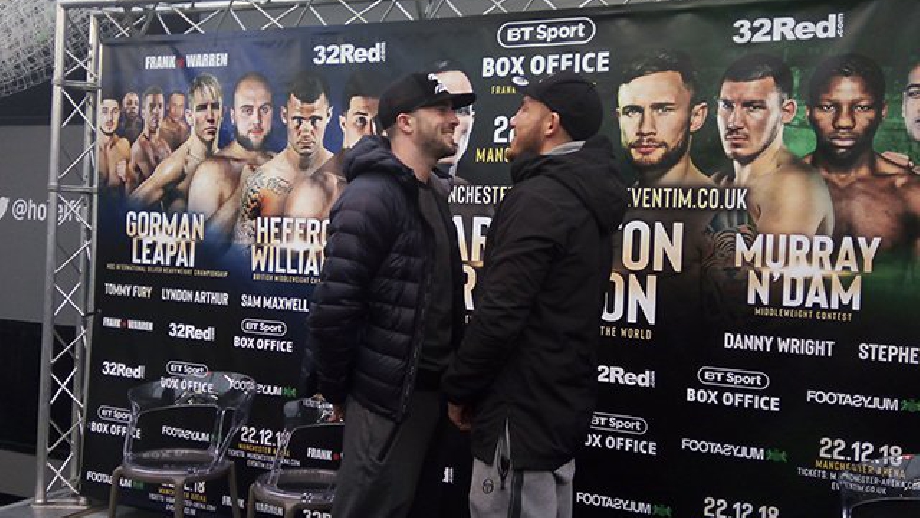 Vacant BBBofC British Middleweight Championship: Liam Williams (18-2-1) vs. Mark Heffron (21-0)
Nolan: Williams looks to move up in weight here after two losses to Liam Smith at super welterweight and some severe can crushing to get here. Heffron's power gives him the edge in this domestic title matchup for the vacant BBBofC British Middleweight Title. Mark Heffron by seventh-round TKO.
Middleweight Bout: Hassan N'Dam N'Jikam (36-3) vs. Martin Murray (37-4-1)
Nolan: Murray still has a bit left in the tank after his loss to George Groves in 2016 and his subsequent rebound tour, while N'Dam's best win was Curtis Stevens and tends to struggle against fighters below the level of Murray's best losses. It all depends how Murray looks here, but it should be a winnable fight for him even on an aging decline. Martin Murray by unanimous decision.
Featherweight Bout: Jason Cunningham (24-5) vs. Michael Conlan (9-0)
Nolan: Showcase for Conlan. Michael Conlan by third-round TKO.
Super Middleweight Bout: Billy Joe Saunders (26-0) vs. Charles Adamu (32-13)
Nolan: Clearly a showcase for the return of Saunders here, but the matchmaking is particularly dreadful even with all that in consideration. Billy Joe Saunders by first-round TKO.
Heavyweight Bout: Dereck Chisora (29-8) vs. Dillian Whyte (24-1)
Nolan: Chisora was able to keep his name near the top of the division last time out with an eighth-round TKO over Carlos Takam, while Whyte picked up what may be the best victory in his career when he defeated Joseph Parker in July.
Overall, Chisora looked like the more impressive fighter of the two the last time they fought in December of 2016. Chisora crowded Whyte against the ropes throughout and seemed untroubled by the power of Whyte as he exchanged inside, rocking him throughout the last half of the fight. Whyte picked up the decision on the scorecards though and has looked like the more impressive fighter as of late while Chisora seems to be hanging on to relevancy at heavyweight after the losses to Whyte and Kubrat Pulev in 2016 and a bit of a stunner against Agit Kabayel in November of last year.
Having defeated a more technical fighter like Parker and unlikely to be goaded into going toe-to-toe throughout again with Chisora in what may be the declining Del Boy's only chance at winning, Whyte should be able to stay out of trouble here and only mix it up inside when Chisora is slowed down a bit. At this stage, it simply looks like Whyte is a fighter who could perhaps surprise a few and put his name in the same league as the likes of Deontay Wilder, Tyson Fury, and Anthony Joshua (despite being outmatched by Joshua when they met in 2015), while Chisora was always on the outside of those more elite fighters even in his best days. Barring a complete lapse into a brawl by Whyte, this fight looks like his to lose. Dillian Whyte by sixth-round TKO.