Technical analysis is a careful analysis of coin reports and charts. Although with a few close similarities with other forms of trading, cryptocurrency's unique characteristics have helped made several tools invaluable in studying coin behaviour, predicting future movement to take proper trading steps.
In this article, you would learn about more advanced methods employed in the technical analysis of cryptocurrencies, e.g. Bitcoin. Each of these methods has striking characteristics, and readers are advised to study them carefully.
JAPANESE CANDLESTICKS METHOD FOR TRADING CRYPTO
The Japanese candlesticks are technical analysis tools used to provide adequate trading data to investors. Since cryptocurrency trading occurs on exchanges, there is a section that shows charts in the form of graphs, having different time frames from 1 hour, one day, one week, one month etc. When observed carefully, when zoomed in, two types of candlesticks are seen that make up the chart. They are red and green candlesticks. The red candlestick is used to illustrate a decline in price while the green candlestick is used to show an increase in price.
Even though cryptocurrencies are entirely different from other traditional assets, similarities exist between them in the way they are charted coupled with the open, high, low & close (OHLC) of trading. The OHLC is identified in the image below.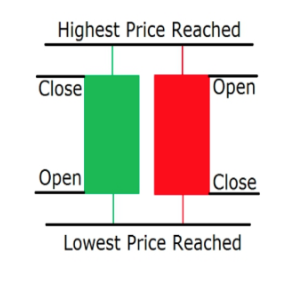 Research shows that five favourite candlestick patterns provide useful direction for traders. These candlesticks work within price ranges in predicting the next movement of the trade either increase or decrease in value. The most accurate patterns are divided into two namely reversals and continuations. Reversals are patterns that predict a downtrend in price while continuations is a pattern that predicts an uptrend in price from its present price.
A trend can either be bullish or bearish. A pattern is said to be bullish when it is in the direction of an upward trend while it is said to be bearish when it is in the direction of a downward trend. The five popular candlesticks are namely The Hammer, The Piercing Line, The Bullish Engulfing Pattern, The Morning Star and the Three Soldiers.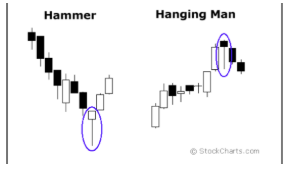 The Hammer shows a bullish pattern in a reverse order in which the asset nears a downtrend. Its opposite is Hanging Man.
THE ELLIOT WAVE PRINCIPLE METHOD FOR CRYPTOCURRENCY
This principle is a form of technical analysis that employs the study of market psychology, identifying the 24hr High and Low prices and use these factors in making market decisions. Every trader that use this form of technical analysis believes that the crypto market is influenced by market psychology using fundamental analysis. Success when using Elliot wave can only be ascertained when the technical analyst gets the wave count of the price chart right.
Just like all other methods of technical analysis, it takes years to be experts in knowing it so well to make accurate decisions. However, depending on commitment to study and research, one can grab a few of its basics to employ in trading.
TRADING CRYPTO WITH FIBONACCI LEVELS
Fibonacci is a method very similar to the Elliot Wave in that while Elliot Wave looks to study the waves that the price chart reveals, Fibonacci deals with these waves in finding support and resistance levels for the waves in the chart.
For instance, experienced traders expect the market to retrace its steps between 38.2% and 61.8% of its high/low range. So, when such retracement occurs, the next buying or selling opportunity is seen. A Fibonacci level is also used by traders to get an estimated trend length and forecast trend corrections.
USING THE RELATIVE STRENGTH INDEX (RSI) METHOD AND STOCHASTICS
RSI and Stochastics are both referred to as oscillators in technical analysis because their movement range is within a low and high of 1 and 100 respectively. This method is used by a trader to determine the strength of a trend if it has been oversold or overbought thereby predicting possible tops and bottoms.
Both work with the premise that during upswings the price would be closing close to the high of the trading range and vice versa.
MACD
The Moving Average Convergence/Divergence is an indicator used in cryptocurrency trading to help measure the momentum of tokens. This indicator works with the long and short-term momentum in determining the new direction of momentum in the market rather than the direction of the price.
Positive MACD signifies that the currency's momentum is upward and vice versa.
ICHIMOKU CLOUDS
Ichimoku also is an indicator that is used to indicate support and resistance levels, trend directions and as well provide trade signals.
CONCLUSION
Cryptocurrency trading using various TA tools is quite laborious as each tool has its own characteristics. So, it is critical for every trader to have a proper conviction in his/her envisaged accomplishment.
TECHNICAL ANALYSIS TOOLS
There are only a few analysis tools that beginners can start with to get a good grasp of the basics of technical analysis. Such include Coingy which provides all-round charting services for traders, CoinAnalyze that deals with Japanese candlesticks of major cryptocurrencies. TradingView is another technical analysis tool that looks similar to Coingy in a few ways even with some difference. However, unlike Coingy, it is free.
Read next