Welcome back, EYE took a day off to see if the "Connectivity" issue with the Comments section has been resolved. It's an annoying little glitch which requires you to "Retry" loading the Comments, which eventually happens after 3 or 4 tries. This better be fixed soon or we will have to resort to telegraph lines Civil War style. Did you know Abraham Lincoln was the first "wired" president? His daily routine during the war included hours spent in the federal telegraph office reading messages from the front.
Speaking of telegraphing, one of the subtle aspects of playing football at the highest level is learning to avoid tipping off plays to the opponent. Smart defenders study individual tape to discover individual mannerisms that result in "tells" on where a play is going.
One such "tell" I learned about this past weekend is when a tight end or a wide receiver changes his head position. If he lines up with helmet looking down sometimes, or looking straight ahead other times, he may be tipping off whether he is blocking on the play or running a route. The inconsistency of head position can be a common rookie mistake due to amateur habits which reflexively surface in the heat of competition. The correction is simple—make sure your helmet is facing forward in the same position and direction on every snap. But sometimes guys lapse on this in all the noise and excitement. Smart defenders look for such lapses.
As for the salary cap concerns facing the Eagles right now, there is no obvious "tell" as to where the money is going to end up.
Philadelphia has $2 million in cap space to play with, but needs to clear more space in order to sign free agents and add to the roster.
Spotrac and also Jeff Kerr at 247Sports break down the cap challenge into its most basic moving parts—
If the Eagles wish to trade Nick Foles, they will have to franchise tag him. That will require a salary of up to $25 million to tag Foles, which would count against the 2019 salary cap. If the Eagles tag Foles, they would go (at least temporarily) from $2 million under the cap to $23 million over the cap.
Frankly I don't see that happening unless a willing trade partner and a cooperative Nick Foles are already in the bag prior to the franchise tag cap hit, which would then be absorbed by the team trading for Foles anyway.
The other big wheels of the CAP, according to Kerr, are:
Jason Peters ($10,500,000)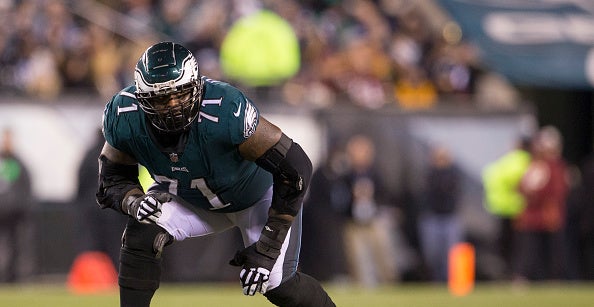 "The Eagles would save $10.5 million if they released Peters, who has the largest cap hit on the team.
"Peters allowed three sacks and 38 pressures on the season, showing signs of age at age 37. Peters still is a force at left tackle, but age may be catching up with him."
Nelson Agholor ($9,387,000)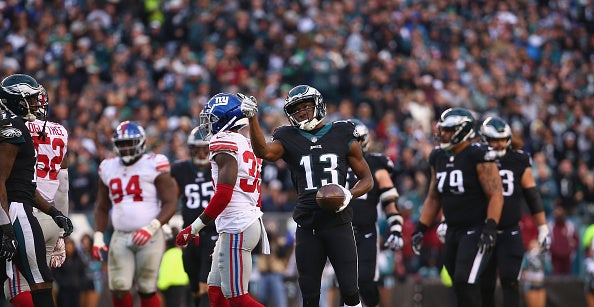 "The Eagles exercised Agholor's fifth-year option on his rookie deal last year, but this is a large cap hit.
"Agholor has come such a long way from the player who lacked confidence and couldn't catch a cold two years ago. He finished the regular season with a career-high 64 catches for 736 yards and four touchdowns, one year after having 62 catches for 768 yards and eight touchdowns.
"Over the last two seasons, Agholor has 126 catches for 1,504 yards and 12 touchdowns, averaging 11.9 yards per catch. He also hasn't missed a game over the last two seasons.
"Since the bye week, Agholor had 18 catches for 258 yards and three touchdowns, averaging 14.3 yards per catch. He's become a big play receiver and a key blocker on the edge for the Eagles, creating valuable holes in the running game. Agholor had four catches for 38 yards in two playoff games."
Michael Bennett ($7,200,000)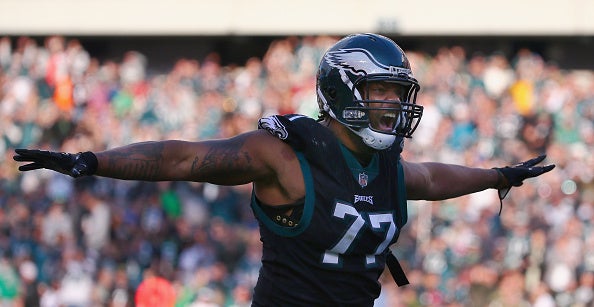 "Bennett has two years remaining on his contract and the Eagles could release him without any cap penalty.
"Bennett was one of the most productive edge rushers in the second half of the the season across the entire NFL, finishing with 68 pressures, 37 hurries and 22 stops in just 716 snaps (has 70 pressures, 44 hurries and 32 stops in 931 snaps in 2017 with the Seattle Seahawks).
"Fewer snaps led to increased production for Bennett, who had 30 quarterback hits and nine sacks (his highest in both categories since 2015). "
Tim Jernigan ($7,000,000)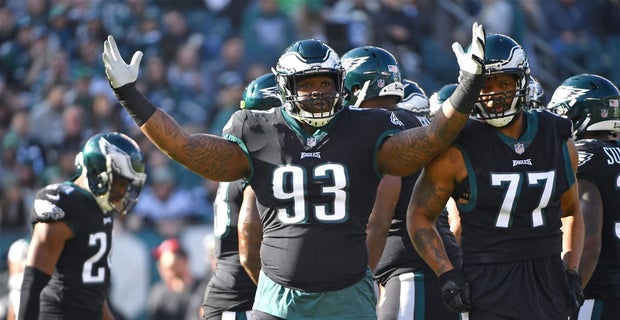 "Jernigan made the Eagles defense immediately better after he returned from a back injury that caused him to miss the first 11 weeks of the season. He still had some complications after returning, but the Eagles slowly worked Jernigan back into the lineup.
"Philadelphia had allowed just 83 rushing yards in two games since Jernigan returned to the defensive tackle rotation, an average of 41.5 per game. Jernigan played just 45 snaps on the season in a limited role. In the playoffs, Jernigan had two pressures and two sacks in two games as the Eagles defense allowed 101.5 rush yards per game.
"Philadelphia reworked Jernigan's four-year, $48 million deal he signed last November, but the Eagles are no longer responsible for the final three years of the contract, including the $11 million guaranteed in 2019.
"Jernigan was originally owed $35 million after the 2018 season as part of the four-year extension, but the 2019 through 2021 seasons are now option years. The Eagles can not pick up Jernigan's 2019 option and save $13 million in cap space in 2019. Philadelphia basically has an out in Jernigan's contract. If the Eagles exercise that out, they save $7 million in cap space. "
Jason Kelce ($6,500,000)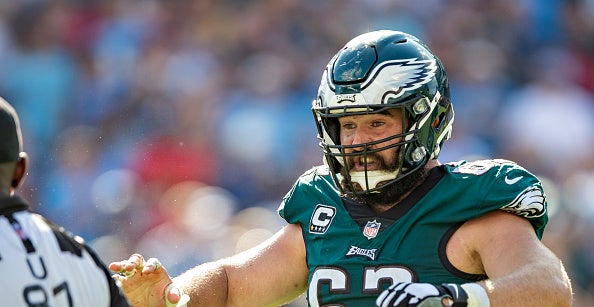 "The Eagles would save $6.5 million in cap space by moving on from Kelce, but that's not happening.
"Kelce, 31, has two more years remaining on his contract. He will be owed $6.5 million in 2019 and $7 million in 2020. The Eagles can release Kelce without any cap penalty.
"Kelce is coming off one of his best seasons in the NFL, earning a second consecutive All-Pro selection. Graded as the No. 1 center in football, Kelce earned his second consecutive All-Pro selection. Kelce finished No. 2 amongst centers in pass protection and the top ranked run blocker in the league. Kelce graded as the No. 1 center in football by PFF and had allowed just 10 pressures on the season."
Chris Long ($5,300,000)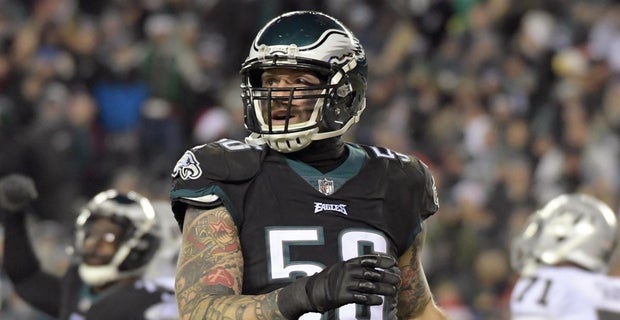 "The veteran defensive end continues to produce at age 33, despite taking an increased role with Derek Barnett's injury.
"Long finished fourth on the Eagles with 53 pressures, while having 30 hurries and 12 stops. He finished with 20 quarterback hits, 6.5 sacks and two forced fumbles. The 6.5 sacks are Long's most since 2013, when he was a starter with the St. Louis Rams.
"Long played 612 snaps this past season as opposed to 496 the year prior, a reduced number due to injuries. he may contemplate retirement again, but the Eagles will probably welcome Long back. The Eagles could save $5.3 million in cap space by releasing Long, but look for the two sides to agree to a new or restructured deal for 2019."
Lane Johnson ($4,464,669)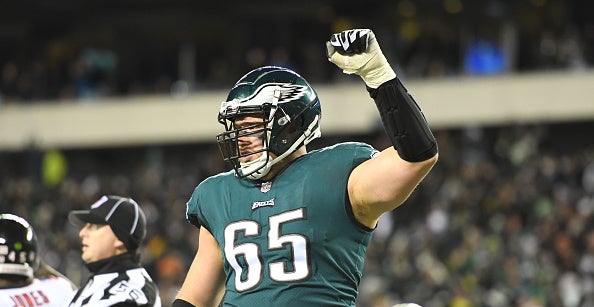 "Johnson was ranked the No. 12 tackle in football by PFF and and No. 7 in run block. A slow start had hindered Johnson's statistics (five sacks, 36 pressures), but Johnson didn't allow a sack since Week 5 and allowed just nine pressures over a seven game stretch to close the season. Forget about saving cap money on this guy—he's the best offensive lineman on the team and basically a cap bargain."
Stefen Wisniewski ($3,000,000)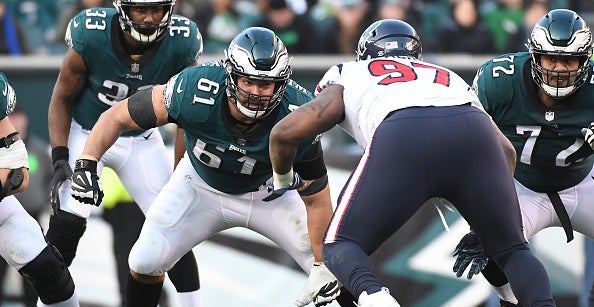 "With Brandon Brooks having a ruptured Achilles, it doesn't make sense to move on from Wisniewski.
"Wisniewski allowed 15 pressures in 412 pass blocking snaps in 2018 (one sack and 14 hurries). He graded at a 54.6 by Pro Football Focus (61.0 pass, 50.8 run) in 643 snaps (584 left guard, 54 center, three right guard), displaying his versatility and reliability on the Eagles offensive line."
Nigel Bradham ($3,000,000)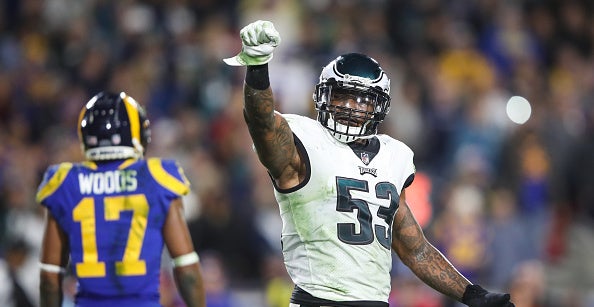 "Bradham is in the last guaranteed year of the five-year deal he signed, but hard to see the Eagles moving on from him.
"Bradham didn't have an interception and a forced fumble last season, but finished with 87 tackles, two sacks, and four pass breakups. "
Some of these cap situations are going to require financial surgery.