Bryce Love 
On his reaction to being selected by Redskins:
"Dang. I mean obviously, it is surreal. I am excited and ready to get in there and get to work."
On his rehab process:
"I've been progressing to treadmill work and introducing impact, different impact drills and things like that. I'm still looking good according to Dr. Andrews and everybody. I am feeling good as well."
On when he will be able to do lateral movements:
"My goal is to be ready by training camp, mid-training camp. Being able to find a way to compete and do my thing."
On if he expected the Washington Redskins to select him:
"In this process, everything is kind of a surprise one way or another. I actually got recruited by Coach [Randy] Jordan while he was at [North] Carolina back when I was in high school for a little bit. I knew we had that relationship and what not. But as far as knowing where I was going to go, it was definitely a surprise."
On coming to play alongside RB Adrian Peterson:
"Yeah, I mean it's a blessing of course. I mean he's one of the greatest to play the position and one of the greatest players of all time. So being able to come in and learn from him and learn from all the other backs in the room will definitely be big."
On if he is happy he returned to Stanford for his senior season:
"Yes. Absolutely. I wouldn't change anything. God writes the plan. I'm just excited for the opportunity and excited to get out and compete."
On if he learned anything about himself this past year:
"Absolutely. I mean life is about learning, developing and progressing. Obviously, I feel like I am a better player for what I went through. Ultimately down the line, it will be able to be shown. "
On what he can bring to a team and what role he can play at an NFL level:
"Being able to bring explosiveness, versatility, being able to do a lot of different things. Ultimately beyond anything else, getting out there and competing and doing whatever I am asked to do."
On if he wants to showcase his pass-catching abilities:
"Oh yeah, absolutely. One of those things we were doing, we had a lot of different options as an offense with JJ [Arcega-Whiteside], Trent Irwin and Kaden Smith and all those different things. So being able to go out and showcase that ability as well will definitely be big.
On leaning on Redskins running backs Derrius Guice and Adrian Peterson for advice on returning from an ACL injury:
"Absolutely. I mean ACL's are a process and everybody's is unique and different. Being able to ask questions and just stay on the grind by seeing the results of the work you put in will definitely be big and definitely be exciting."
On if he has talked to former teammates about what to expect coming into the league:
"Oh yeah, beyond anything else just be ready to put your head down and be ready to go to work. The big message that has been consistent with everybody, which is learn, grow, understand that it is different and just take it day-by-day."
https://www.youtube.com/watch?v=HetnW8NeQj0
G Wes Martin
On if he thought he would be one of the Redskins targets:
"I did. I came in on a top-30 [visit]. I knew they were in the market for a guard, so I definitely knew I was on the radar."
On being able to compete for a starting job right away:
"Yes sir. It's unbelievable. It's pretty wild to think this whole process is going on. I'm just really excited to get in there and work my tail off and do everything I can to help this organization."
On describing his game:
"I'm most know for my brute strength. I grew up working on a dairy farm. That's my background, a strong kid. I.Q, I guess. I got like a 31 on the Wonderlic. I'm pretty sharp, I'd like to think. Being able to I.D. things and make decisions quickly. I think my explosion, along with my strength, is a big thing and my getting up on the second level, getting on backers is something I've been doing a long time here at Indiana."
On Redskins Assistant Head Coach/Offensive Line Coach Bill Callahan:
"When I came in on the visit, we had a good long meeting. We got to know each other really well. That was the first time I've ever spoken with him, but he's awesome. I can't wait to get in there and work with him."
On if his 38 pre-draft reps of 225 lbs. were accurate:
"Yes, sir."
 On if his 38 pre-draft reps of 225 lbs. were a career best:
"No. I did 42 three weeks before my Pro Day. I've done higher numbers than that. My rhythm was a little off that day. I burned out a little quick. I was actually pretty mad with 38, but it still showed I was strong."
 On if his strength comes from the dairy farm:
"That was the start of it."
On how growing up on a dairy farm led him down this path:
"Physically, there is a lot of grit strength involved and brute strength. It kind of instilled the work ethic, and it makes you not afraid to work extremely hard and put in a lot of hours into what you are doing."
On raising money for dog shelters during his Pro Day:
"It has been awesome. It is something I take a lot of pride in. I grew up, my mom and I, we were rescuing and re-homing a lot of dogs. So last summer being able to start a 501-C-3 and get the actual dog recuse up and running was awesome and something I took a lot of pride in."
G Ross Pierschbacher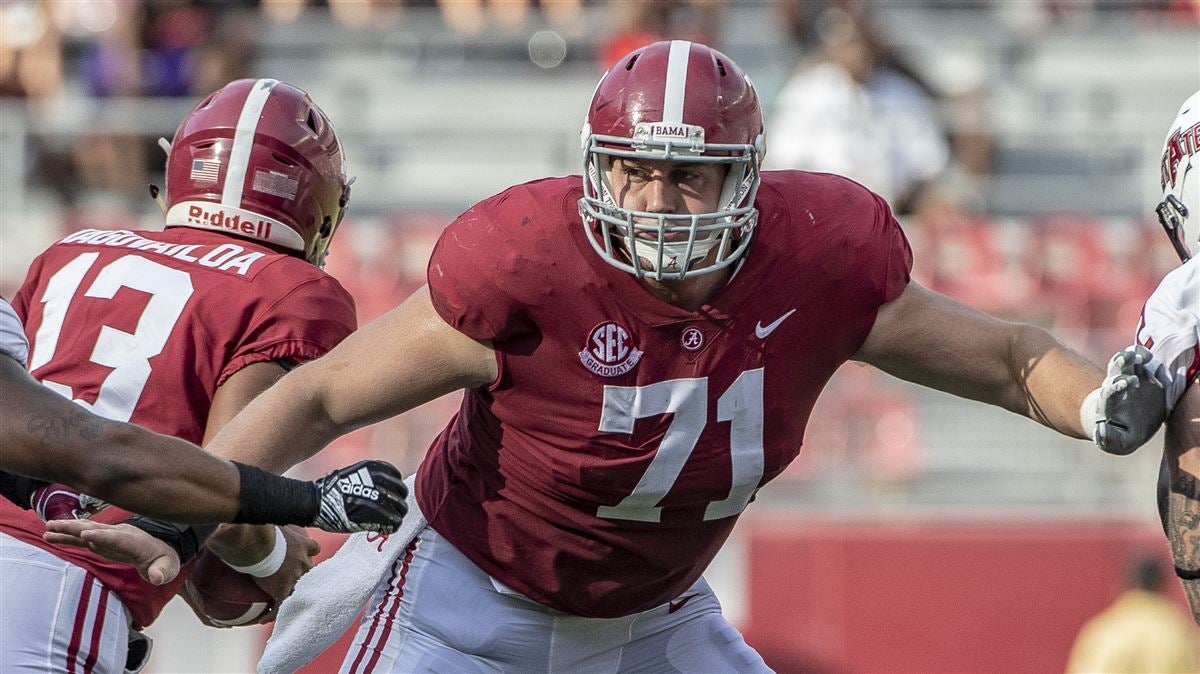 On how many current Redskins players from Alabama reached out to him:
"I just had to hang up on Shaun Dion Hamilton. He FaceTimed me and I got the call from you guys. I'll talk to him after and I'm sure I'll get hit up from [Daron] Payne and [Jonathan] Allen and Ryan Anderson and all those dudes. I'm excited to join those guys and just ready to get to work."
On the comfortability of having former teammates on the roster:
"Yeah, absolutely. Being familiar with them and knowing the kind of the standard they have set, just their background and where they come from. Also being a guy from Iowa, Brandon Scherff, I've met him before. He hosted one of my visits when I was getting recruited by Iowa there, so I know him. I'm just ready to get connected with those guys. I can't wait."
On if he met with the Redskins at the Combine:
"Yeah, I had an interview, an informal interview with Coach [Bill] Callahan at the Combine. Then they came and worked me out privately as well."
On if he prefers a position on the O-Line:
"Really no preference. That was kind of my selling point is that I was able to play all three [positions; Guard, Center, Tackle]. The Redskins came and worked me out specifically at left guard, so I'm kind of ready for anything to be honest. I'm comfortable, you know, started 42 games at left guard, two at right guard and 15 at center. I think I'm able to play at the highest level at all three."
On describing his game:
"I'm a type of guy that's consistent, reliable, tough, smart. Just get the job done type of guy. You know that you can throw me out there and I'm not going to mess up. Just going to get the job done. Just really a blue collar, lunch pail type of guy. So just go in there, be tough, smart and hopefully just be a great teammate and leader."
On practicing with former Alabama teammates DE Jonathan Allen and DT Daron Payne:
"I thought I escaped those guys and I'm coming right back. Also, Ryan Anderson off the edge and Shaun Dion [Hamilton] in the middle. It'll be a lot of fun during practice and I'm looking forward to going against those guys again – a reunion."
On playing alongside T Trent Williams:
"Man, he's a mauler. It would be awesome and just an honor to play next to him. We watch NFL film at Alabama and all those guys just drool over Trent Williams' film. So it's awesome to hopefully get the chance to play next to those type of guys and just learn from them and learn what it takes to be a pro."
LB Cole Holcomb
On his overall thoughts on being drafted by the Redskins:
"Ecstatic. I'm speechless right now. I really can't put it into words. I've been working for this for a long time. It's a good feeling, a great feeling."
On what he can add to the team:
"Speed, effort, preparation. I'm going to be a guy who is going to go in there and we're going to live in the film room. That's what we have to do."
On his special-teams experience:
"My senior year I played on the punt team. I was a left guard on the punt team. But I played on all four special teams. That is kind of how we had to make it. Being a former walk-on, you had to start off on special teams to be able to earn the trust from the coaches and the guys on the team to be able to reach starter."
On how he has evolved from a guy that started as a walk on to someone who lead his team in tackles and was second team All-ACC:
"Well, when I was a walk-on starting, I didn't necessarily have the intangibles. But now that I have grown into my body, I have matured a lot through this process. I have always had to beat people in through technique or through being smarter than them, but now I have the intangibles to go with it. So I really think if we put it all together I will be a really good football player."
On believing he could play in the NFL despite being a walk-on:
"Once I got there, I realized I could do this. I had people believing in me and telling me you could do it. Once we got there, you see who you're going against and the level, it's 'You can do this.' That was kind of the thing. Once I got there, the goals changed very quickly."
On if he received an invite to the NFL Combine:
"No, I did not."
On if he used not receiving an invite as motivation:
"We had a Combine group and a Pro Day group. We had a little competition between us both. I'm happy for the guys that got that opportunity. That is the dream to be able to do when you're going through this process. I'm happy those guys got the opportunity. But I wish I could have gone there and could have made some waves there. It just threw a little gas in the tank and kept me going."
On his 40-yard-dash time
"I heard 4.4's."
https://www.youtube.com/watch?v=jtTQ3NOGI0c
WR Kelvin Harmon
On the moment he got the call:
"Oh man, I was excited to get the call. You know I've been waiting, but everything is in God's hands. This is the team I'm supposed to be on, so I'm ready to go to work."
On meeting with the Redskins:
"We talked a few times at pro day and we had informal meetings at the combine."
On his NFL.com profile listing him with 'Big Dog Swagger':
"Yeah, it's just that alpha mentality – always competing hard, whether I'm blocking or catching the ball. It's just always going hard and just wanting to get the ball away from my opponent."
On his strengths as a receiver:
"I would definitely say my hands, ball skills. Just going up to get the ball no matter where it's at and just making those contested catches. Also, my blocking abilities are pretty great too."
 On skipping NC State's bowl game to prepare for NFL Draft:
"I think it helped me. Just the timing to get my body back. I feel a lot fresher compared to how I did at the end of the season. I just got around my new team at the Mamba Sports Academy. I just think the timing was better for me and it worked out."
https://www.youtube.com/watch?v=ydgcEaqC0BI
DB Jimmy Moreland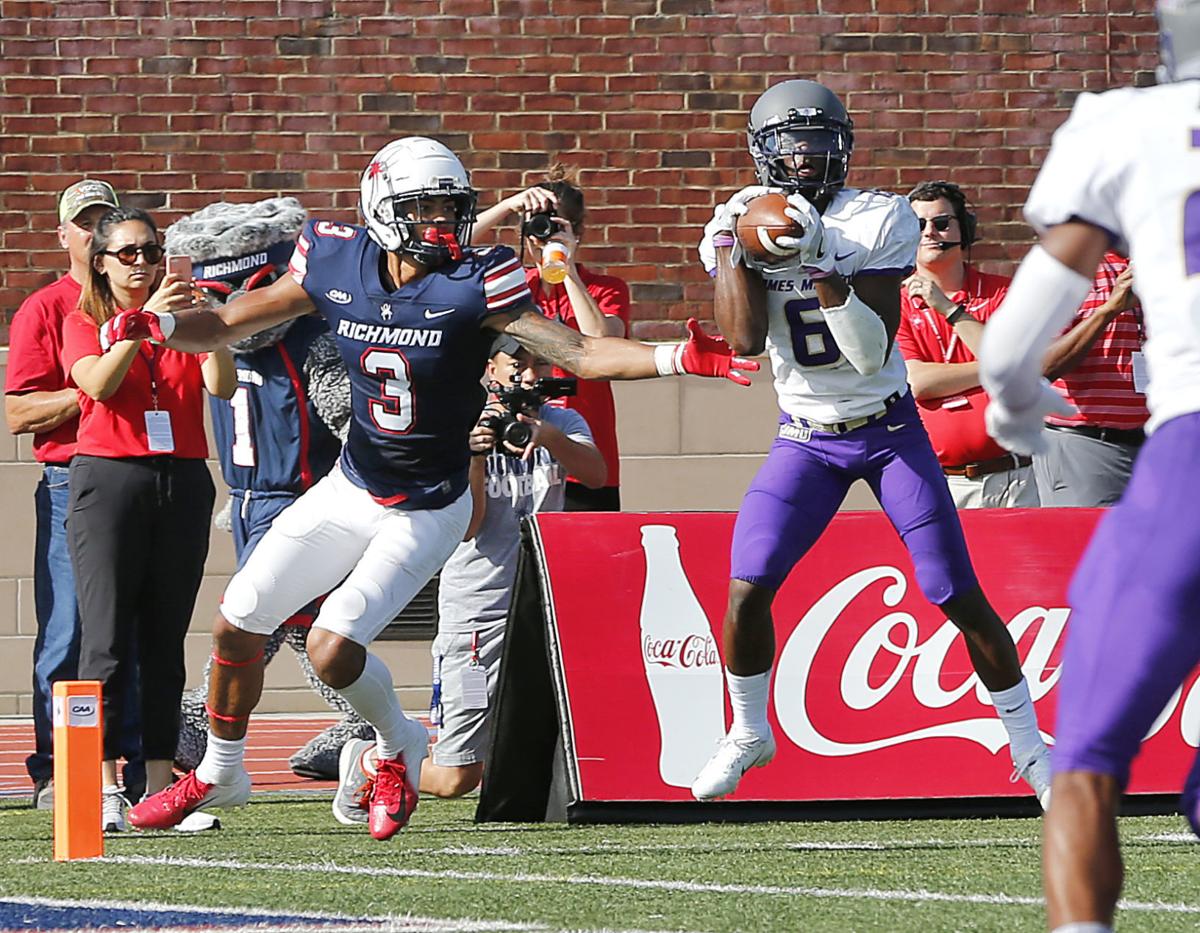 On being drafted by the Redskins:
"My overall thought is I'm just glad to be here. It's been a long process. I'm just happy for this moment, man. My family, they're proud of me. I'm just ready to go to work that's all."
On what he had to prove in the draft process coming from a smaller school:
"I had to prove what I'm worth. I had to fight for every step, every step I had to take. I had a little incident in my early college career. I'm just ready to go now. They look at big school different than small schools. I'm 5'9 and a great corner in the NFL. Now, I just have to show and prove that."
On his incident in college and what he told teams when asked about it:
"I just told them immaturity. The incident, I had a petty larceny charge on me after my freshman year and that matured me and showed me my life lesson. It showed me a different way of being around people and watching people and my surroundings. I'm just good overall and I'm ready for this."
On what made him successful:
"I'm a dog. I'm just a dog, you know. Just coming from where I came from in Florida and the type of player I am, I'm just a ball-hawk player."
On his special teams experience:
"Oh, my special teams experience? I have over like six blocked kicks in college and over seven blocked kicks in high school. So, it's been good."
https://www.youtube.com/watch?v=sYC0QyqjQH0
LB Jordan Brailford
 On being drafted by the Redskins:
"It's an amazing feeling. I got a little nervous there, but I'm happy to be picked up by the Redskins."
On how his performance at the East-West Shrine game helped make an impression on teams:
"I think it helped a lot, man. I think it showed that I can take coaching and apply it in a short amount of time. I made some big plays there and got to get a lot more exposure than I would have without it."
On if he wanted to go undrafted as opposed to getting drafted late:
"I mean, I was starting to feel that way a little bit because I had a whole bunch of teams calling me, but they weren't calling about the draft. They were just calling about free agency. Once you get that call and see your name flash across the screen, all of that went out the window. It doesn't really matter. I'm just happy to be where I am at now."
On where he was watching the draft:
"Yeah, I was watching at home. My family was over here, and we were all watching it together."
On his interaction with the Redskins during the draft process:
"Really we had limited contact. I think I mostly talked to them at the combine, and I guess there was something about me they liked. They weren't one of the teams that talked to me as much as others, but they liked something about me."
https://www.youtube.com/watch?v=kiT-GJ4drJY