Thank you, NFL schedule masters… for the opportunity to visit Minneapolis, Dallas and Buffalo in three consecutive weekends in October. How thoughtful of you, knowing how much Eagles fans love to travel. Oh, you say, you were leaving those weekends open in Philly out of respect for baseball playoffs and World Series games which were sure to happen? Ooops, I guess the Phillies didn't get the memo.
Anyway, we start our tour in beautiful Minneapolis, with the fall foliage there at its peak.
Here's a thumbnail sketch of our first opponent on the road tour provided by Eric Smith of Vikings.com:
(The Vikings are 3-2 after Sunday's win against the Giants, having alternated wins and losses through five games in 2019. Sunday marks the fourth straight season, including the playoffs, that Minnesota and Philadelphia have met. The previous three meetings have been in Philadelphia.)
Passing: Kirk Cousins produced his best game of the season — and one of his top overall games with Minnesota — as he made plays all over the field against the Giants.
Cousins completed 22 of 27 passes for 306 yards with a pair of touchdowns and no interceptions against New York, earning a passer rating of 138.6. That mark is seventh-highest of his career in games that Cousins has started. He also ended a streak of nine straight games without a 300-yard passing effort, which was the longest streak of his career.
Cousins has completed 86 of 126 passes (68.3 percent) for 1,041 yards with five touchdowns and two interceptions through five games. He has a passer rating of an even 100.0.
Cook ran for 132 yards on 21 carries, including a 41-yard scamper in the third quarter. He ranks second in the NFL with 542 rushing yards.
Alexander Mattison added 52 yards on seven carries, while Ameer Abdullah chipped in with 24 yards on three attempts.
Minnesota ran for 211 yards on 34 attempts (including one kneel down), as the Vikings surpassed the 200-yard mark for the second time in 2019.
The Vikings currently rank third in the NFL with 166.4 rushing yards per game. Philadelphia ranks 18th at 111.8 rushing yards per game.
Receiving: Adam Thielen led the charge in the passing game, hauling in seven catches for 130 yards and a pair of touchdowns.
Here is Thielen's route chart, according to Next Gen Stats.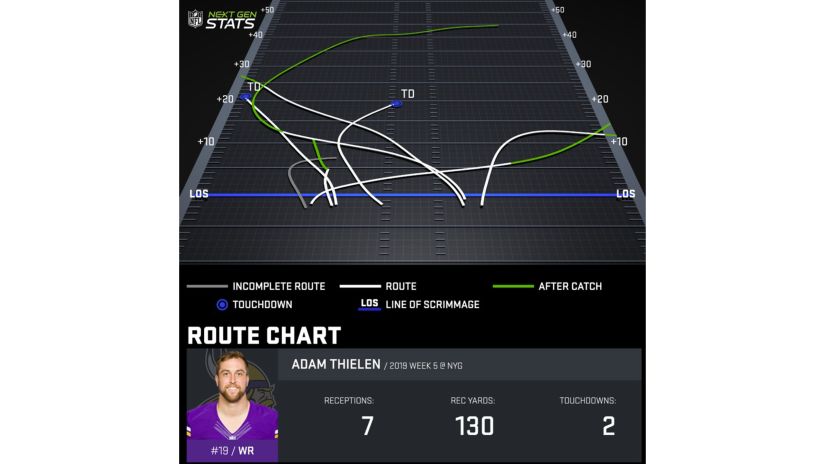 Cook also was a weapon in the screen game, catching six passes for 86 yards. Bisi Johnson added four receptions for 43 yards, and Diggs had three catches for 44 yards.
Thielen leads Minnesota with 309 receiving yards and four touchdowns on 20 catches. Cook leads the Vikings with 21 receptions. Diggs has 16 catches for 253 yards and a score.
Danielle Hunter had a pair of sacks, and Everson Griffen and Ifeadi Odenigbo also got to Daniel Jones. For Odenigbo, it was the first sack of his career. Hunter has 5.0 sacks in 2019, while Griffen has 3.0.
But Anthony Barr had the standout performance, as he recorded a safety and an interception in a strong day for the Vikings linebacker.
Minnesota's defense is now allowing just 14.6 points per game, which ranks fourth in the NFL.
Special teams: Vikings kicker Dan Bailey was perfect Sunday, nailing all six of his kicks at MetLife Stadium.
Bailey was good on four field goals (31, 32, 45 and 48 yards) and also hit both extra points. Bailey has made seven of eight field goals, and 11 of 12 extra points in 2019.
Punter Britton Colquitt punted just once Sunday, with his lone attempt going for 57 yards. Colquitt is averaging 47.3 yards per punt this season.
Minnesota allowed a season-long kick return Sunday for 52 yards.
The Vikings and Eagles are among 10 teams in the NFC that have at least three wins, and are included in a group of six teams that are 3-2.
The conference has 11 teams with a winning record, including all three NFC North teams with Green Bay at 4-1, Detroit at 2-0-1 and Minnesota and Chicago at 3-2. Of those 11 teams, six play each other in Week 6 — Eagles at Vikings, 49ers at Rams and Lions at Packers.
What EYE think: This is going to be the sternest test so far in 2019 regarding both the physical and cerebral makeup of the Eagles. That's because I believe match-up-wise, the Vikings are stronger opponents than either the Dallas Cowboys or Buffalo Bills down the road. And, to say the Vikings (and their fans) will be "motivated" on Sunday is an understatement.