Nate Diaz has apparently pulled a Nate Diaz.
The controversial fighter tweeted that he is out of his UFC 244 main event against Jorge Masvidal, citing a tainted supplement issue.
Your all on steroids not me pic.twitter.com/ykrZmRIoPS

— Nathan Diaz (@NateDiaz209) October 24, 2019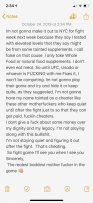 Not to worry, Diazamaniacs – this all could be a tactic to get more out of Dana White and the promotion. We shall see.