We still don't have a Comments section, now a problem in its second week for the entire USA Today Sports Daily network, but there are life and death issues which deserve reporting.
We lost another member of the 1960 Championship Team. Former tight end Dick Lucas passed away on Wednesday in Philadelphia due to complications from COVID-19. He was 86 years old.
The South Boston native played his college football for the Boston College Eagles. A 10th-round pick of the Chicago Bears in 1956, Lucas delayed the start to his pro career by fulfilling a two-year military commitment at the U.S. Marine Corps base in Quantico, Virginia. He was honorably discharged as a first lieutenant.
The 6-2, 213-pound Lucas joined the Pittsburgh Steelers in 1958, but suffered a leg injury that kept him out through the 1959 campaign. He was traded from Washington to the Eagles just before the start of the 1960 season. Lucas was unsure that he would get a fair chance with the Eagles, who were in need of help at tight end. Pro Football Hall of Fame defensive tackle Art Donovan, the Baltimore Colts legend and Boston College alumnus, explained how something special was brewing in Philadelphia.
Lucas played all 13 games for the Eagles in 1960, including the historic NFL Championship victory over Vince Lombardi's Green Bay Packers.
"The team was a funny team," Lucas said in a previous interview for the special, A Championship Season: The 1960 Philadelphia Eagles, that was re-released on Friday. "We always thought we were better than what we were and we played better."
Lucas caught a career-high five touchdown passes in 1961, including one for the record books. In the season finale against Detroit, Lucas was on the receiving end of Sonny Jurgensen's 32nd and final touchdown pass that year. Jurgensen's single-season franchise record for touchdown passes stood until Carson Wentz
surpassed it with 33 in 2017.
Lucas' four-year run with the Eagles came to a close in 1963. He finished with 30 receptions for 337 yards and six touchdowns. He made his home in West Chester, Pennsylvania and worked as an executive for the Merit Oil Company until he retired.
"He was the epitome of a football player in the 1960s in terms of what you would think of a football player," Lucas' son, Brian, said. "Rock-solid in his convictions. Loyal. If you weren't on his side, you had to watch your back."
Lucas remained close with the team, serving as president of the Philadelphia Eagles Alumni Association, participating in numerous golf tournaments and countless charitable events. He was also a Season Ticker Member and attended every home game last season except for one. For many years, Lucas rented an RV to tailgate in the parking lot before Eagles games. He enjoyed catching up with former teammates for reunions at Training Camp each year.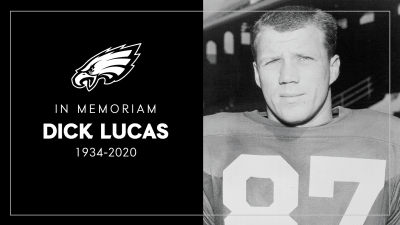 Then another great loss…
Pro Football Hall of Fame Head Coach Don Shula, the winningest head coach and the architect of the only undefeated team in NFL history, passed away Monday at the age of 90.
A special Eagles connection to Coach Shula: Doug Pederson's NFL career began under Shula's tutelage as a rookie free agent in 1991 with the Miami Dolphins. Two years later, Pederson threw his first career pass attempt in a historic win over the Eagles. Pederson was pressed into duty when starting quarterback Scott Mitchell left the game with a shoulder injury. In the second half, he helped guide Miami to a 19-14 win that marked Shula's 325th career victory, setting the record for most in NFL history.
Pederson reflected on the impact that Shula had – and continues to have – on his career.
"Coach Don Shula has been an inspiration to me throughout my entire career, not only as a player in the NFL but also now as a head coach. He believed enough in me as an undrafted player in 1991 to give me an opportunity in the league, and it was truly an honor to play for him," Pederson said in a statement. "He taught me how to be a professional both on and off the field through his attention to detail. I learned so much from him about how to relate to players and how to lead your team."