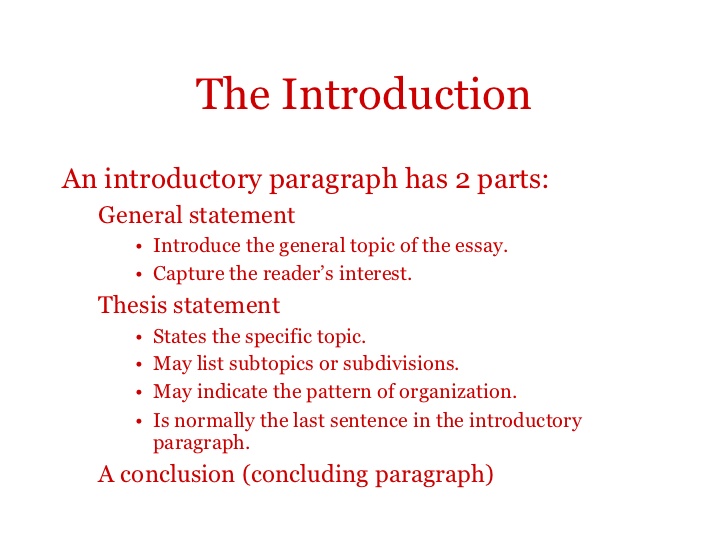 By Robert Cunningham, Angelswin.com Senior Writer
Author's Note: The author does not have full access to complete team financial data so the numbers contained in this series represent either actual, published contractual details or best estimates. Great effort was made to provide factual evidence and details using reliable sources such as BaseballProspectus.com, Baseball-Reference.com, MLBTraderumors.com, BaseballSavant.com, MLB.com, FanGraphs.com, RosterResource.com, Brooksbaseball.net, StatCorner.com, LATimes.com, OCRegister.com (specifically Jeff Fletcher), and Spotrac.com among others.
History tends to repeat itself and unfortunately, despite the organizations best efforts to put a contending team on the field in 2018, the Angels fell short of their goal to enter the post-season once again.
If this is a familiar refrain or you think you are having a case of deja vous, you are not alone. We, at Angelswin.com, have been making the same opening statement to this annual series for the last few seasons with nearly similar results.
Insanity I tell you! Insanity!
But here we are, again, entering the 2018-2019 off-season with the hope that Arte Moreno and Billy Eppler can apply team resources to create a contender now and beyond.
This Primer Series will once again attempt to give Angelswin.com readers insight and knowledge into what is to come by examining and understanding the Angels goals, restrictions, and short and long term needs, based on actual production in recent seasons and what the free agent and trade markets have to offer in the present.
First of all the primary goal, as it is each and every year, is to put the highest-caliber team on the field of play to secure and bring home a World Series Championship. This key objective is the "parent" of every other goal, restriction, and need that Billy Eppler must address in preparation for Opening Day 2019.
As we discussed last year, one all-encompassing goal, restriction, and need is superstar Mike Trout.
You want to win while you have him on your roster which means you need to compete over his current, remaining two years of contractual control (2019-2020) irrespective of Mike potentially signing a career-long extension contract.
It is also a serious restriction because it drives a large portion of front office decision making into a well-defined window. This does not mean that Eppler and the front office do not have a long-term outlook or plan, it is just acknowledging the fact that the Angels best opportunity to win games and get to the playoffs likely resides in the next two seasons.
Finally it is a need in the sense that Trout is a driving factor for Billy to acquire competent players to surround him with over that period of time which has the dual purpose of giving him a reason to sign an extension and stay with the only team he has known to-date. This extension topic will be discussed further in the Center Field section of the Primer Series.
Beyond the goals of winning a World Series Championship and building the team around Mike Trout, the Angels must manage team payroll, follow the rules of the Collective Bargaining Agreement (CBA), build and manage the front office and coaching staff, continue to construct a top-tier Minor League farm system, and fill several positional needs around the diamond.
This is made all the more difficult by the retirement of long-time Angels Manager Mike Scioscia. In many ways this was not an unexpected outcome. Mike has been at the helm for nearly 19 years and it was only a matter of time before he hung up his secondary spikes. However, if Scioscia gets his way, he may find a way to stay in the dugout.
Despite what you may or may not think of Mike, he was a competent manager and on-field tactician with a very thorough understanding of the MLB rule book. Above all else Scioscia was always the safe port in the storm with about as even a keel, personality-wise, as you can find in baseball.
Brad Ausmus, Eppler's choice for the next Angels manager, will be challenged to lead this team now and beyond while navigating the daily waters as deftly as Scioscia did. It is not impossible to replace Mike but Ausmus does have a large pair of shoes to fill. The good news is that he has the support of the General Manager and they have proven they can work together over the last year as Billy reconstructs a roster that has lost some key pieces to free agency this season.
The Angels have parted ways with their short-time, free agent, players like Martin Maldonado and Ian Kinsler, freeing up nearly $15M in payroll while bringing in two potential bullpen pieces for 2019 (Buttrey and Jerez) and a potential starter for 2020 and beyond (Sandoval).  Additionally, Garrett Richards $7.3M salary comes off the books as well as Blake Wood and Chris Young, liberating another $10M or so.
As we mentioned last season, Arte Moreno may choose to strike, monetarily, in the 2019-2020 window. Free agency is fertile this off-season and the trade market may have some interesting targets for the Angels to acquire.
Really at this point we at Angelswin.com will be surprised if Moreno and Eppler do not get aggressive in some form or fashion soon. Clearly a Mike Trout extension is a real possibility, likely closer to the beginning of the 2019 season, which will be huge if it happens. However, it will take more roster building than that to be successful now and beyond.
This year the Competitive Balance Tax (CBT, also known as the Luxury Tax threshold) line is $206M. Next year in 2020 it will rise slightly to $208M. The following season it will be $210M.
As discussed in last year's Primer Series, two-time offenders (meaning teams that exceed the Luxury Tax threshold two years in a row) that do not exceed the CBT threshold by more than $40M, pay a milder outlay of cash in comparison to teams that exceed $40M or go three or more years over the CBT line (third-time offenders).
For reference here is the relevant excerpt of the 2017-2021 CBA, Article XXIII, B., (4), b., ii., that shows specific surcharge gates at $20M and $40M: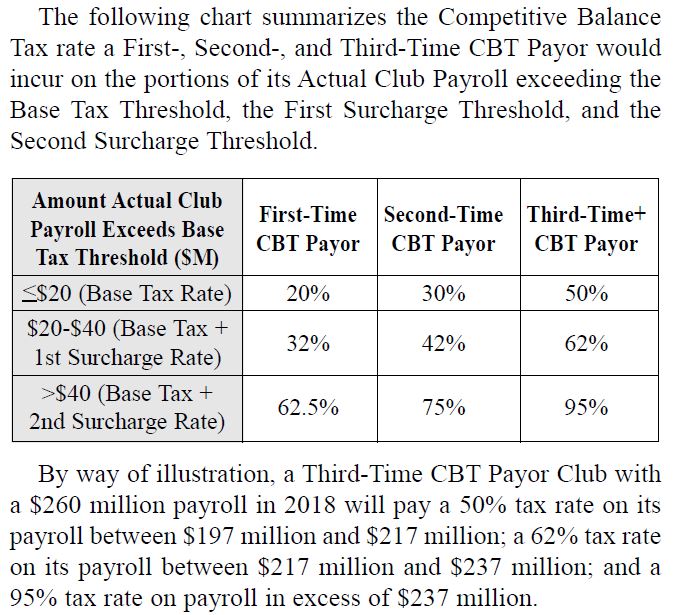 It seems logical that Moreno would not become a third-time offender nor exceed the CBT threshold by more than $40M, due to the significantly higher tax rates. If he did either of those he may, quite literally, not be able to buy the proverbial yacht fuel Angels fans joke about so much.
Thus the two-year window of Mike Trout (barring a career-long extension) and the potential, two-time CBT violator window could align beginning this year. Let us not forget that Arte is not getting any younger (sorry Mr. Moreno if it is any consolation none of us are getting any younger) and winning a World Series Championship is almost certainly high on his to-do list (as it has been since he purchased the team).
So if there was ever a time to push all the chips in, it would be this two-year window. This in turn may mean that Moreno will authorize Eppler to exceed the Luxury Tax in the off-season or by the trade deadline at the end of July 2019 to give Billy maximum flexibility to build and improve the roster.
The proof, of course, will be in the pudding. If it does happen they could go big and hand out a large mega-signing for someone like Manny Machado or Bryce Harper with opt-outs after 2019 and 2020 (essentially a one or two year high-paid rental) or trade for another superstar like Nolan Arenado or Jacob deGrom now or at the Trade Deadline.
Alternatively, in the overspend scenario, the Angels could spread the money out to multiple players and possibly use significant performance bonuses or short-term, high salary deals as contractual instruments to bring in blue-chip talent if Moreno puts his blessing on it.
No matter what decision is made regarding how much payroll the Halos will add, prior to the start of 2019, one thing seems quite certain: the Angels will be improved, yet again, on Opening Day. Billy Eppler, despite his limited, yet developing supply of prospects, will have marketable assets and a considerable amount of payroll space to apply in trade(s) and free agency.
For the purposes of this series, though, we will assume that Arte Moreno does not allow his GM to exceed the Luxury Tax to start the year. This means we will operate under the presumption that team payroll, in terms of AAV, will not go over the 2019 CBT threshold of $206M. The result is that the Angels will likely spend no more than $190M-$195M, give or take, in actual payroll to start the season. Essentially this means the Angels have approximately $30M to spend.
The reason for that is the team needs to maintain payroll margin in order to make potential trades in-season or before the July 31st deadline to reinforce or upgrade their roster. Keeping a few million in reserve maintains payroll and roster flexibility and is a common business practice that Billy Eppler may, or may not, follow based on acquisition opportunities, team performance, and/or firm instructions and concurrence from Moreno regarding payroll expenditures and permission to exceed the CBT threshold.
Beyond payroll, another very important goal is the continuing growth and development of the Angels Minor League farm system.
The Angels had an average draft in 2015, an above average one in 2016, followed by a top-heavy draft in 2017, and another solid one in 2018. Names like Jo Adell, Brandon Marsh, Griffin Canning, Jahmai Jones, Jose Suarez, Taylor Ward, Jordyn Adams, Jeremiah Jackson, Matt Thaiss, and Chris Rodriguez are just some of the names Halos fans should keep an eye on in the coming years. Some of them will form the core of the next great Angels team in 2020 and beyond!
Part of this more recent success has to do not only with better overall draft picks but the strong efforts of Billy Eppler, scouting director Matt Swanson, and the tireless work of the Angels cross-checkers and scouts around the country. The organization has focused on finding and molding raw, athletic players and it has started to pay off.
Additionally, the Halos continue to dip into the international market. This year they signed 16-year old Dominican outfield prospect Alexander Ramirez for a cool $1M signing bonus. Also, recently, per Angels reporter Taylor Blake Ward, they inked Dominican RHP Danifan Diaz too. It feels like the front office has turned a real corner and fans should expect to hear of other, albeit less notable, international signings heading into the off-season.
In addition to the farm system improvements, Eppler has expertly acquired multiple players via trades and use of the waiver wire. Names like Ty Buttrey, Luis Rengifo, Kevin Maitan, Noe Ramirez, Taylor Cole, Felix Pena, Williams Jerez, Hansel Robles, and Patrick Sandoval are some of the names that did not start in our farm system but were targeted by scouts and the analytics department for their potential and they are now beginning to shine on the field in the Majors and the Angels Minor League affiliates. Some may pan out and others may falter but the organization certainly has an eye for raw talent that cannot be denied.
Yet another goal Billy must address are the positional holes to fill around the diamond, including a primary and backup C, potentially a platoon 1B, a 2B or 3B, based on what they do with Zack Cozart, and possibly a DH. The team also needs to improve offensive production against left-handed pitching and develop or acquire a real lead-off hitter. Also the rotation is unsettled, especially at the top with Ohtani out for next season on the mound, so finding a quality, reliable starter is critical. The bullpen was a bit of a mess in 2018 so adding one or more relievers, particularly with options, to the mix would produce more viable options for next season.
As he tried to do in 2018, Billy will also need to build sufficient depth behind the 25-man roster, particularly in position player and rotation depth. It would not be surprising to see Eppler expertly work the waiver wire, again, to supplement next years squad. In particular, the Rule 5 Draft, this off-season, is potentially fruitful and may have a target or two Eppler might snag to supplement the bench or more likely the bullpen.
Without a doubt there are many challenges here for Billy and the front office to handle. Eppler will have to use his talented scouting system to identify the targets they need and want to acquire and either spend the cash and/or the farm system assets needed to obtain them. Along with that, the Angels farm system took some large strides forward in 2018 and once Eppler is done with the off-season, the team should be truly competitive with greater depth than in previous seasons.
The future success of the franchise is being set no matter whether the Angels retain Mike Trout or he departs during or after the 2020 season. These incremental steps laid by Billy Eppler yesterday, today, and tomorrow should put this organization back on the path to regular, yearly contention over the next several years.
In the next Section we will discuss the teams Finances heading into the off-season.