Ah, the Top 20 Prospects. Now we are getting to the best of the best that this system has to offer. These are the guys other teams want the most for their best trade assets. It was from last midseason's Top 20 that the Baltimore Orioles focused much of their efforts in the Kevin Gausman trade, grabbing #14 Jean Carlos Encarnacion and #17 Bruce Zimmermann. #20 Dustin Peterson was later lost as well, but the other 17 players are back for this iteration of the Top 50 Prospect countdown.
The previous batches of players were ranked all over the place by our three different ballots. However, once you hit this part of the list, you find a lot more agreement. You'll see even more agreement in the Top 10. The best of the best tend to look that way to everyone. Sure, they may rank a player a spot ahead or behind compared to another ranker, but generally, there is a good deal of agreement.
Next week, we'll start our Top 10 with the bottom five players from that group before finishing this series with our final five players released the same week pitchers and catchers report to camp. So, you have that to look forward to.
If you've missed any segment of this list, feel free to open these links to new tabs:
Three Players We Really Liked
#41-#50
#31-#40
#21-#30
As always, if you enjoy this, consider sharing on your preferred social media platforms.
20. Alex Jackson
Poe: #20, Francis: #14, Cothran: #24
2018 Preseason: #11, Midseason: #16
In some aspects, Alex Jackson is the definition of "prospect fatigue." Though only 23, it seems like forever ago that the Mariners took him with the sixth pick of the 2014 draft. Two of the three players selected ahead of him – Carlos Rodon and Kyle Schwarber – are established in the majors and two of the next four (Aaron Nola and Michael Conforto) have been to an All-Star Game. Oh, and Kyle Freeland ain't too shabby. If Jackson wants to become the seventh Top-10 pick from that draft to get to the majors, he'll need to show us something new in 2019.
A year ago, Jackson was climbing this list. He hit 19 homers with a .808 OPS in his first year in the system and first year since his high school days behind the plate. Most of the success was in High-A ball, but Jackson finished things off with a five-homer run through the Arizona Fall League. It even looked as if moving him back to catcher wasn't that bad of an idea. But then 2018 happened. Jackson struggled through 64 games in the Southern League before shockingly receiving a call up to Gwinnett. He actually fared a little better there. Well, his power did, I guess, as his slugging percentage was about a hundred points higher.
A possible Rule 5 selection, Jackson was added to the 40-man this off-season. And now the Braves hope Jackson finds his bat again. The 70-grade raw power is still there and even though his offensive woes limited him to just eight homers in 99 games last season, he has 30 HR potential. The contact issues are alarming as his hit tool isn't very high. And no matter the strides Jackson makes behind the plate, he's a hitting catcher. To be fair, his defense isn't a complete lost cause. He's a decent framer, has a strong arm, and shows an understanding of how to call the game based on situational context and scouting reports. On the other hand, he doesn't have a lot of athleticism behind the plate and his footwork is still kind of ugly. Suffice it to say, Jackson is no longer the Braves' top catching prospect. He still has a chance to be a starter in the majors, but probably only in the mold of a .250/.310/.450-type hitter without better-than-average defense. As a catcher, though, that has value. (Poe)
19. Freddy Tarnok
Poe: #17, Francis: #20, Cothran: #18
2018 Preseason: #24, Midseason: #19
He could be the biggest jumper on the list in 2019 and that's because his 2018 showed real promise followed by needed growth. In a pattern that has become all too familiar, the Braves started Tarnok in the bullpen to limit innings and build arm strength, gradually increasing his innings. And in that sample, Tarnok was a barbarian among Barbie Dolls as he was able to push his fastball up to 98. In 31.2 IP, he put up a 1.42 ERA, striking out 12.5/9, but was still plagued by walks (6.5/9). When the increase in innings per outing came, the stats grew worse. Tarnok's ERA spiked in 45.2 IP (5.72) and that doesn't even include the massive amount of unearned runs he gave up in such a small sample (15!). With added innings, it's obvious the MPH has to drop for longevity and stuff has to take over, and that is the rub in Tarnok's game right now. He's raw and his curve, while quite good, couldn't stand on its own when the fastball drops to 92-94.
However, there's so much potential here, and if he can maintain a fastball around 95 to accompany his curve, then continue to develop his changeup, there could be a good starter in the making. Or, if worse comes to worse, drop the 3rd pitch and use a 2-pitch combo out of the back end of a bullpen. Whatever scenario develops for Tarnok, he's one to watch this year. (Cothran)
18. Chad Sobotka
Poe: #23, Francis: #16, Cothran: #16
2018 Preseason: UR, Midseason: #36
It's weird how the offseason works out. Sobotka was the savior of the bullpen in September and now, it seems like everywhere I see Sobotka mentioned it comes with warnings signs and red flags:
"But have you seen his FIP?"
"But have you seen his xFIP?"
"But did you see his 98.2 LOB%?"
"But did you see his 5.85 BB/9%?"
"Are you not leery of his previous years of poor production in the Minors?"
Ok…seriously. These are all valid concerns. And we've seen this type of production fluke out of a small sample turn bad before in Jose Ramirez. However, what we saw in Sobotka's sample was a dynamic fastball averaging 97 MPH that comes from a downward plane at breakneck speed and a knee-buckling slider that was unhittable when located. That's enough to be a serious force out of the bullpen if it's located. That's the elephant in the room, control, and will either be his rise to dominance or his fall out of relevance. (Cothran)
17. Tristan Beck
Poe: #18, Francis: #18, Cothran: #15
2018 Preseason: UR, Midseason: #27
Tristan Beck may prove to be the best selection of the 2018 draft. Selected in the fourth round of this year's draft, Beck has been a potential first round selection in three different drafts. High asking prices, injuries and down performances held Beck back from those lofty expectations. At his best, Beck features a plus fastball, a plus curveball, an average change-up and average command. This is the making of a mid-rotation starter that the Braves were able to snag in the fourth round of the draft.
At the very least, Beck appears to be a very good trade candidate for the Braves. If Beck can continue to improve and show that his injury issues are behind him, his value will far exceed what it was on draft day. The Braves might even be able to turn this former fourth round pick into the centerpiece of a trade for a big-league contributor. If Beck were to stay in the organization and continue to improve he could easily join Huascar Ynoa, Trey Riley and Freddy Tarnok as the next wave of pitching prospects to ascend toward the big leagues after Ian Anderson, Joey Wentz and Kyle Muller. (Francis)
16. Huascar Ynoa
Poe: #14, Francis: #17, Cothran: #20
2018 Preseason: #40, Midseason: #25
Huascar Ynoa was acquired by the Braves in the mid-season Jaime Garcia trade of 2017. If nothing else Ynoa appears to have a higher ceiling and more value than any of the prospects surrendered to acquire Garcia that season. He possesses a double-plus fastball that touched 100 mph in 2018 and the makings of a plus slider. His changeup might be an average offering along the way and he should be able to develop into average command. These attributes give him the upside of at least a mid-rotation starter though it may behoove the Braves to develop him as a high-impact reliever going forward.
Ynoa was added to the 40-man roster this offseason meaning that his development will need to be somewhat expedited. I would imagine he will be allowed one more season to see how he can develop as a starter. If things stall out as a starter, 2020 should be the season that he should be transitioned to the bullpen where his excellent fastball/slider combo could be lethal. Of course, there is also always the potential of a trade. Ynoa could be an intriguing trade target as a player who could develop into a star if given a longer leash than the Braves are willing to offer. (Francis)
15. Greyson Jenista
Poe: #16, Francis: #15, Cothran: #19
2018 Preseason: UR, Midseason: #18
When the Carter Stewart situation blew up, Jenista became their top pick in Alex Anthopoulos' first draft. Selected from Wichita State, Jenista was a potential first rounder based on his bat alone. Quite a change from a guy who had just one scholarship offer to even play baseball in college. Jenista was a former Cape Cod League MVP – though he did not woo the heart of Jessica Biel so Freddie Prinze Jr. still has the best season in league history.
Jenista opened his professional career with Danville, picking up ten hits, including three dingers, in 10 games before a quick promotion to Rome. In just a month-plus in the SALLY, Jenista slashed .333/.377/.453 with nine extra base hits, including a homer. Not nearly done, Jenista closed up his first summer in the pros with 19 games in Florida. He finally met his match with the Fire Frogs or, perhaps, ran out of gas and struggled with the bat. I would expect a return to the Florida State League in 2019.
As I said, his bat got him picked high in the draft – Fangraphs Kiley McDaniel suggested a higher selection last April when he previewed Jenista. He's a big guy at 6'4 and 210 lbs, but he is also a good athlete. It's like having a safety in the outfield. His arm is good enough for right field and while people of his stature often lose mobility as they age, Jenista could be good enough to be average in right field during his 20's at minimum. On the high end, he could have a Lance Berkman-like career, though that's if everything hits. I could see him settle into more of a .260/.340/.480 type with 25 homers and 35 doubles along with average defense. That's a 2-3 WAR player with the ability to hit 3.5 and 4 wins in his better years. To get to that point, he will need to make some swing adjustments to unlock more power and avoid too much decline in mobility. I think he's quite capable of that. (Poe)
14. Kolby Allard
Poe: #13, Francis: #14, Cothran: #14
2018 Preseason: #6, Midseason: #8
There was a time we looked at Allard like he was a top prospect in a top system, but he's been in a bit of a fall for over a year now. It comes down to progression. Typically, especially with prep pitchers, you draft with the idea that the pitcher you see now will be significantly better as they move up the system. That possibility made Allard so attractive of an option because he was unusually polished for a high school pitcher. But then, the progression kind of never happened. The fastball has, if anything, regressed, which has hurt his status as other pitchers higher on this list – and even lower – have added velocity, bite on their curveballs, better command in the strike zone. While he's certainly made some improvements, the guy the Braves thought fell to them a few years ago has been falling himself.
That's not to say Allard is a bust. He can be a valuable pitcher because he does have great command and high pitcher I.Q. That keeps his door to the majors open and Allard in our Top 20. And his comparison to a Hall of Fame pitcher like Tom Glavine, a comp that followed Allard for some time, is still possible. But Glavine pitched in an era where getting a strike a half-foot off the corner was more frequent than it is now. Plop Allard down in the mid-80's and 90's and, with good health, he'll get 200+ wins. In this era…it's going to be a struggle. Not impossible, though. (Poe)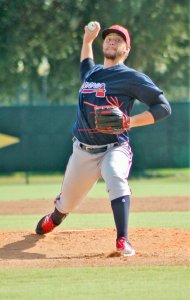 13. Patrick Weigel
Poe: #15, Francis: #13, Cothran: #13
2018 Preseason: #17, Midseason: #15
My heart was ripped from my chest when Weigel's elbow went down for the count. I recall seeing a tweet concerning his next to last start before seeing the doc and he wasn't breaking 90 with his fastball. Looking at Talking Chop's interview, he knew he was injured but just didn't want to admit it to himself. Now, happy, healthy, and ready to show his ability, Weigel will get a chance to prove himself in some capacity as he's part of the lucky 40 on the roster.
Known for a fastball that can hit 100, there's no doubt that is his pitch that makes all the others, but he's no slouch with the offspeed either as he possesses a great slider, a good curve, and a "keep a hitter honest" change. It'll be interesting to see if any mechanical changes altered his arsenal, but if Weigel is to be believed, he's throwing better than ever with confidence (and accuracy) he's never had due to injury lurking in the back of his mind (pitched with a torn UCL since 2014). Expect him to be used gently coming out of camp, likely being used in relief but in a controlled sense with plenty of off days combined with a gradual build of innings. However, I don't think Anthopoulos would hesitate to call him up should he show he can still send fools back to the dugout. (Cothran)
12. Joey Wentz
Poe: #12, Francis: #11, Cothran: #11
2018 Preseason: #9, Midseason: #11
Joey Wentz was drafted in the compensation round of the 2016 draft as an over-slot selection by the Braves. Wentz has succeeded at every level of the minors since his draft day. After a magnificent 2017 most people believed that Wentz was due for a breakout performance in 2018, one that would catapult him into the discussion for the best pitching prospects in all of baseball. Unfortunately, that is not quite how the season went for him. Between injuries and inconsistent performances, Wentz had mostly a lost season in 2018. All that being said, Wentz still saw mostly success when he was on the mound, limiting opponents to a .204 batting average against and maintaining a healthy 2.28 ERA and 3.64 FIP.
The stuff that Wentz showed in 2018 is the biggest concern. He sat mostly 88-92 with his fastball which is average at best in today's environment. He still showed a plus change-up, but his curveball regressed to more of an average offering. While he has shown an above average fastball, a plus curveball, a plus change-up and plus command at times, he has never had it all at once. If he can harness his entire arsenal and show it on a consistent basis, Wentz could reach his top of the rotation potential. Until then we should expect some pitches to work some days while others work on other days, relegating him to a solid yet unspectacular role as a mid-to-back of the rotation starter. (Francis)
11. Kyle Muller
Poe: #11, Francis: #12, Cothran: #10
2018 Preseason: #18, Midseason: #13
Drafted after Ian Anderson and Joey Wentz, but before Bryse Wilson, Muller was part of what could be a franchise-defining draft. But while the other three members of that prep quartet briskly moved up the latter – Wilson even reaching the majors – Muller was on a slower trek. Part of that was due to a large workload in high school and the other part was due to Muller not really impressing for much of his time in Danville. But in 2018, Muller caught up and started to flash the kind of potential that landed him a $2.5 million bonus.
Opening the year in Rome, he made a half-dozen starts there. They weren't really that great, but the Braves saw enough and promoted him to Florida where he looked much better with a higher strikeout rate. After 14 starts, the man who hadn't pitched above rookie ball when April began was pitching in Double-A was pitching in Mississippi shortly after the calendar switched to August. Not nearly done, Muller headed to Arizona for seven appearances in the Fall League out of the pen. All told, after just 75.1 innings in his first two summers of pro ball, Muller threw just a shade over 150 in 2018 when you include his time in Arizona.
Muller is a big man on the mound and has flashed better command in the strike zone the more he has pitched professionally. Combine that with a low-to-mid 90's heater, above-average slider, and a really impressive changeup and you have the makings of a potential middle-of-the-rotation stalwart. What also excites me is the bat. Muller had some of the best raw power in the 2016 draft. Is a Silver Slugger for pitchers in his future? It's quite possible. But all that is icing on the top of what is a young southpaw to watch in 2019. Look for him to open the year back with Mississippi, but a promotion to Gwinnett is likely at some point and it's not impossible for Muller to get to the bigs this season. After all, this organization is anything but shy about bringing up impressive arms. (Poe)
Well, that's all she wrote for the final group of players before the Top 10. Once again, next week, we'll look at the bottom half of the Top 10. Did you think we missed the boat and some of these players deserved to be in the Top 10? Let us know below or on Twitter.