LAST CALL!!!
Right around the time that home games turn over from the 6th to the 7th inning, fans hear ushers cry out from the aisle, encouraging them to throw down $11 dollars just one last time before the adult beverages get put away for the night.
Luckily for Cardinals fans, in the innings after they get cut off from the Anheuser-Busch products, they will now be able to enjoy Miller Time at Busch Stadium.
No, the beer rivals did not join forces. No, that fine pilsner with more (bad) taste is not about to be served by the franchise that is as synonymous with A-B as the city itself.
No, it's none of that.
The Cardinals are just inking a deal for stud left-handed reliever, Andrew Miller.
Terms
Ken Rosenthal and Derrick Goold both reported late Thursday that a deal was very close. Frank Cusumano of KSDK went as far as reporting the deal would be for 2 years with a vesting option for a 3rd year.
As of Friday morning, Rosenthal reports that it was indeed a 2-year deal for $25M guaranteed with an option for 2021 that vests with 110 games combined between 2019-20. He reported that the years break down as such: 2019 – $11M, 2020 – $11.5, 2021 (option) – $12M w/ $2.5M buyout. He also states there are $500K per year incentives for appearances.
Ryan Meisinger, recently claimed off of waivers from the Orioles, was designated for assignment to make room on the 40-man roster, Benjamin Hochman and Derrick Goold report.
What this signing does
It immediately improves the left side of the bullpen, and the bullpen overall.
From 2012-2017, Andrew Miller was arguably the best reliever in baseball, handedness be damned, sporting a 2.01 ERA, 39.7% strikeout rate, and an opponent slash line of .162/.243/.255.
And those aren't just numbers against LH hitters. He was dominating EVERYBODY.
Unfortunately, he is coming to the Cardinals following an injury challenged 2018 that stands in stark contrast when looking through his career numbers.
His line reads: 4.24 ERA, 29.2% strikeout rate, and an opponent slash of .233/.338/.391.
He was human while dealing with a pulled hamstring, sore knee, and shoulder impingemnet.
Now, the final line on 2018 doesn't tell the full story, and I'll get to that a little further down.
First, the impact on the Cardinals.
Even with the diminished numbers, Miller stands has a massive improvement over the Cardinals 2018 left-handed relief corps. Ben Fredrickson laid out several stats to compare 2018 Miller to Chasen Shreve and Brett Cecil at STLToday.com. Go check that out when you are done here.
I'll revert back to some numbers that I used in a previous post regarding the search for lefty relief.
This is what the Cardinals LH relievers did vs. LH hitters in 2018 (courtesy of Fangraphs).
| | | | | | | | | | | | | |
| --- | --- | --- | --- | --- | --- | --- | --- | --- | --- | --- | --- | --- |
| | | Batters | || | AVG | || | OPS | || | wOBA | || | K% | || | BB% |
| Brett Cecil | || | 66 | || | .305 | || | .862 | || | .370 | || | 13.60% | || | 10.60% |
| Austin Gomber | || | 38 | || | .303 | || | .926 | || | .393 | || | 13.20% | || | 7.90% |
| Tyler Lyons | || | 49 | || | .333 | || | .905 | || | .391 | || | 26.50% | || | 10.20% |
| Tyler Webb | || | 35 | || | .188 | || | .523 | || | .224 | || | 14.30% | || | 8.60% |
| Chasen Shreve | || | 37 | || | .303 | || | .926 | || | .384 | || | 18.90% | || | 8.10% |
| Ryan Sherriff | || | 10 | || | .200 | || | .500 | || | .213 | || | 10.00% | || | 0.00% |
Those numbers are terrible.
Collectively, the Cardinals LH relievers ranked DEAD LAST in baseball for:
Opponent batting average (.287), OBP (.368), SLG (.456), and wOBA (.353) vs. LH hitters. They were 2nd to last in K% (17%).
For comparison, here is how Miller fared against LHH's in the same categories:
Opp. Avg (.227), OBP (.306), SLG (.250), wOBA (.258), and K% (26.5).
Only Tyler Webb — used almost exclusively in low-leverage situations — held opponents to lower rates. Miller's worst season leaves both Shreve and Cecil in the dust.
At his worst, he is a massive improvement. And if he returns to something close to his 2012-17 form (or even just splits the difference) the Cardinals probably have the 2nd best reliever in the division (Hader is just too good).
He is an option at Closer, as well.
Miller can reside as somewhat of an in-betweener. 70-80% of the time, he could be reserved as the team's lights out closer. However, the presence of Jordan Hicks and the underrated John Brebbia, will allow Mike Shildt to utilize Miller in ways that provide the greatest impact.
If the Cardinals are locked into a 1-run game and Shildt sees Bryant and Rizzo due up in the 8th, it's Miller time.
If another pitcher looks like he may not have it in a late inning and Joey Votto is looming with a chance to drive in runs, it's Miller time.
You can't use him in 100% of the save opportunities and in non-save situations. However, allowing someone like Brebbia to take the 9th inning in most 3-run games can save Miller for use in those other high-leverage spots.
Smart utilization can lead to performance optimization.
digging into his 2018
So on the surface, the 4.24 ERA doesn't look so hot. When you dig deeper and see that his average fastball velocity for 2018 had dropped to 93.8mph (down from 95.4 in '16 and 94.5 in '17 — more on this later), you probably get a little nervous.
There appears to be a downward trend.
However, his 2018 needs to be parsed, to a degree, to get a clearer picture.
Miller essentially had 4 "bad" games in 2018, in which he allowed 11 of his 16 earned runs for the season. Those 4 games covered just 2.1 innings. Remove those 4 games and his line looks like this:
31.2 IP, 1.42 ERA, 31.8 K%, 7.6 BB%.
Though the K% would be down quite a bit, the rest of his numbers are pretty much vintage Miller.
Now, it's not fair to just throw out his worst 4 games. Doing that with any relief usually makes a dramatic difference. It's the nature of the position.
For instance:
Brett Cecil in 2018 – 6.89 ERA, 12.1 K%, 15.9 BB%
Throw out his worst 4 – 3.69 ERA, 12.3 K%, 14.5 BB%
Ok, so Brett was still pretty bad last year. However, you can see that it nearly cut his ERA in half.
So while it is encouraging that Miller was still really really good in 33 of his 37 games, it's not as though the 4 bad games didn't happen.
But is there a reason behind those bad games?
Well, there is definitely an argument to be made to disregard 3 of them.
At the end of April, Miller went on the DL with a hamstring injury. At the end of May, he hit the DL due to a knee issue.
In the 6 games sandwiched between those DL stints, Miller posted a 14.54 ERA, 24% strikeout rate, 24% walk rate, and opponents hit .368/.520/.842 against him.
You have to believe that the injuries played a major role in this awful stretch.
The final bad game was his final game of the season, in which he allowed 4 earned runs. I can't explain that one, he was just bad in a game against the Royals.
But the struggles in May have a direct relation to his struggles to stay healthy last year.
And Now the Velocity Thing
The talented Craig Edwards of Fangraphs posted the following picture on Twitter last night: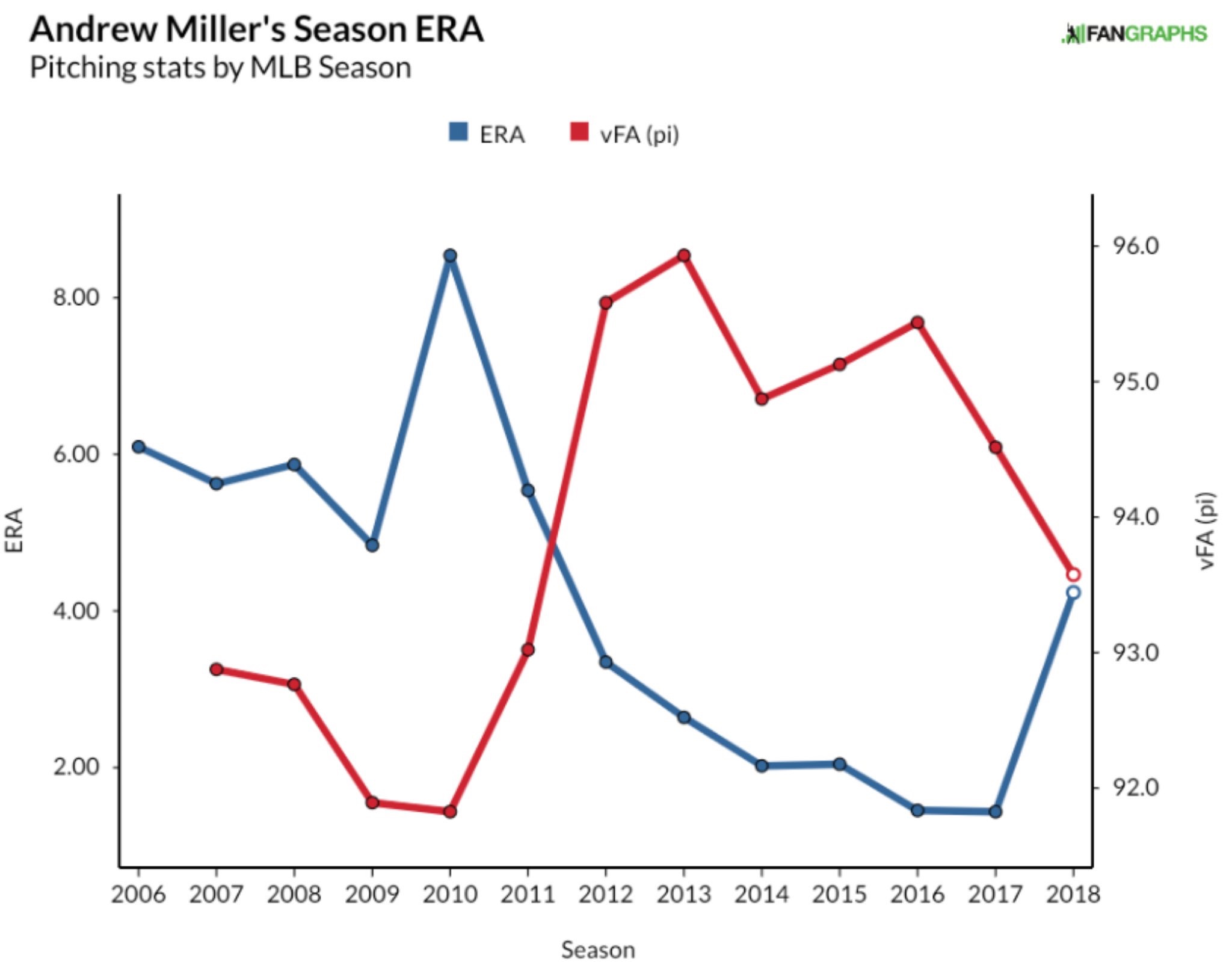 I am a big fan of Craig's work, but this graph is a little misleading.
Yes, his average velocity was down and his era was up in 2018, but his velocity moved around quite a bit in relation to his 2018 DL stints.
This is his velocity by month in 2018:
In the 4 months (April, May, Aug, Sept) where he threw at least 45 fastballs, his highest average velocity came in May, at 94.3mph. As I showed earlier, May was also his worst month by performance.
The month with the lowest average velocity was August, at 93.02. He had a 1.86 ERA and opponent line of .147/.275/.206 for that month.
Simply, while looking at it from a year-end perspective appears to show a correlation, looking at it within the season shows that his velocity dips did not correspond to his major struggles in 2018.
He would hit the DL for a 3rd time at the end of August with a shoulder impingement. When he returned from that injury, so too did his velocity, jumping a full MPH to 94.1 in September. He averaged 95.4 in his 2 playoff appearances.
It's encouraging that his velocity returned after he got past the shoulder impingement. With health, his average velocity should stay safely above 94 mph.
wrap-up
I'm not giving a 100% endorsement of this acquisition, but I do like it.
Digging into the numbers, I'm encouraged that, when healthy, Miller will pitch well. He may not be close to the dominance of 2012-17, but he can still be a very, very good reliever that will significantly help the Cardinals.
I'm concerned about injuries. 3 DL trips for 3 separate injuries are alarming. It could be a sign that a soon-to-be 34-year old body is breaking down. Or, it could be a one-season thing.
With health, the Cardinals got a very nice player and have gone "brand name" twice this offseason — Paul Goldschmidt being the other — to improve the team. That is a break from the "low-hanging fruit" plucking that has irritated many fans in the past.
HOPEFULLY, this one works out better than past expenditures on veteran relievers.
Thanks for reading!
Follow me on Twitter for more Cards talk: Follow @hes_verygood
Or Follow the Bird Law Podcast: Follow @birdlawpod