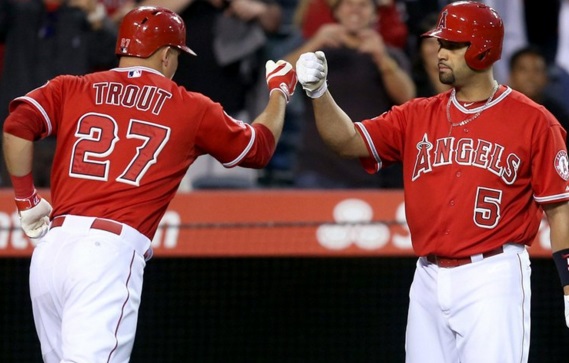 Image by Larry Brown Sports
By David Saltzer, AngelsWin.com Senior Writer
As a fan, I like players who play with some humility. I don't go for the big bat flips or showboating that some players display. In some instances, I can understand it, and appreciate when a player gets caught up in the moment and the drama, but on a general basis, I'm not a fan of players with major egos. It's seems all too often players let their egos overshadow their accomplishments on the field.
So, as a fan, I'd like to point out how classy all of the players have been on the Angels, and in particular how classy Mike Trout and Albert Pujols have been, while Shohei Ohtani has been creating a media storm with #Sho-Time.
With a 7-3, the Angels are off to their best start to the season since 1987. They've done so as a team. While Shohei has pitched the Angels to two wins, lots of players have been contributing to the team to get all those wins. Baseball is a team sport, and it takes contributions from everyone to win a game. Players have done it on offense and defense. And they have done that all while adjusting to different roles and uses to allow Shohei to both pitch and hit. They've also done so with all the extra media presence, both national and international, to cover Shohei's start to the season.
But two players really stand out as setting an exemplary level of humility when it comes to Ohtani: Mike Trout and Albert Pujols. As a fan, I can't be more impressed by them.
To say that Trout and Pujols are in rare company as players is a bit of an understatement. Yesterday, when Mike Trout scored his 700th run, he became just the 8th player in all of Major League Baseball to ever accomplish both feats by age 27 (among the others who have done so . . . Albert Pujols).
As for Pujols, with his hit yesterday, he is just 21 hits shy of hitting 3,000 in his career. Only 31 players in all of baseball have ever had 3,000 or more hits in their careers. But, only 3 of them have done so with 600 or more homeruns. When Pujols accomplishes that feat, he will truly be in rare company (Hank Aaron, Willie Mays, and Alex Rodriguez). Equally as impressive, with 1922 RBIs in his career, Pujols is likely this season to become just the 4th player in history to drive in more than 2,000 RBIs (Hank Aaron, Babe Ruth, and Alex Rodriguez).
With all the historic accomplishments that Trout and Pujols are accomplishing, it is truly refreshing to see how they are reacting to all that Shohei is accomplishing and the buzz that he is generating. Yesterday, after breaking out of his mini-slump, and after scoring his 700th run, and hitting his 500th hit in Angel Stadium, he was asked about Shohei by Alex Curry. And, he didn't use it as an opportunity to talk about himself–he praised the young Angels phenom.
And, as Pujols steadily climbs to his historic levels, he has not appeared fazed by all the press and focus being given to Ohtani. Rather than demand more attention, he appears happy to be playing his game and letting his accomplishments speak for themselves.
None of this is meant to take away what Shohei is accomplishing, or how he is handling himself. The maturity, poise, and humility that he is showing as a 23-year old is inspirational. And, the historic nature of his accomplishments are amazing! With 12 strikeouts yesterday, Shohei became just the third player ever to record double digit strikeouts and hit homeruns in three consecutive games (joining Ken Brett and Babe Ruth). And, he's doing so under the microscope of all the press and with the hopes of two nations resting on his shoulders.
In many ways, the fact that Shohei chose the Angels for his Major League team is good for him (as well as for us the fans!). Playing with Trout and Pujols, the subject of so much press and scrutiny over the years, and at the same time achieving historic feats of their own, gives him some help dealing with all that is going on in his young career. To say that his start has been electric is an understatement. The atmosphere when he's playing is more intense than when Vlad first came. The stadium is more charged than the height of Wallyworld. Which is why it would be easy to understand how some players could feel left out of the spotlight. And yet, they haven't acted that way.
When I talk with my sons about what it takes to be a good person, I like to have role models with whom they can identify. With humility in short supply with many of today's athletes and celebrities, especially in the age of social media, it's good to see Trout, Pujols, and all the Angels show such good examples during this incredible period with Shohei Ohtani. Just one of the many reasons why these two are such class acts.