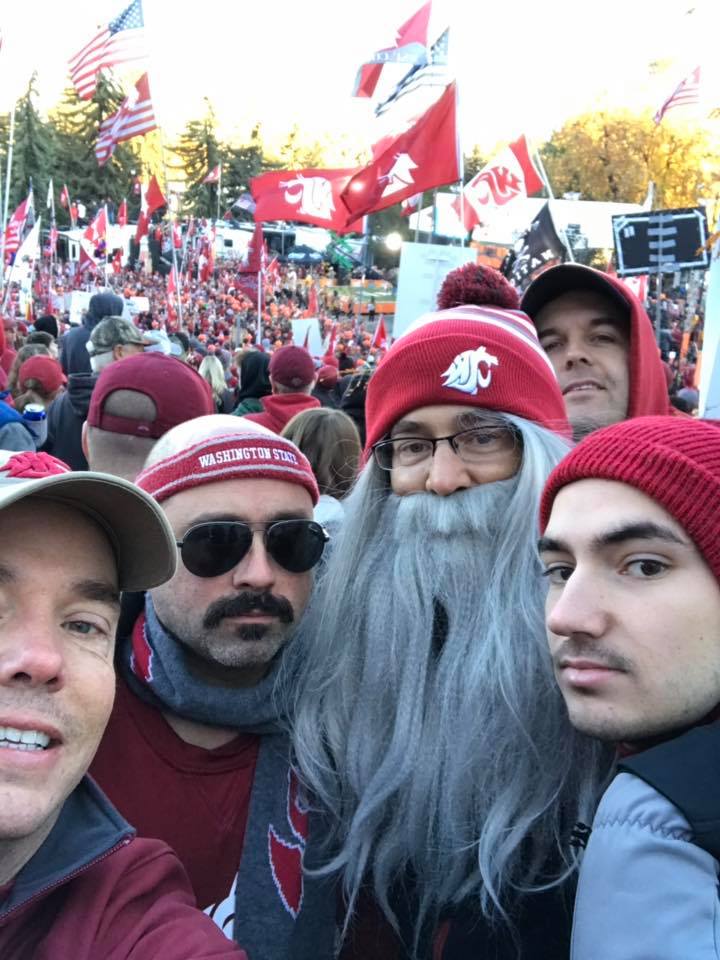 Hello Followers.  Hope you are doing great!
Before I begin, a couple of quick shout-outs and thank you's.  As I noted on the Twitter last week, me and the 'Lil Sutra started to eye the potential for College Game Day (CGD) about two or three weeks out from the announcement. As a result of getting ahead, our very own Longball was able to secure three tickets to the game. And if that wasn't enough, his Uncle (Jack), Aunt (Debbie), and Mother (Marlys) put me, Lil Sutra, and SeanHawk up for the great event.  Needless to say, being at CougStock was a once-in-a-lifetime experience for all of us. And it was an extra special pleasure to share it with such wonderful people–people who we now affectionately refer to as our "Pullman Family."  Thank you, thank you, thank you guys! You are the absolute best!
Of course, the end result of that fantastic weekend was a Cougar victory for the ages. And because we emerged victorious from our hold-on-to-the-edge-of-your-seats-beat down of the Ducks (yes, we now know its possible to do all of those things in one game), our WSU Cougars now find themselves on the fringe of the National Conversation.  And because of all that, I thought it timely to write a quick (HA! HA! HA!) post that hopefully can provide a bit of a road map on what we might look for in the exciting weeks to come.
Let's begin with the issue that I think we all need to worry about the least. And that issue is the College Football Playoff.
As we all know, most of the pundits out there—especially the Pac-12 conference's Chief Cougar Curmudgeon, Jon Wilner, have proclaimed the Pac-12's chances at a College Football Playoff as dead for multiple weeks now. And although I think it would still be prudent to bet the farm against the conference's playoff prospects right now, it's not because of the Cougars' non-conference schedule.  In fact, if I had to put my head on a guillotine right now, I'd bet that if the Washington State Cougars were to finish the year at 12-1, they would find themselves as the #4 seed in the College Football playoff opposite some team from Tuscaloosa or South Carolina.
And the reason for this optimism is thus: When Autumn starts to change its color toward that hazy shade of Winter, College Football Teams start to share an important constant:  THEY LOSE.
Want proof? Well, let's check out some data gleaned from each of the years that the College Football Playoff has been in existence.  On the left side of the Table are the Top 6 in the AP poll in Week 9. Moving right, you will find their final regular season record of each team that spent Week 9 in the Top 6, as well as their final AP ranking in the final week of the regular season (Week 15)….
2018 Season
Week9
Final Reg. Season Record (and Rank)
1. Alabama (8-0)
????
2. Clemson (7-0)
3. N. Dame (7-0)
4. LSU (7-1)
5. Michigan (7-1)
6. Texas (6-1)
2017 Season
Week9
Final Reg. Season Record (and Rank)
1. Alabama (8-0)
11-1
(4)
2. Penn St (7-0)
10-2
(9)
3. Georgia (7-0)
12-1
(3)
4. TCU (7-0)
10-3
(15)
5. Wisconsin (7-0)
12-1
(6)
6. Ohio St. (6-1)
11-2
(5)
2016 Season
Week9
Final Reg. Season Record (and Rank)
1. Alabama (8-0)
12-0
(1)
2. Michigan (7-0)
10-2
(6)
3. Clemson (7-0)
12-1
(2)
4. Wash (7-0)
12-1
(4)
5. Louisville (6-1)
9-3
(13)
6. Ohio St. (6-1)
11-1
(3)
2015 Season
Week9
Final Reg. Season Record (and Rank)
1. Ohio St (8-0)
11-1
(7)
2. Baylor (7-0)
9-3
(17)
3. Clemson (7-0)
13-0
(1)
4. LSU (7-0)
8-3
(20)
5. TCU (6-0)
10-2
(11)
6. Michigan St. (8-0)
12-1
(3)
2014 Season
Week9
Final Reg. Season Record (and Rank)
1. Miss. St (6-0)
10-2
(10)
2. Florida St (7-0)
12-0
(4)
3. Ole Miss (7-0)
9-3
(12)
4. Alabama (6-1)
11-1
(1)
5. Auburn (5-1)
8-4
(19)
6. Oregon (6-1)
11-1
(2)
In short sum, in 2017 there were five (5) unbeaten teams in Week 9 and they all finished with at least one loss.  In fact, all of the top 6 lost between weeks 9 and 15.
In 2016, which was the most "stable" of all years, there were four unbeaten teams, and all but one (Alabama) lost.  All of the top six, save Alabama lost after Week 9. Two of the top 5 lost twice.
In 2015, there were six unbeaten teams in Week 9, and all of them lost except Clemson. Significantly, three of the top six fell out of the Top 10 by season's end.
In 2014, there were three unbeaten teams and two of them lost, while 4 of the Top 6 lost at least once after Week 9.  Moreover, defending champ Florida State was so bad/shaky that they actually dropped two spots in the poll over the ensuing weeks because of multiple close calls/poor showings.   And, similar to 2015, three of the top 6 in Week 9 lost multiple games from that point forward and finished the regular season outside of the Top 10.
Last–and perhaps most significantly–in the past four years, there has been at least one playoff team that was ranked outside of the Top 5 in Week 9, including 2015 Oklahoma that was ranked (cough! cough!) #14 in Week 9……
All in all, that's my typically long-winded way of saying that none of us in Cougar Nation need to be thinking one iota about playoff standings or polls at this point. The ONLY thing that matters is winning one game a week.  Which brings me to….
Divisional Races
This week Jon Wilner offered really great insight into the rats nest that is known as the Pac-12 South.  Personally, I think Utah is the class of that Division, and frankly, I think that they are the best in the conference right now. But in spite of that, Utah, like all College Football teams save maybe Alabama and Clemson are fallible.  And so, even though USC has looked far from good over the past couple of weeks, the fact of the matter is that if the Trojans beat ASU, Oregon State, CAL, and UCLA—and Utah loses to Oregon at home—the Trojans win the South.  That's what playing the top 4 teams in the Pac-12 North can do to a team like Utah. And you can bet that the College Football Playoff Committee will notice that.
Now, with respect to the North, things can still get really crazy. The big thing to look at moving forward are the first two tie-breakers which come into play if there is a multiple team tie for the division (e.g., Washington, Oregon, WSU finish tied). Those tie-breakers are: (1) Head-to-head results amongst tied teams and (2) Record in intra-divisional games.
Because Stanford is currently tied for first with WSU and UW in the loss column, this weekend's game is ABSOLUTELY CRITICAL for WSU's Divisional hopes: With a win on Saturday, both Stanford and Oregon would effectively fall two games back of WSU.  However, lose to Stanford this weekend, and the Cougs would be virtually out of it, barring some truly bizarre turn of events.
Consider the following scenarios as a  case in point:
WSU loses to Stanford
Stanford loses to UW
WSU beats UW
In this scenario, all teams finish 1-1 head-to-head. UW gets eliminated on second tie breaker due to 2 Divisional losses. That leaves WSU and Stanford. Stanford wins Division by beating WSU.
Let's try another:
WSU loses to Stanford
Stanford loses to UW
WSU beats UW
Oregon wins out
In this scenario, all teams finish 7-2.  But because of head-to-head records, UW and Oregon (1-2) get eliminated in the first tie-breaker. That leaves Stanford and WSU.  Stanford wins Division by beating WSU.
Let's try one more:
WSU beats Stanford
Stanford beats UW
UW beats WSU
Oregon wins out
In this scenario, all teams finish 7-2.  Once again, UW and Oregon (1-2) get eliminated in the first tie-break.  That leaves Stanford and WSU. WSU wins Division by virtue of beating Stanford.
(Whew! Time out for a quick smoke break…..)
All in all, this has been my typically long-winded way of saying that what we all really need to focus on right now is winning this darn game against Stanford. Do that, and we'll be well on our way to controlling most of the all-important multi-team tie-breakers the rest of the way, while also keeping all the other dreams live in the process.
But beyond all that, the greatest issues that I think that this team faces moving forward is as follows:
1) Our health
2) The Weather
As a reminder, the WSU teams that have won championships in the past have shared one common feature until the very end (or darn well near it): They stayed healthy.  Second, all prior Cougar champions were able to avoid playing in November games where the weather was terrible. This last point/issue–the weather–seems particularly important since Gardner Minshew arrived in May and therefore missed the January-April months that can best approximate what Pullman can be and feel like in November.
In short, beyond praying for a win this weekend, pray for health, and pray for continued good weather in Pullman and Boulder!
That's all the time I have for today, folks.  Enjoy the game this weekend because it's a really, really, really big one. In fact, win this game this weekend, and we can afford to drop one between now and the Apple Cup and still control our own destiny!
It's THAT big of a game, peoples. So, let's keep this ball rolling, shall we?
All for now. Go Cougs.