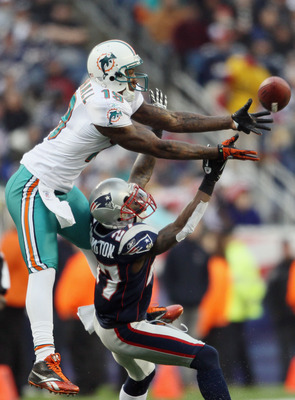 It's time once again for one of my favorite segments during the season. Please welcome in Ricky Keeler from Foxboro Blog- Bloguin's one-stop coverage for New England Patriots' coverage- to shed some light on the Dolphins' rival.
I answered some questions for Ricky as well regarding the Dolphins. Be sure to check them out here, as they should be posted within the next couple days.
Phins Phocus: The Patriots made some headlines by bringing in Chad Ochocinco and Albert Haynesworth in free agency. What sort of impact have they had thus far and what do you expect from them this season?
FB: So far, the two main acquisitions of the offseason for the Patriots have not had the impact that the fans would like. Haynesworth just started practicing last week and although he played well against the Giants in the final preseason game, he was not facing the Giants' starters on the offensive line. I do expect him and former Jet Shaun Ellis to have a solid impact this season for this team.
As for Chad Ochocinco, I thought he would have about a 800-900 yard season for NE, but I am having my doubts. He has been average and the Randy Moss rumors show you possibly that Chad is not doing as well as Belichick would like. He dropped a lot of balls in the preseason and him and Brady are still not on par with each other. It can change and I think eventually #12 and #85 will be on the same page.
Phins Phocus: Explain the reasoning behind the Patriots getting rid of Brandon Meriweather? Who's in line to replace him?
FB: The cutting of Brandon Meriweather was that he was not living up to the hype that he had when the Patriots drafted him in 2006. His tackles and interceptions went down last year and he only started in 13 games.
His cutting tells me two things. One, he was not living up to the Patriot way and his lack of discipline on the field caught up to him (i.e hit on Todd Heap last year). Second, the Pats must love the way Pat Chung has progressed this offseason and as you guys saw last year in Miami, he can make an impact.
As far as the depth behind Chung, they do have Sergio Brown who is young, but knows the system from playing in 11 games last year. Also, they signed James Ihedigbo from the Jets who despite his tackling inefficiencies shown in the preseason, he learned under a great defensive coach in Rex Ryan and played a key role in the Jets' upset of the Pats last season. True, the depth is not great, but we know Belichick can just plug guys in and make them play that role in the defense and succeed.
Phins Phocus: If there was a glaring weakness on last year's 14-2 squad, it had to be all the yards the defense gave up. They did rank in at 25th in total defense and as Bart Scott put it, they "couldn't stop a nose bleed." How improved will the unit be this season and why?
FB: I think this unit will improve from last season in a lot of ways. They have a ton of depth on the defensive line to get after the quarterback. Yes, the team was 25th in total defense, but they were one of the best teams at forcing turnovers which is typical of a Bill Belichick coached defense.
Their depth at cornerback is solid despite the cutting of Darius Butler this week. This is not a top ten defense, but with Brady and the offense, they do not have to be. Plus, the young defense last year was great in December up until the playoff game. Look for more strides from this defense, but they are probably at least a year or two away from being an elite defense.
Phins Phocus: The Pats had a difficult time protecting Brady against the Lions in the third preseason game. Was this a mirage or a sign of things to come?
FB: I lean towards that game being a mirage because the Lions are frankly a very good pass rushing team. They did not have Kyle VandenBosch or Nick Fairley in that game and they still gave NE a beatdown. Look out for the Lions in 2011.
As for the offensive line, I think this team is okay at that position. Matt Light is getting more reps at LT and should be back to his old self. The Mankins contract is settled and they made an underrated move in the past week. They brought in former All-Pro G Brian Waters. He will help the team at right guard with their injury woes there, he is durable, and he knows the Patriot way from his time with Pioli as the GM in Kansas City. He is an upgrade from Dan Connolly or 1st Round pick Nate Solder, who needs time to develop.
I do not worry about this offensive line when they line up onto the field Monday night, but I think Miami can bring some pressure with Cameron Wake.
Phins Phocus: Who wins and why? Final score?
FB: This is going to be closer than the experts think, although I do see some people are picking the Dolphins in this game. This game reminds me of 2009 when the Patriots opened up with the Bills and were expected to blow them out. Then, Trent Edwards played one of his best games as a Bill and if not for a Leodis McKelvin blunder, they pull off the upset.
The Patriot offense is going to put up points in this game with Gronkowski and Hernandez, as well as Wes Welker. This will put a lot of pressure on Chad Henne to score points, which can lead to a crucial turnover or two.
However, the secondary is so-so, so I do expect some big plays from Henne to Marshall because I like the connection they have had in the preseason. This game stays close till the 4th quarter, but I think the Patriots ultimately get the win. This game I think will be about a 7-10 point margin. As for my exact score, you will have to read my preview on Saturday at Foxboroblog.com to find out!