While the Oilers did not make any big trades, they countered with an extremely solid draft.
We really have the Columbus Blue Jackets to thank for that. Even without winning the draft lottery, the Oilers managed to win at the draft. With a bevy of draft picks, the Oilers desperately needed to restock their farm, especially after 2014 and 2015 having later round draft picks moved.
I think the Oilers did well in this draft. My mock draft was completely ruined.
4th Overall: Jesse Puljujarvi, Right Wing, Karpat
I still have no idea how the Blue Jackets drafted Pierre-Luc Dubois over Jesse Puljujarvi. Yes, there were rumblings that the Blue Jackets were not sold on Puljujarvi–for what ever reason. When Puljujarvi fell into the Oilers lap, there was no way the Oilers were going to deal that number four pick.
For the duration of this season, there was considered a tier above the rest: Matthews, Laine and Puljujarvi. I recall Puljujarvi being the second ranked player in the Hockey News Draft Preview last year (for the look ahead) before Laine rose.
This is what I wrote about Puljujarvi in my mock draft:
Puljujarvi is the "faller" due to his Finnish friend Laine, but he is no slouch. When compared to Laine, Puljuarvi is the player you want to hold a one goal lead. He is better in the 200 foot game and is more of a playmaker than a pure goalscorer. Laine will have a greater offensive impact, but Puljujarvi will be better all around.
Amazing pick by the Oilers. Grade: A+.
32nd Overall: Tyler Benson, Left Wing, Vancouver
This was the player I wanted the Oilers to take–either him or Cliff Pu where I mistakenly took him 32nd overall in our site's mock draft. Obviously I was a big fan of Tyler Benson: A local product who put up some very gaudy numbers in Midget and was drafted 1st overall by the Vancouver Giants. However, his draft year was one from hell: He only played 30 games due to a cyst removal on his tailbone. Thus, he fell in rankings: 51st in the Hockey News, 39th for Bob McKenzie, 34th for Hockeyprospect.com, but Corey Pronman had him ranked 18th.
In my own mock draft, I had Benson going to Washington at 26th and wrote about him:
Want skill? Tyler Benson has it. He had the season from hell however: playing only 30 games for Vancouver this season missing the top prospects game. He was considered a top ten prospect before injuries derailed his season and he just never got back on track. Skating is an issue with Benson and has been prior to injury. That said, there's plenty of positives with Benson: he has a solid work ethic, manages to get the puck to his teammate and has the right offensive instincts making him capable of making the right choices with the puck. Injuries really hurt him this year (no pun intended) and after being a 1st overall pick in the WHL I'm rooting for the Edmonton product to bounce back.
I love this pick. Injuries can be a worry, but let's be real: it's not a shoulder or knee injury. Very good pick. Grade: A+
62nd Overall: Markus Niemelainen, Defenceman, Saginaw
This was another first round pick I had in my own mock draft, but mind you, I had him ranked a bit higher and more in line with the Hockey News ranking, where he was ranked at 28. Pronman had him ranked 70th, McKeen had him at 48th and Bob McKenzie had him at 38th overall.
This is what I wrote about Niemelainen in my mock draft:
Niemelainen is not a flashy defenceman and is quite lanky at 6'6, 200 pounds. Needs some bulking. That said, Niemelainen is a great skater, able to move from end to end with ease. He has an excellent reach thanks to that 6'6 body. He's good at everything, but is not remarkable in any area. Doesn't scream exciting, but that's not a bad thing as he's a capable defender.
He's big. 6'6, 205 pounds. I would like to see him bulk up a bit. Had a rough start transitioning to the North American game, but give him some credit. He's not lacking in much, and while a bit bland, is a solid all around player. Hell, Oilers could use more of that.
Grade: B+. I had Niemelainen going in the first round, which was a reach, but I like this pick.
84th Overall: Matthew Cairns, Defenceman, Georgetown
Cairns was not ranked in both Pronman's and McKenzie's rankings. Ranked 84th in the Hockey News, which is exactly where Cairns was drafted at. The Hockey News had a small blurb on him "Big and Fast. Sometimes Tries to do too much. Cornell-bound."
Cairns stands in at 6'2, 190 pounds. He has a solid statline from last year, having 9 goals and 33 points in 46 games. However, he is a long term pick. While commited to Cornell, he won't be going there until 2017-18.
Grade: B. While drafting college-bound players is not a shocker, it hurts a bit that he won't be going to Cornell until after next season.
91st Overall: Filip Berglund, Defenceman, Skellefta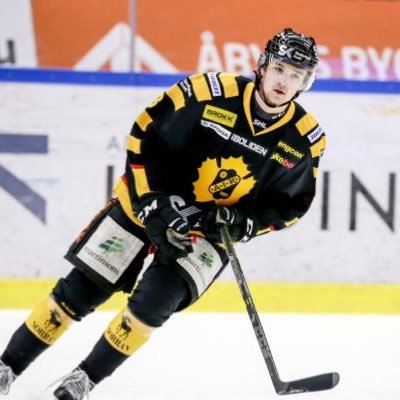 Not ranked in the Hockey News, Pronman or McKenzie. Bad mix right? Not according to Lowetide who had Berglund ranked at 61st on his list.
Digging a bit deeper, Berglund posted a whopping 41 points in 43 games. He's a right handed shooting defender, and is not a small kid at all: 6'3 and 209 pounds according to eliteprospects.com.
A big and strong two-way defenseman with good hockey sense and passing ability. Valuable on the man advantage with a strong release and good puck control. Not a speedster and should use his large frame to his advantage.
Sign me up. This looks like the Ethan Bear of 2016.
Grade: B+. Killer stats. Good size. Hockey Sense and good puck moving ability? Right shot? Yes!
123rd Overall: Dylan Wells, Goaltender, Peterborough
A goaltender was taken! The Oilers have not had the best of luck when it comes to drafting goaltenders: Keven Bouchard was not retained, Zach Nagelvoort did not take the step further in Michigan this season.
Wells was ranked 72nd by McKeen's and 97th by hockeyprospects.com.
From Joseph Aleong of the Hockey Writers Draft Profile
Wells possesses the ideal frame for a modern NHL goalie, standing 6'2″ and weighing in at 183 pounds. While he could stand to gain strength in his lower body, Wells' athletic frame bodes well for his future potential as an NHL goaltender. Wells was once considered the best 1998-born goaltending prospect in all of North America, but his rocky play in the OHL this season has caused some of his preseason shine to wear off. Despite starting the season off extremely well with a gold-medal winning performance in the Ivan Hlinka tournament, Wells has failed to translate his strong performance into a starting role with the playoff-bound Petes.
Important to note that Wells actually lost his starting position this season. Had only a 0.871 save percentage and the Petes were not a bad team. Only appeared in 27 games. However, he did play well in the top prospects game and the Ivan Hlinka tournament.
Grade: D+. Wells did not have a good season, which hurt his draft stock. The biggest question: can he rebound? Not a pretty stat line.
149th Overall: Graham McPhee, Left Wing, Boston College
Ranked 165th on Hockeyprospects.com, 100 on ISS. His dad is former General Manager George McPhee.
5'11 and 178 pounds, McPhee is not overly big and with the under 18 USA team, he produced only 10 goals and 18 points in 58 games. The TSN 1260 radio guys said that he's a wait and see player. He might not have much offensively but can be a pain in the butt to play against.
He's committed to Boston College. The Hockey Writers have a good write up on him here, describing him as a solid defensive player who rarely takes a shift off. He a high energy guy.
Grade: C+. It's a late round pick, for a player that seems to have limited offensive upside. High energy player though earns points.
153rd Overall: Aapeli Rasanen, Centre, Finland
This is an interesting pick: Ranked 59th by Future Considerations, 93rd by McKeen's and 135 by HockeyProspect.com, I rely on a scouting report yet again from The Hockey Writers
Per Schellenberg:
A strong season finale at the U18 Worlds, where he collected nine points in seven games, moved Aapeli Rasanen up in the rankings. He is not a guy that stands out with fancy moves or highlight-reel goals. What makes Rasanen so strong is his two-way game, work ethic and hockey smarts. He does a lot of small things the right way, and his play away from the puck is exceptionally good.

Rasanen possesses silky-smooth hands and can handle the puck very well. He is a good setup-guy and uses his vision and awareness to distribute the puck with accuracy. His soft hands come in handy when under pressure, as he can stickhandle through traffic and keep a clear mind when pressured by opponents. He can show flashes of his decent Hockey IQ, from time to time, when in the offensive zone.
Another Finnish player is taken and I like this pick because he is skilled. He had a strong Under 18 Worlds, he is also capable in the two way game. I like this one.
Grade: B. I consider this a value pick. Ranked much higher than where he actually went.
183rd Overall: Vincent Desharnais, Defenceman, Providence College
Sigh. Two points in 19 games played in Providence. He's 6'6″, 209 pounds, another tall defenceman. He was ranked….no where. Not one ranking. He's also 20 years old.
Desharnais is probably a long shot to make it anywhere, he is a 7th round pick for a reason. Little reason to get excited for this pick.
Grade: D. Not much here. It's a 7th round pick.
Final Comments:
I thought the Oilers did a fantastic job in this draft. Great picks: Puljujarvi (thanks, Lumbus!), Benson, Berglund. Bad Pick: Wells, Desharnais.
Overall Final Grade: B+.