The 2018 MLB regular season isn't even three weeks old yet, but there are a number of players who'd probably love access to a time machine right now.
While there's still five-and-a-half months left for them to turn their respective seasons around, none of them went through their winter workouts with a lackluster start in mind.
If the following 10 players could hit the rewind button and find themselves jogging out to a foul line during Opening Day introductions again, they'd totally do it.
Randal Grichuk, OF Toronto Blue Jays
With a fresh start north of the border, Randal Grichuk has a great opportunity to really establish himself as a big leaguer. Judging from his first 47 plate appearances as a Blue Jay, he's still searching for what's needed to take advantage of that opportunity.
The outfielder has posted -0.5 fWAR thus far thanks to a -16 wRC+ and a woeful .071/.149/.167 triple slash. Those numbers include just one homer, two RBI, and one run scored. Known for whiffing quite a bit, Grichuk's 34.0% strikeout rate is among the league leaders, as is his 18.2% swinging-strike rate.
His 63.0% fly-ball rate should bode well for some power in the near future, but it'll be helpful if his line-drive rate gets a little higher than his current 3.7% mark, as well as his 29.6% hard-hit rate (39.4% career rate).
Jose Quintana, SP, Chicago Cubs
Struggles last April (5.22 ERA, .356 wOBA against in 29.1 innings) are part of what dragged down Jose Quintana's overall 2017 numbers. What was encouraging about his move from the White Sox to the Cubs last year was that his strikeout rate (24.6% to 28.3%) and walk rate (9.0% to 6.1%) both made significant improvements.
Those numbers haven't held through his first 14.1 innings of 2018 — the southpaw actually has posted a higher walk rate (14.9%) than strikeout rate (13.4%). His 5.64 SIERA certainly isn't anything worth writing home about, but it's at least a lot better than his 8.16 ERA.
Quintana's .319 BABIP allowed isn't terribly far off from his career number (.304), but he's stranding runners at just a 53.3% rate. A step toward lowering that 1.81 WHIP would be to get ahead in the count more often — if the season ended today, the 29-year-old's 61.2% first-pitch strike rate would be the first time it dipped below 65.0% since 2012 (his rookie season).
Logan Morrison, 1B/DH, Minnesota Twins
Logan Morrison essentially fell into the Twins' lap thanks to this past winter's slow market. And at just $6.5 million, it was a low-risk gamble worth taking. Unfortunately, he hasn't yet given this offense the upgrade that some expected him to.
There's still ample opportunity to change that, but LoMo has posted a -4 wRC+ through 39 plate appearances thanks to an anemic .088/.205/.118 triple slash. If it wasn't for a 10.3% walk rate, his wRC+ would probably be much lower than it already is.
The encouraging part is that he's not striking out a ton — Morrison's current 20.5% strikeout rate would be his lowest since 2015 if sustained throughout the year — but he still hasn't hit his first home run. A 50.0% fly-ball rate is giving him some chances, but it's the quality of contact that's a problem.
While this is an overarching issue so far in 2018, it's especially eye-popping when we drill it down specifically to fly balls — he's posted a 0.0% hard-hit rate and 53.9% soft-hit rate for this batted-ball event.
Felix Hernandez, SP, Seattle Mariners
The Mariners are off to a solid 8-5 start, and on the surface, King Felix has contributed to that with a 2-2 record of his own. Even considering his solid performance on Sunday — 2 earned runs on 5 hits, 0 walks, and 7 strikeouts in 6.1 innings — other statistics show he's fortunate to have two wins under his belt.
Hernandez's most recent outing knocked his ERA down over a run, but it's not as if the current 5.48 mark invokes any warm and fuzzies about his potential future production. Especially when we peep his 4.72 SIERA.
For someone like the veteran right-hander, who possesses a fastball that's declining in velocity (89 mph) and a shrinking swinging-strike rate (7.8%), he'll need to continue showing the kind of control of the strike zone that he had Sunday.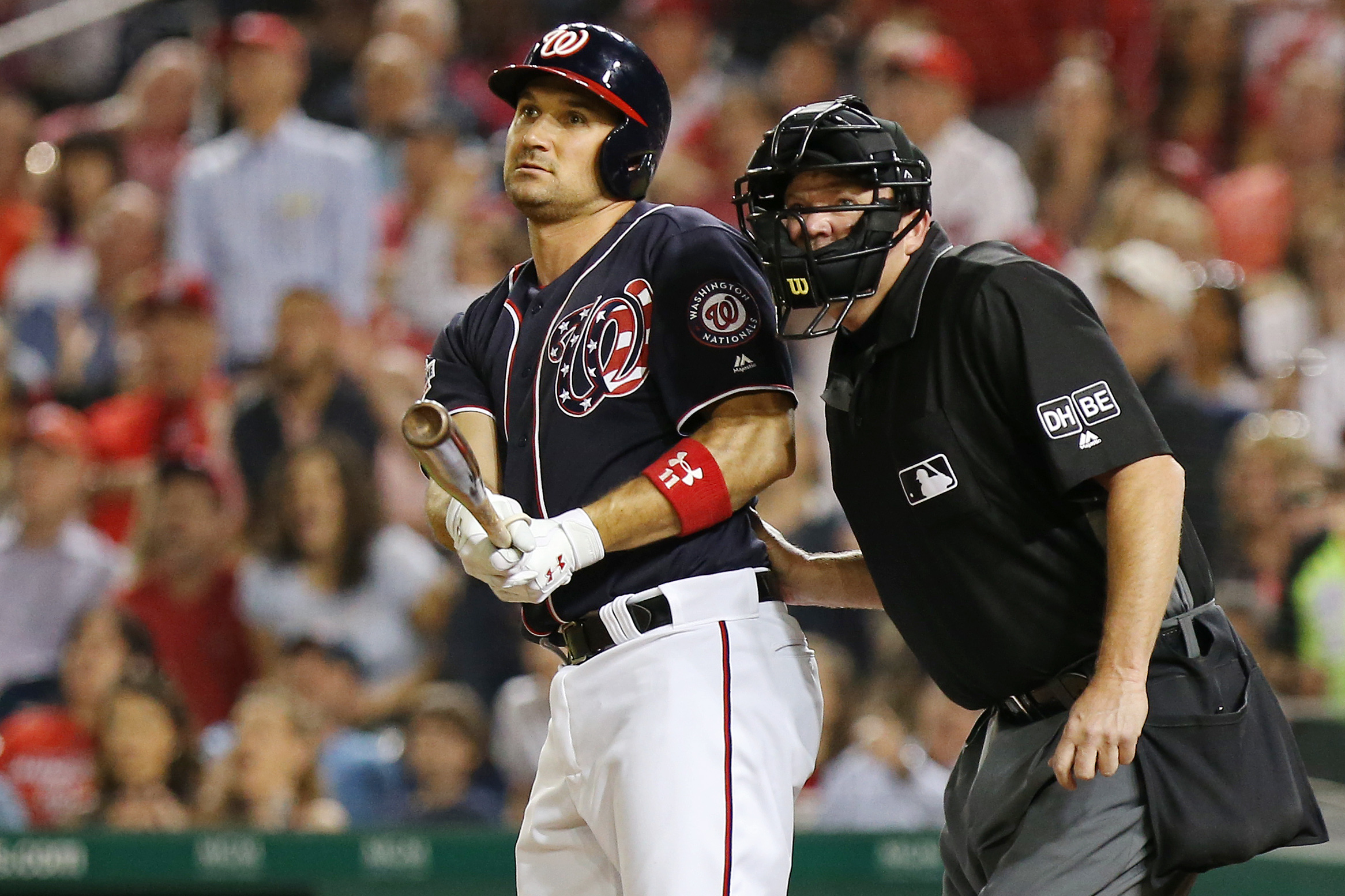 Ryan Zimmerman, 1B, Washington Nationals
One of the more interesting Spring Training storylines this year involved Ryan Zimmerman, but it had nothing to do with his play on the field. That's because he barely got between the lines in Grapefruit League action. The Nats' first baseman accrued just two at-bats before Opening Day, and he couldn't be more ice cold at the moment.
His -0.5 fWAR is tied with a few for the worst mark among position players this year, and he's posted a .122/.204/.224 triple slash with 1 homer, 5 RBI, 2 runs scored, and a 19 wRC+ in 54 plate appearances.
The shining light here is Zimmerman's .143 BABIP. Well, not necessarily that, but it is when seeing he has a 27.8% line-drive rate, a 36.1% fly-ball rate, and a 41.7% hard-hit rate. Better times should be ahead, but this is just the polar opposite of his performance last April, when he was literally the best hitter in baseball according to wRC+.
Matt Harvey, SP, New York Mets
The 2018 season is a pivotal one for Matt Harvey. After turning in what was easily the worst year of his career in 2017, he needed to take this final opportunity to show he can still be a capable starter before hitting free agency this winter.
His first start against the Philadelphia Phillies went well — he allowed just one hit in five shutout innings — but the next two haven't been nearly as good. Through the righty's most recent 10 frames, he's allowed 8 runs on 17 hits (3 home runs).
Harvey's current 4.5% walk rate is leaps and bounds better than the career-worst 10.9% rate he posted in 2017, but he's shown a troubling trend in the plate-discipline department. Opposing hitters are chasing just 23.6% of his pitches outside the strike zone (32.5% career rate), and his swinging-strike rate has worsened with each start (10.5%, 8.2%, 7.4%).
Corey Seager, SS, Los Angeles Dodgers
Off to a disappointing 5-9 start, it's pretty clear that the Dodgers' offense needs Justin Turner. Corey Seager probably feels that way, as he's posted just a 51 wRC+ to go along with a .200/.279/.255 triple slash through 61 plate appearances.
What's interesting to note here is that the young shortstop's process seems to be sound despite not getting the results. Seager's batted-ball numbers don't look terribly different from his 2017 production, yet his 26.1% hard-hit rate is a long ways off last year's 44.0% mark, which was among the league leaders.
He's not chasing a ton of balls out of the zone, though (26.1%), is swinging at a lot of balls in the zone (80.4%), is making contact (92.3%) more often in that situation than last year (86.4%), and has a 9.7% swinging-strike rate overall. So it appears that Seager doesn't necessarily need to change his approach — he just needs to start squaring balls up in the zone better.
That can start with the four-seamer. After posting a 198 wRC+ and .321 ISO against the pitch in 2017, those numbers have dropped to 56 and .136, respectively, to start 2018.
Lucas Giolito, SP, Chicago White Sox
Through 45.1 big-league innings last year, Lucas Giolito put forth a 2.38 ERA, but we could temper that excitement based off a 4.49 SIERA. Both those numbers have risen with his first 18.1 innings of 2018 in the books, and by a substantial amount (5.50 and 6.61, respectively).
A lot of this can be blamed on a 9.9% strikeout rate and 14.8% walk rate, which is pretty much the opposite of what we're looking for. What is good, though, is that he hasn't allowed a homer yet and is limiting hard contact at a 26.3% rate.
However, he needs to get his changeup on track — after seeing opposing hitters muster just a 45 wRC+ with an 18.6% swinging-strike rate in 2017, those numbers have worsened to 363 and 0.0%, respectively, in the early going.
---
About Matt Musico

Matt Musico currently manages Chin Music Baseball and contributes to The Sports Daily. His past work has been featured at numberFire, Yahoo! Sports and Bleacher Report. He's also written a book about how to become a sports blogger. You can sign up for his email newsletter here.
---