Another year, another loss for Big Blue on opening day. For Giants fans, this is nothing new as the franchise has dropped seven of their last eight openers. While many may already be tempted to waive the white flag on New York's 2018 season, tempers must be contained. Though the team's 20-15 loss is nothing to celebrate, it's also nothing to panic about either.
Here are three reason why:
1) It was against the Jacksonville Jaguars
Last season, the Jacksonville Jaguars were one of the best teams in football with, arguably, the best defense in the league. They accumulated a record of 10-6 (best in AFC South) and were a mere five points away from reaching the Super Bowl.
Coming into 2018, it appears as though the franchise hasn't missed a step.
Though the Giants made improvements to their team this past off-season, they're still not considered to be on the same level as the Jaguars. Frankly, not many teams are. Outside of Philadelphia, New England, Los Angeles [Rams] and Jacksonville, everyone else in the league seems to be playing catch up. And yet, even with this, New York still managed to hold their own.
In fact, had it not been for a muffed punt within the final minute by Kaelin Clay, the Giants could have potentially won the game out-right in regulation.
Though no loss should be considered excusable, New York's efforts this  past week was nothing for them to hang their heads about. We're talking about one of the worst teams in football last season giving one of the leagues best a run for their money.
Big Blue's play was by no means perfect. However, in comparison to last season, there were definitely signs of improvement.
2) The defense looked solid (even without Olivier Vernon)
Though there were many negative aspects to how the Giants played this past Sunday, one positive takeaway from the exhibition was the play of their defensive unit.
Letting up only 121 yards in the second half (313 total), the 'D' seemed to get tighter and more in-sync as the game went on. By the end of the contest, the Giants racked up 67 tackles, eight passes defended, one sack and one interception. And they managed to accomplish all of this WITHOUT their star defensive player Olivier Vernon.
It was because of their defense that the G-Men remained in the game until the final minute of regulation. If they can maintain this level of play for the next couple of weeks, once Vernon returns to the field, it appears this unit has a serious chance of being one of the leagues best.
After all, they're being paid as such.
3) Odell appears to be fully healthy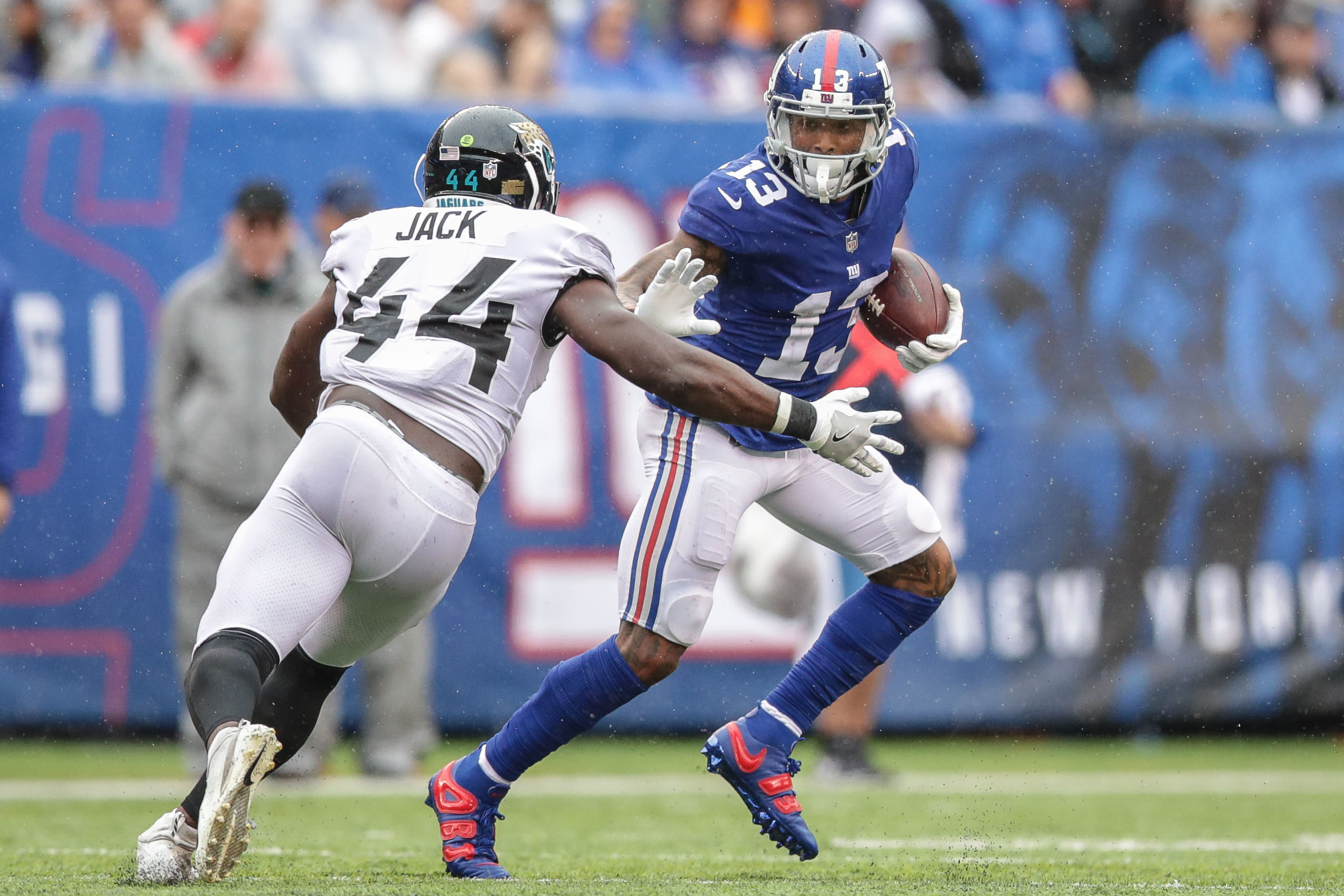 As expected, the New York Giants offense seemed to struggle mightily against the elite Jaguars defense. With Jacksonville's D-line having a field day against the Giants front-five, quarterback Eli Manning had minimal time to get the ball off, as he was pressured on nearly every play and sacked twice. However, even with this, superstar wideout Odell Beckham Jr made this abysmal passing attack look halfway decent.
On the day, Manning finished with 23 completions for 224 passing yards. As expected, Odell played a huge part in these statistics as he reeled in 11 receptions (48% of Mannings completions) for 111 yards (49% of total passing yardage). Had Eli had a second more in the pocket on two red zone tosses to Beckham Jr, the wideout's stat line could have been even more impressive. More importantly, they could have potentially walked away with a win.
The 25-year-old's performance, of course, should put a smile on all Giants fans, as it appears the team's best player is at full health.
As we all know, last season, in a Week 5 matchup against the Los Angeles Chargers, while going up for a contested catch Odell Beckham Jr sustained a left ankle fracture. The injury required surgery and, ultimately, put an end to the receivers 2017 campaign. Before Sunday's matchup, Odell had not suited up for a game since October of 2017, giving fans concern over if the 3x Pro Bowler would come out a bit rusty. Now, with a performance like this, all fears should be put to rest, giving fans and the entire organization a reason to believe there's potential for a solid offensive unit during the 2018 season.
IN CONCLUSION
Look, were the Giants perfect? Of course not. Outside of OBJ's solid performance and running back Saquon Barkley's 68-yard touchdown run, the team's offense looked painfully underwhelming. Still, even with this truth, fear not Giants fans. Hope is nowhere near lost.
If you saw, the plays were there. Had Eli Manning received more time in the pocket, there's a good chance we'd be coming into week 2 with a 'W' under our belt. Remember, the Jaguars have, arguably, the best defensive line in the entire league. It's not like New York will be going up against such talent every game.
A big thing to remember is it's only Week 1. Though starting off the season 0-1 isn't ideal, it's also not earth shattering.
The Giants will look to right the ship and bring their record to .500 this Sunday as they head to Dallas to take on the Cowboys.
As always, go Giants!