Disclaimer: This post may contain links in which I receive commissions from.
Another week of the 2018 regular season is in the books, which means another opportunity for players to heat up and cool off at the plate and on the mound for fantasy baseball purposes.
Each week throughout the regular season, we'll highlight 20 players (10 position players and 10 starting pitchers) who have either enjoyed the last seven days of play or are thankful that they're over. To qualify for this list, hitters had to accumulate at least 20 plate appearances during the prescribed time period, while starting pitchers had to log at least 7 innings.
And no, the obvious guys won't be mentioned here, like Mookie Betts — just about everyone knows the kind of week he's had (the New York Yankees are well aware, too), so you don't need us to say that he's hot right now.
In addition to identifying some players to keep an eye on as the fantasy baseball season heads into Week 3, we'll also add some interesting statistics for a few in particular.
______________________________________________________________
Love the thrill of fantasy draft day so much that you'™d like to do it multiple times a week? Then give DRAFT a try — they offer daily drafts ranging from 2-12 players that finish in less than 10 minutes.
All Chin Music Baseball readers are eligible for a free $3 entry when you sign up and make your first deposit using the promo code CHINMUSIC.
______________________________________________________________
Who's Hot

Javier Baez's big week has been buoyed by back-to-back multi-homer performances (the first by a Cubs player in almost exactly a decade). While he's known as a terrific defender, Baez has also built a reputation for being a bit of a free swinger.
His 44.7% chase rate (heading into Friday's action) is the fourth-highest mark in baseball, but he's also paired that with an 83.9% swing rate on strikes. That's much higher than the 72.6% rate he posted in 2017 (a new single-season career high), and it's one of the league's highest.
This can help explain why his hard-hit rate is currently sitting at 48.3%, which is well above his career average of 31.6%.
Eric Thames was one of baseball's best hitters by the end of last April, and he's making another bid for such a title based off a 184 wRC+ in 44 plate appearances. This has been made possible by getting hot and hitting four homers in his last five games, but it shouldn't be surprising upon seeing his current performance on fly balls.
For this particular batted-ball event, Thames has recorded a 46.2% pull rate (27.8% in '17) with a 0.0% soft-hit rate an and eye-popping 69.2% hard-hit rate (9.5% and 52.4% in '17, respectively). Those numbers have helped him produce a 472 wRC+ on fly balls thus far.

Nick Pivetta's 0.8 fWAR from his last two starts has nearly surpassed the total he accumulated in 133 innings pitched last year (1.1). Not giving up any home runs has been helpful toward his early-season success, but his 29.3% fly-ball rate is down from his 2017 rate (36.3%), while he's limiting hard contact much more than before (35.5% in '17, 20.9% in '18).
Keep an eye on his curveball usage, too — after throwing it 14.8% of the time as a rookie, he's bumped it up to 26.0% at the moment. As you can imagine, the results have also been good. Opposing hitters have mustered just a -5 wRC+ off this pitch, striking out 41.2% of the time with a 77.8% ground-ball rate.
Zack Godley was the only pitcher among this group to take the hill just once this past week, but he made it count. The right-hander went seven strong innings for the second consecutive time against a National League West opponent (it was the San Francisco Giants this time) and generated swings and misses 20.0% of the time.
He's especially eaten up left-handed hitters so far this year — Godley has produced an eye-popping 75.0% ground-ball rate, 31.6% strikeout rate, 0.0% walk rate, and 1.53 xFIP in this matchup (19 total batters faced).
___________________________________________________________
Don't forget to take some of this info to your next MLB DFS contest at DRAFT! All Chin Music Baseball readers are eligible for a free $3 entry when you sign up and make your first deposit by using the promo code CHINMUSIC.
___________________________________________________________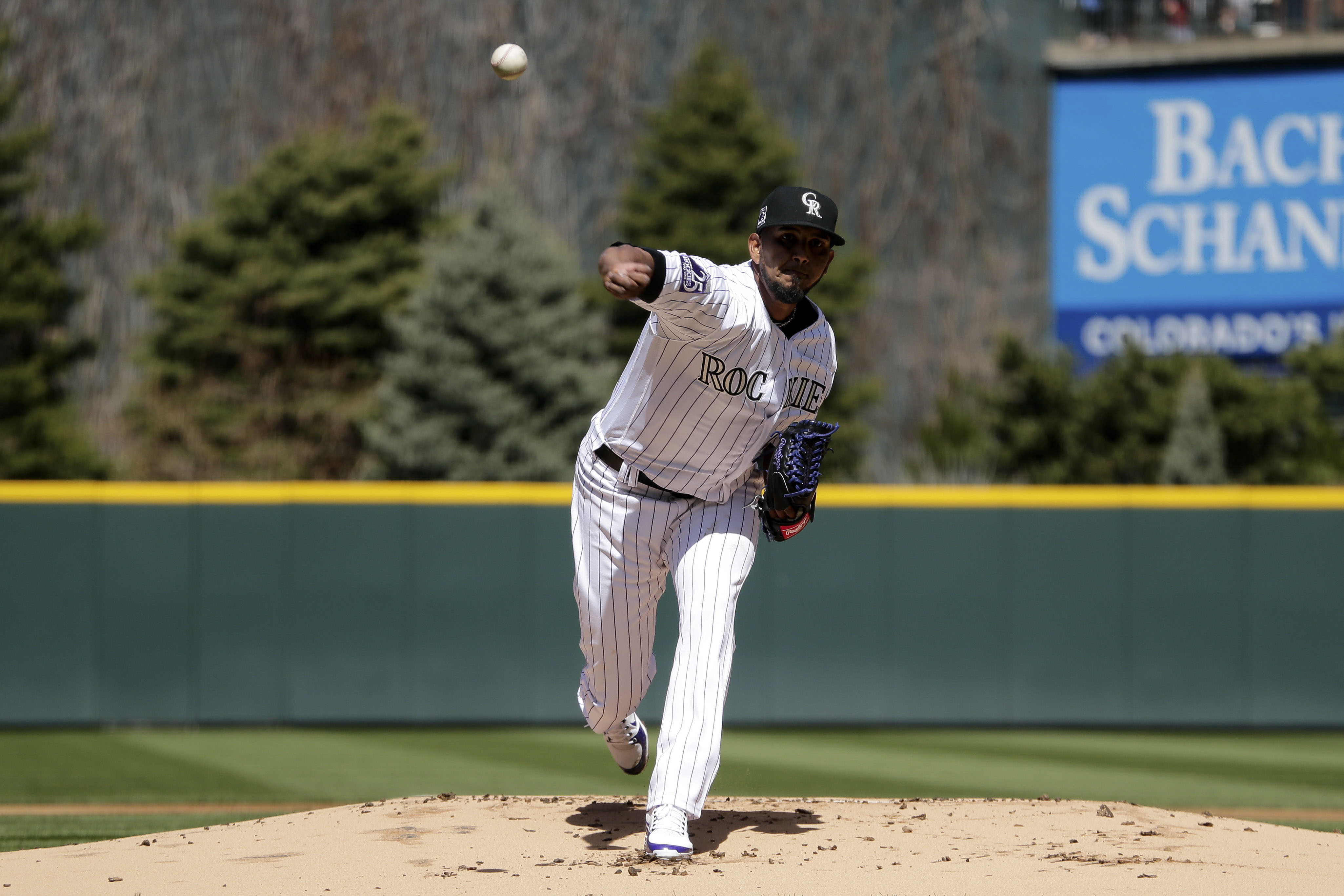 Who's Not

Jason Kipnis really wishes Spring Training stats counted right about now. Through 52 Cactus League at-bats, he had an 1.193 OPS with 6 homers and 12 RBI. In 55 regular season plate appearances, he's mustered just a .456 OPS and is still searching for his first dinger.
If he maintains his process, though, he'll be breaking through soon. Kipnis currently owns a .216 BABIP despite a 48.6% fly-ball rate, 16.2% soft-hit rate, and 40.5% hard-hit rate.
Yoenis Cespedes' 3 RBI have all come in clutch situations while dealing with flu-like symptoms, but his 39.2% strikeout rate this season is still the sixth-worst in baseball. The good part is that his walk rate is still up at 9.8%, but his hard-hit rate and soft-hit rate can't both stay at 24.0%.
It's been encouraging that the Mets have gotten off to a franchise-best start without Cespedes in a groove at the plate, but this offense will ultimately need him to shoulder the load as the season wears on.
German Marquez did strike out four while surrendering just one hit in three scoreless innings the other day against the San Diego Padres prior to getting ejected, but that's not enough to wipe our memories of the start before that. You know, the one where he allowed seven runs on seven hits, six walks, and two strikeouts in 4.2 innings.
A couple good things to note, though, is that opposing hitters aren't pulling the ball (37.5% in '17, 28.2% in '18) or generating hard contact (34.5% in '17, 25.6% in '18) as much against him so far.
Masahiro Tanaka's main problem last year was allowing too many dingers. He's already allowed four in 17.1 innings this season, and his single-game performances have progressively gotten worse.
In three starts, his game scores have read 68, 57, and 24, with the final one coming against the Boston Red Sox.
Who will be hot and who won't be by this time next week? Time will tell, but while we wait, sign up for DRAFT today and get a $3 free entry by using the promo code CHINMUSIC.
---
About Matt Musico

Matt Musico currently manages Chin Music Baseball and contributes to The Sports Daily. His past work has been featured at numberFire, Yahoo! Sports and Bleacher Report. He's also written a book about how to become a sports blogger. You can sign up for his email newsletter here.
---