Disclaimer: This post may contain links in which I receive commissions from.
Another week of the 2018 regular season is in the books, which means another opportunity for players to heat up and cool off at the plate and on the mound for fantasy baseball purposes.
Each week throughout the regular season, we'll highlight 20 players (10 position players and 10 starting pitchers) who have either enjoyed the last seven days of play or are thankful that they're over. To qualify for this list, hitters had to accumulate at least 15 plate appearances during the prescribed time period, while starting pitchers had to log at least 7 innings.
In addition to identifying some players to keep an eye on as the fantasy baseball season heads into Week 6, we'll also add some interesting statistics for a few in particular.
______________________________________________________________
Love the thrill of fantasy draft day so much that you'™d like to do it multiple times a week? Then give DRAFT a try — they offer daily drafts ranging from 2-12 players that finish in less than 10 minutes.
All Chin Music Baseball readers are eligible for a free $3 entry when you sign up and make your first deposit using the promo code CHINMUSIC.
______________________________________________________________
Who's Hot

The strikeouts we saw last year from Aaron Nola haven't arrived just yet, but he's gotten 2018 off to a great start by controlling the zone. His 6.4% walk rate on the year is a small improvement from 2017, and it's always a good thing to see his soft-hit rate (22.4%) currently outpacing his hard-hit rate (21.6%).
Nola's changeup usage is up at 20.5%, which would be a career high if the season ended today. It's working, too — opposing hitters haven't produced a wRC+ above 64 on any of his pitches, but that changeup is the best of the bunch (35 wRC+ allowed).
Sean Newcomb isn't as young as the other Baby Braves, but this kid is still just 24 years old. While his strikeout rate has seen a big rise (23.7% to 29.0%), it's the walk rate decreasing to 10.3% (12.5% last year) that has to be encouraging.
Getting ahead of hitters more often doesn't hurt, ya know. After throwing a first-pitch strike 58.6% of the time as a rookie, that number has climbed up to 64.8% through his first 34.2 frames.

You could say that A.J. Pollock had himself a good week. After all, no qualified hitter produced a higher wRC+ or more homers than him during this time. That's right, not even Mookie Betts. The Arizona Diamondbacks' outfielder hit 14 dingers last season, meaning it took him just 30 plate appearances to hit a little more than 35.0% of that total. He's got 10 homers so far this year.
What makes it more impressive is that he did this despite a 52.0% ground-ball rate and 32.0% fly-ball rate. He made the most of it, though, thanks to a 52.0% hard-hit rate.
If it seems like it's been a while since we've talked about Jorge Soler, that's because it has been. After a disappointing and injury-shortened season, the 26-year-old currently owns a 164 wRC+. A big change we've seen from him is how he's attacking pitches inside the strike zone.
After swinging at 60.0% of strikes last year, that number has climbed to 67.0% so far in 2018. The results speak for themselves — his contact rate in this situation has risen from 74.0% to 83.3%, with his hard-hit rate at 42.4% heading into action on Friday.
___________________________________________________________
Don't forget to take some of this info to your next MLB DFS contest at DRAFT! All Chin Music Baseball readers are eligible for a free $3 entry when you sign up and make your first deposit by using the promo code CHINMUSIC.
___________________________________________________________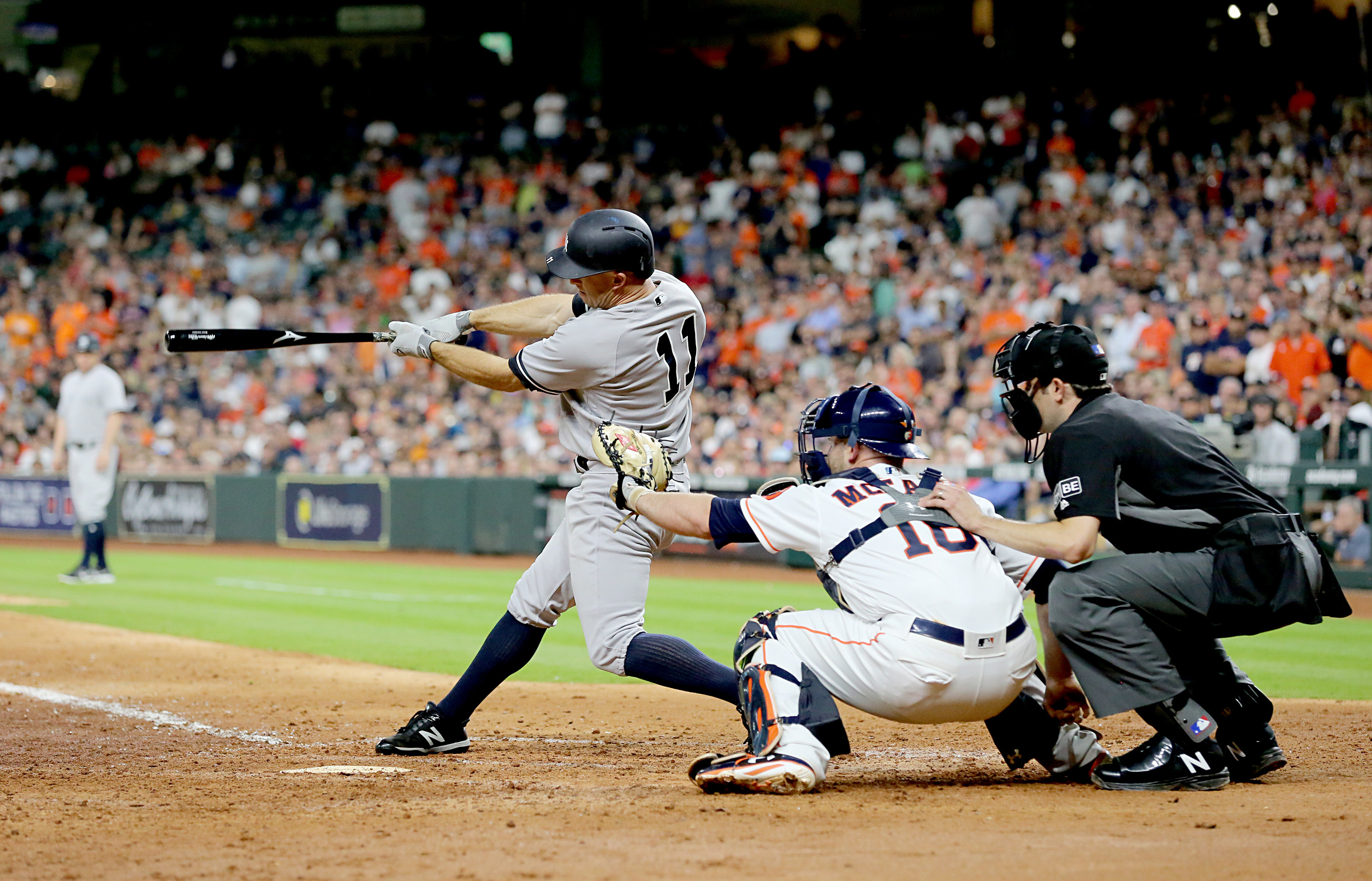 Who's Not

The New York Yankees are on fire right now, but Brett Gardner hasn't had all that much fun during their streak. In fact, the entire year hasn't been very fun for him, as he boasts just a 64 wRC+ and a .194/.315/.250 triple slash through 133 plate appearances.
While his plate-discipline numbers don't look very different from 2017, his batted-ball profile hasn't changed all that drastically, either. Perhaps his .256 BABIP will eventually climb back up closer to his career mark (.314), but that needs to start happening soon with other outfielders on the roster like Aaron Judge, Aaron Hicks, and Giancarlo Stanton.
The Minnesota Twins are off to a disappointing 10-17 start, and it's not surprising that their spark plug, second baseman Brian Dozier, has struggled out of the gate. His current 29.8% hard-hit rate is significantly lower than the 34.1% mark he posted last year, but he needs to get his soft-hit rate (24.5%) under control. Dozier hasn't finished a year with that number higher than 18.9% since his rookie year (2012).

In Dylan Bundy's first four starts, he produced just one game score below 63 (it was 52). He's produced game scores of 14 and 11 in his last two appearances. Allowing five homers in nine innings of work attributed to that.
The right-hander's batted-ball profile tells us a lot about that, too. Opposing hitters are boasted a 43.2% fly-ball rate and 29.1% hard-hit rate in those first four starts, but those numbers have worsened to 54.1% and 37.8% over the past week.
Dallas Keuchel has experienced uneven performances through his last two starts, but has lasted seven innings despite getting the loss both times. Similar to Bundy, he's also allowed five homers, which more than doubled his season total.
While the overall numbers from these starts don't look terribly great, he hasn't walked a hitter and watched his swinging-strike rate rise about 10.0% for the first time in a game this year in his most recent outing (it was 10.5%).
Who will be hot and who won't be by this time next week? Time will tell, but while we wait, sign up for DRAFT today and get a $3 free entry by using the promo code CHINMUSIC.
---
About Matt Musico

Matt Musico currently manages Chin Music Baseball and contributes to The Sports Daily. His past work has been featured at numberFire, Yahoo! Sports and Bleacher Report. He's also written a book about how to become a sports blogger. You can sign up for his email newsletter here.
---