Disclaimer: This post may contain links in which I receive commissions from.
Another week of the 2018 regular season is in the books, which means another opportunity for players to heat up and cool off at the plate and on the mound for fantasy baseball purposes.
Each week throughout the regular season, we'll highlight 20 players (10 position players and 10 starting pitchers) who have either enjoyed the last seven days of play or are thankful that they're over. To qualify for this list, hitters had to accumulate at least 15 plate appearances during the prescribed time period, while starting pitchers had to log at least 7 innings.
In addition to identifying some players to keep an eye on as the fantasy baseball season heads into Week 7, we'll also add some interesting statistics for a few in particular.
______________________________________________________________
Love the thrill of fantasy draft day so much that you'™d like to do it multiple times a week? Then give DRAFT a try — they offer daily drafts ranging from 2-12 players that finish in less than 10 minutes.
All Chin Music Baseball readers are eligible for a free $3 entry when you sign up and make your first deposit using the promo code CHINMUSIC.
______________________________________________________________
Who's Hot

After producing a 4.50 ERA in April, Julio Teheran has yet to allow a run in the month of May. So, yes, he's been an important piece to the puzzle for an Atlanta Braves squad entering action on Friday with a 22-14 record.
A big change between these two time periods is his control. That 4.2% walk rate has been a huge improvement over the 12.6% mark he posted last month. What's interesting is he's done it while throwing fewer first-pitch strikes — he's doing it at a 58.3% rate in May following a 63.8% mark in April.
Who thought Jeremy Hellickson — the guy with a 5.43 ERA and 5.37 SIERA in 2017 — would be the guy to stabilize the back of the Washington Nationals' rotation? Not this guy.
His first 27.2 frames with the club have been fantastic, and he's throwing his four-seam fastball a career-low 35.6% of the time. In turn, he's throwing his curveball at a 23.6% clip, which would be a new career high. Hitters have mustered a 79 wRC+ while striking out 25.9% of the time (it was 77 and 15.9%, respectively, in 2017).

Matt Adams has already paid off his one-year, $4 million deal with Washington from this past winter. That's what hitting 10 homers and slugging .702 in your first 100 plate appearances does.
His 44.4% hard-hit rate is among the league leaders because he's staying aggressive in the right situations. His 70.7% swing rate on strikes is right in line with his career norms, but his 32.7% chase rate is a noticeable improvement.
There's a chance Carlos Santana is on your fantasy baseball league's waiver wire (he was on mine). Now is a good time to pick him up. The Philadelphia Phillies first baseman produced a 64 wRC+ in April despite a 53.2% fly-ball rate and 38.8% hard-hit rate.
Those numbers are both at 40.0% so far in May, and his wRC+ has climbed up to 190. The Phillies are just a half-game behind the first-place Braves with a 22-15 record, and something tells me Santana is going to keep making up for lost time this month.
___________________________________________________________
Don't forget to take some of this info to your next MLB DFS contest at DRAFT! All Chin Music Baseball readers are eligible for a free $3 entry when you sign up and make your first deposit by using the promo code CHINMUSIC.
___________________________________________________________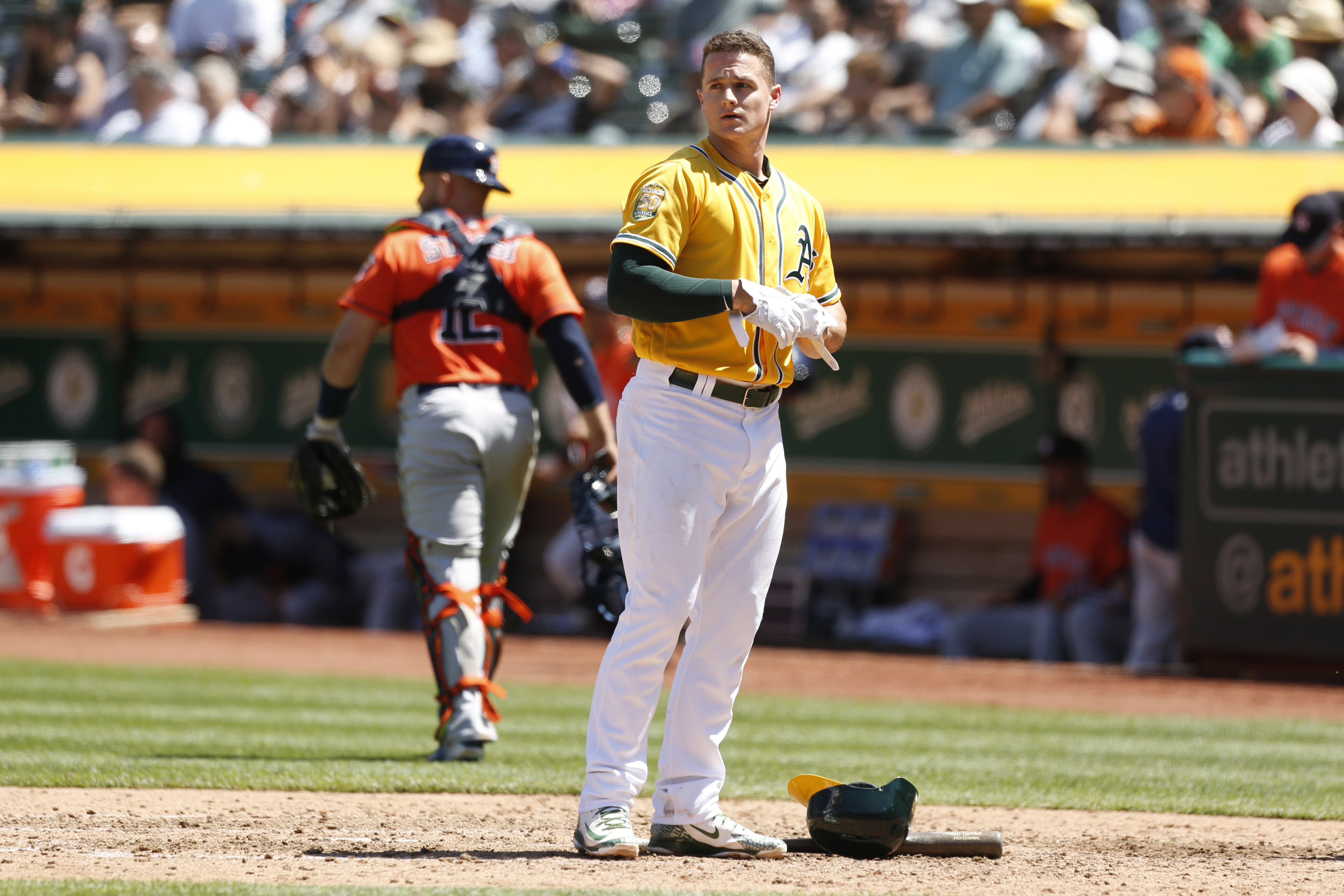 Who's Not

Didi Gregorius was bound to come back down to reality at some point, right? The New York Yankees are still winning a lot because they have a few other guys who can pick up the slack, I think.
It's good that he only struck out 8.7% of the time over the past week, and while his hard-hit rate was still up at 31.6%, it's tough to find consistent success with a 42.1% soft-hit rate.
Matt Chapman was showcasing his skills with the bat and glove throughout April, but his bat has gone cold so far this month. At least, that's the only thing we can think of to help explain a -49 wRC+ in 33 plate appearances.
Like most slumps, his strikeout rate has ballooned up to 39.4%, and while it looks promising to see his fly-ball rate go from 40.0% in April to 55.6% at this point in May, his infield flies are still very high. After hitting them at a 23.3% clip last month, he's done it 40.0% of the time this month.

When news broke that the Baltimore Orioles would be signing Andrew Cashner, we wondered if he could keep his 2017 success rolling into 2018. He has plenty of time to prove otherwise, but the start of his tenure with the club hasn't exactly been what he hoped it'd be.
The right-hander's strikeout rate is on the rise (20.1%), but so are his walk rate (10.6%), hard-hit rate (32.1%) and ERA (4.84). He's currently throwing his curveball 14.1% of the time, which would easily be a new single-season career high. Opposing hitters have produced a .407 ISO and 221 wRC+ against it.
Jason Vargas would also like a re-do to the start of his time with the New York Mets, but that's not how baseball works, you guys. After allowing 27 homers in 179.2 innings last year, he's already watch five balls leave the yard in 12.1 frames this season.
Who will be hot and who won't be by this time next week? Time will tell, but while we wait, sign up for DRAFT today and get a $3 free entry by using the promo code CHINMUSIC.
---
About Matt Musico

Matt Musico currently manages Chin Music Baseball and contributes to The Sports Daily. His past work has been featured at numberFire, Yahoo! Sports and Bleacher Report. He's also written a book about how to become a sports blogger. You can sign up for his email newsletter here.
---