Making a good first impression is something many people aim for in various areas of life. MLB rookies will now have to chase the ultimate first impression made by New York Yankees catcher, Gary Sanchez, this past summer.
Yankees fans knew Sanchez was expected to be the future for this franchise behind the plate, but had to do quite a bit of waiting before it actually happened. Sanchez accumulated two plate appearances in 2015, followed by another four in May of this past season before getting any kind of consistent opportunity.
But then, it happened – general manager Brian Cashman executed New York's first sell-off at the non-waiver trade deadline this century, which paved the way for Sanchez to finally get everyday at-bats at the big league level.
Did he take advantage of it? I'd say so.
He immediately endeared himself to Yankee fans eagerly awaiting his arrival, rewarding their patience by providing a historic month of offense – especially considering he entered it with just six big-league plate appearances to his name.
A Month for the Ages
Upon getting recalled by the Yankees on August 3, Sanchez just went on an absolute tear, and it doesn't matter which way you slice it, because it's all impressive.
In 95 August at-bats, the rookie backstop hit a ridiculous .389/.458/.832 with those 11 homers, 9 doubles, 21 RBI and 20 runs scored. That produced an equally insane wRC+ of 240, which, as Dave Cameron of FanGraphs noted the other day, was the best overall month by any hitter (with >100 plate appearances) in 2016.
With FanGraphs unveiling a new splits leaderboard, I was curious as to how good this month was compared to some other top performances from recent memory.
As it turns out, Sanchez's historic August was one of the 10 best monthly performances by a hitter since 2010:
| Player | Year | Month | PAs | OPS | ISO | BABIP | wOBA | wRC+ |
| --- | --- | --- | --- | --- | --- | --- | --- | --- |
| Bryce Harper | 2015 | May | 109 | 1.379 | .523 | .321 | .556 | 263 |
| Edwin Encarnacion | 2015 | August | 100 | 1.379 | .512 | .381 | .555 | 262 |
| Josh Hamilton | 2010 | June | 114 | 1.297 | .361 | .500 | .553 | 248 |
| Jose Bautista | 2011 | March/April | 111 | 1.312 | .415 | .368 | .541 | 248 |
| Mike Trout | 2014 | June | 102 | 1.230 | .398 | .383 | .515 | 245 |
| Miguel Cabrera | 2011 | Sept/Oct | 111 | 1.290 | .330 | .446 | .536 | 244 |
| Yasiel Puig | 2014 | May | 128 | 1.224 | .333 | .461 | .518 | 243 |
| Mike Trout | 2012 | July | 112 | 1.259 | .412 | .412 | .516 | 241 |
| Gary Sanchez | 2016 | August | 107 | 1.290 | .442 | .413 | .526 | 240 |
| Andrew McCutchen | 2012 | July | 104 | 1.249 | .293 | .493 | .525 | 240 |
(Side note: Of course Mike Trout would be on this list twice. No "best of" list would be complete without him.)
This particular ranking is based off wRC+, but Sanchez ranks higher in every other department. He has the fifth-highest OPS, the third-highest ISO, fifth-highest BABIP and sixth-highest wOBA.
It was truly a performance for the ages. As much as the right-handed slugger is likely thankful for such an incredible hot streak to begin his tenure in the big leagues, it also brings potentially unrealistic expectations with it.
How is a player supposed to follow up a month like that? It's basically impossible, and while the power was still there, he did come back down to Earth a bit.
He Was Still Pretty Good After the Hot Streak
Unfortunately, the only way Sanchez's production could go from that tear in August was down. That's what happened upon the calendar flipping to September, but it's not like he was horrible.
In fact, he was nearly as productive in the power department, slugging 9 more home runs, collecting 21 RBI and scoring 14 runs en route to a .225/.314/.520 triple slash in 102 at-bats. Any time a player can come off a hot streak and still post an .833 OPS is pretty darn good, I'd say.
The real question here is what's the middle ground? August and September/October appear to be the two extremes, and since this is baseball, one would imagine Sanchez will eventually regress to whatever his mean is going to be.
It could be somewhere between his 1.290 August OPS and the .833 Sept/Oct OPS, but that's anyone's guess for right now.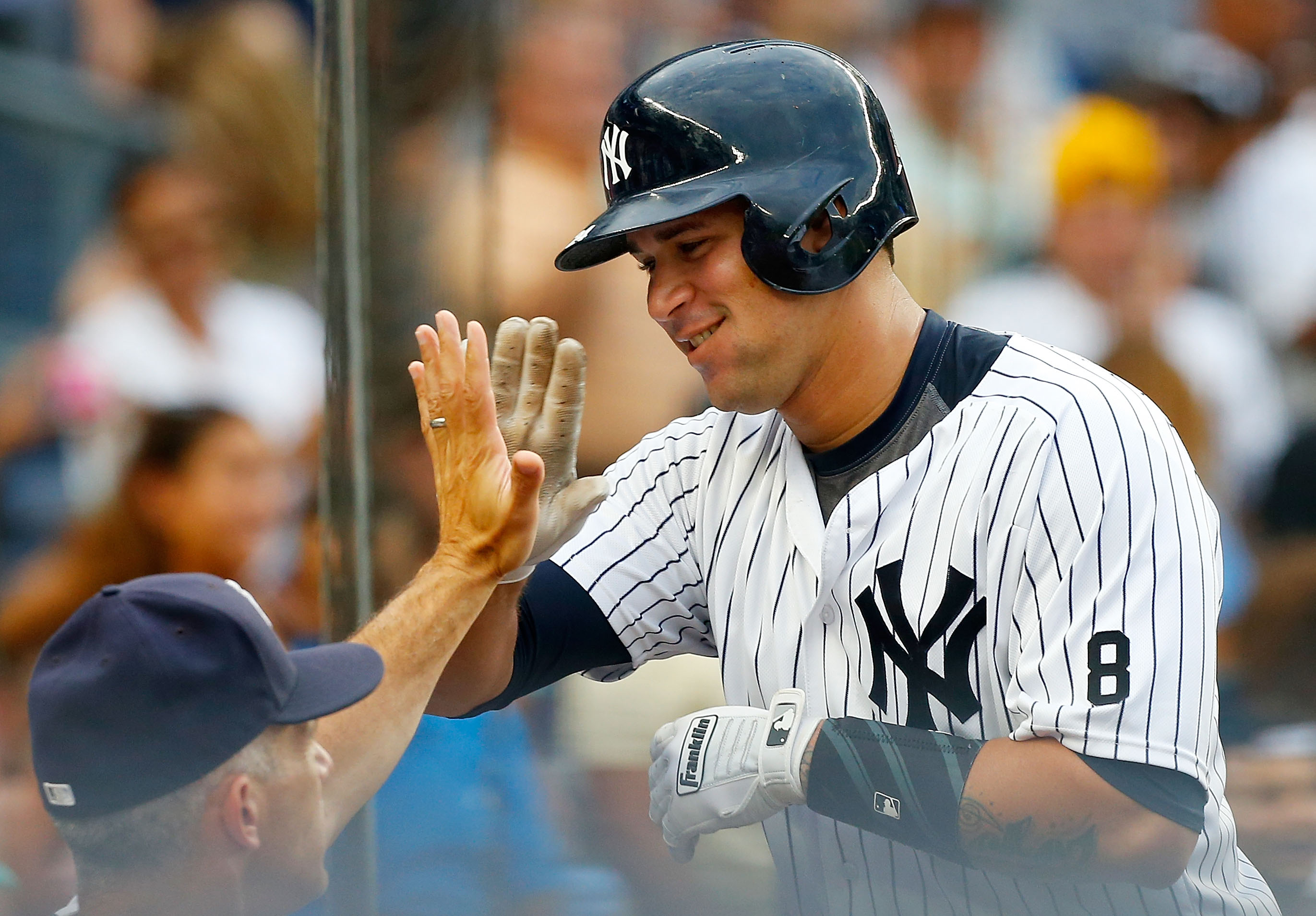 The Pressure Is on for 2017
You'd never know it after watching them throw $86 million at Aroldis Chapman, but the Yankees are going through a quick rebuild.
Cashman restocked the farm system over the summer and is doing the best he can to clear payroll in advance of the 2018 offseason, which could be stacked with talent. While they're still trying to be competitive in the meantime, New York will be giving its young bucks ample playing time to prove themselves.
That plan initially included Sanchez, but his two-month rampage further solidified his role as the everyday catcher in 2017. Incumbent backstop at the time, Brian McCann, would've still been useful as a designated hitter and mentor/safety net, but that's gone.
He's off to play for the Houston Astros, and with Austin Romine currently listed underneath Sanchez on the depth chart, he can don the tools of ignorance every day without the slightest thought of having to look over his shoulder. While that's nice, the pressure will also be on him to follow up this 2016 campaign with something that tells everyone he's the real deal.
And if he does scuffle, McCann won't be anywhere to give him a breather.
Conclusion
It would be incredibly unrealistic to expect Sanchez to keep up the ridiculous pace he set over his first two full months in the big leagues. He only has 229 career plate appearances under his belt in the majors – word will get around and pitchers will start figuring out how to find more success against him.
At least, enough success where he doesn't look like the next Babe Ruth anymore.
After getting his career in pinstripes off to the best start anyone could've imagined, Sanchez's goal in 2017 should be to stay within himself and try to not do too much. The most encouraging part of his performance last season was his 10.5% walk rate, which he not only sustained after his hot streak, but improved upon (10.3% in August, 11% in Sept/Oct).
The sky is the limit for Sanchez, but thanks to a truly historic month, so are the expectations. That's why he still has plenty to prove in 2017, even though his slugging percentage in 201 at-bats (.657) last year was greater than Jason Heyward's OPS in 530 at-bats (.631).
Statistics courtesy of Baseball-Reference. Advanced statistics courtesy of FanGraphs, unless otherwise noted.
Thanks for reading! If you'd like to jumpstart your sportswriting career and aren't sure how, check out my eBook. Don't forget to follow me on Twitter so we can chat about baseball: @mmusico8.