To many, Hulk Hogan is the greatest name that has even been involved in the history of pro wrestling. In the 1980s, he charged the fans the say their prayers, eat their vitamins, and belief in themselves, while carrying the WWE banner throughout the decade. Although Hogan is arguably the most popular wrestler of all time, there were also times where he was reluctant to pass the torch to another superstar.
In the early 1990s, WWE was starting to change their presentation of a top name from larger-than-life names and physical giants such as Hulk Hogan, Andre the Giant, King Kong Bundy, and Big John Studd, to showcasing names known for their in-ring abilities such as Bret Hart, Shawn Michaels, and Curt Hennig. In fact, Bret Hart was able to defeat Ric Flair on October 12, 1992, in Saskatoon, Saskatchewan, for the WWE Championship.
This was viewed as a proverbial "changing of the guard" for WWE, as just four years later, Bret Hart would compete against Shawn Michaels at WrestleMania XII in an Ironman match which lasted over 60 minutes.
With the new wave of technically sound superstars as top talents, Hulk Hogan was reluctant to lose to them while experiencing his final years in WWE before jumping to WCW, especially Bret Hart.
Hogan was recently asked why he refused to put people over during his time in WWE on Twitter. Hogan responded, "Who did I forget to put over? Brother! Even the Genus beat me and didn't give me a return match."
This question was immediately responded with Bret Hart, with a fan stating, "Bret Hart in 1993." Hogan then revealed why he refused to lose again Bret, stating, "Back then before you were born we [were] still drawing huge money, his era [didn't] start yet brother."
Interestingly, another fan answered CM Punk to him question. Knowing that Hogan and Punk were not competing at the same time in WWE, Hogan answered, "He was still in Jr. High." WWE Hall of Famer Bubba Ray Dudley, currently known in Ring of Honor and formerly known in Impact Wrestling as Bully Ray, also chimed in with a GIF of himself.
— Bully Ray (@bullyray5150) December 24, 2018
Hogan and Hart would eventually compete against each other in WCW. However, Hart was, by this time, a well-established name in the industry, and was a top name for a number of years, as well as a five-time WWE Champion.
At WrestleMania 9, Hart lost the WWE Championship to Yokozuna. However, Mr. Fuji called Hogan out, challenging Hogan to compete against the newly-crowned champion. 22 seconds later, Hogan defeated Yokozuna to become the WWE Champion for the fifth time.
[lawrence-related id=857782]
Not only was this moment controversial, but Bret Hart also voiced his disdain of how it all turned out politically, as promises were broken due to Hogan refusing to do the job (h/t "Hitman: My Real Life in the Cartoon World of Wrestling" via Pro Wrestling Stories).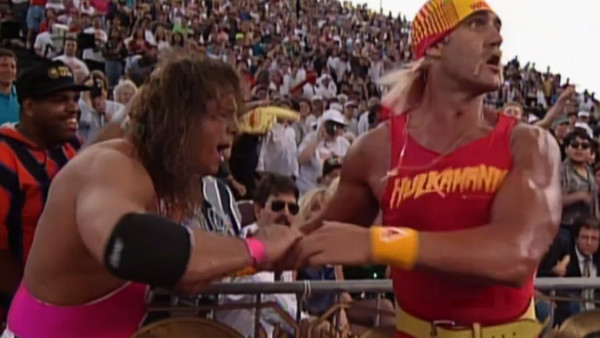 "On May 29, [1993], Vince called me at home to tell me the big news that I was getting the belt back. What I didn't expect to hear was that he was getting ready to call Hogan and hated the thought of telling him that he was too old and tired for a company whose marketing strategy was now based around a "new generation" concept. Vince wanted to make Hogan into the Babe Ruth of the WWF and use him as more of a special attraction. He asked me not to say anything until he had spoken to Hogan.

"Ten days later, Vince called again. He warned me that he was about to tell me something that would make me really angry: Hogan was flat-out refusing to put me over, saying I wasn't in his league. Vince had decided that Yoko would be getting the belt instead. I couldn't believe that Hogan would do this to me. I remembered him shaking my hand at WrestleMania 9, and telling me he'd be happy to return the favor. Vince said he'd have one more meeting with Hogan to try to sell him on it, but if he didn't go for it, I'd work with Lawler at SummerSlam -instead."
Hogan would lose the title to Yokozuna at the King of the Ring pay-per-view on June 13, 1993. Hart regained the title from Yokozuna at WrestleMania X on March 20, 1994.