During the second game of the season, I made a remark in the stands to the effect of "here comes the pitch that Travis d'Arnaud will flail at wildly before he sulks back to the dugout." Like Roy McAvoy's seven iron. it was the most comfortable club in my bag … ragging on Travis d'Arnaud. It works for me, and it never disappoints me. It never disappoints me because either I'm right, or I'm wrong which is good for the Mets because it means d'Arnaud is producing and shoving it down my throat.
In this case, it was the latter, as d'Arnaud hit his first and so far only home run of the season. So then I got greedy. Every time d'Arnaud came up to the plate subsequently, I'd rag on him. Sometimes under my breath, sometimes out loud. But this time it was in the hopes of that reverse jinx holding strong: d'Arnaud getting a big hit every time I rag on him. It was going to be my new superstition. Except that the baseball gods … insightful simps that they are … decided to red-card me for "forced meanness for the purposes of self-gain". They decided that only they can create ironic outcomes, and not me. So they partially tore d'Arnaud's UCL and put him on the shelf for anywhere from ten days to the entire season.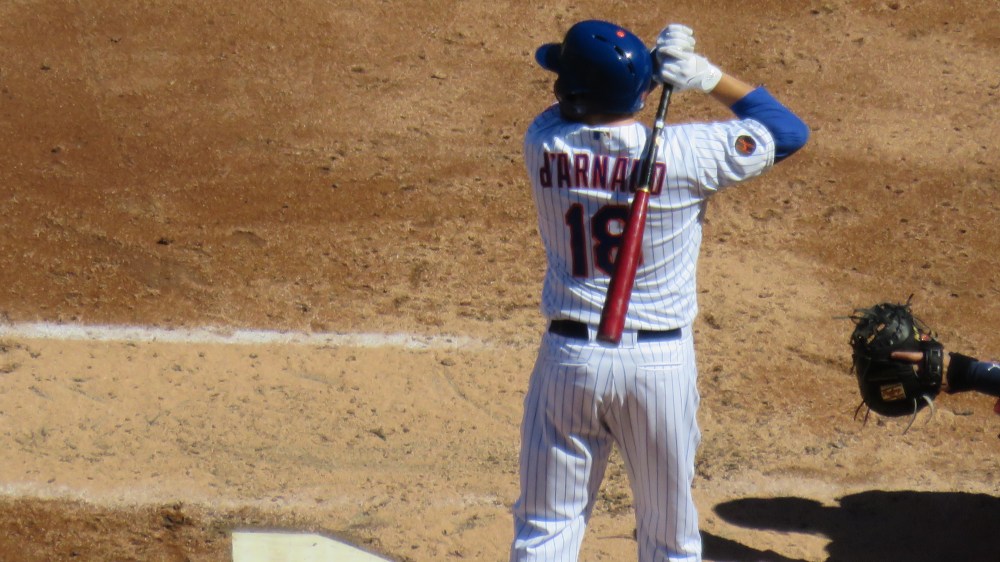 I feel bad for Travis. I've been hard on him, mainly because the front office insists on sticking with him without even trying to upgrade. So yes, I take it out on him. But this could wind up being a significant injury for the Mets. If not for the lost production that you get from d'Arnaud, but for the fact that now Kevin Plawecki could wear down easier with an increased workload. Plawecki and d'Arnaud are both righties, so there is no natural platoon that they would have had, but both splitting the catching duties would have been akin to NFL teams going away from having one featured running back and wearing him down and shortening his prime. The unnatural tandem of d'Arnaud and Plawecki could have worked to keep both of them fresh.
But now Plawecki is the man, and he has already escaped serious injury after he got hit in the hand with a Tayron Guerrero pitch on Wednesday. Tomas Nido is the backup as of now, Jose Lobaton will probably be the eventual backup (and he's a lefty so there may be a more natural platoon there). Mike Puma of the Post made some suggestions such as Jonathan Lucroy, who the Mets could have signed in the offseason, and Roberto Perez, who hit a couple of playoff bombs for Callaway's former allies in Cleveland. He also mentioned the recently DFA'd Miguel Montero, but all he worried about while he was on the curse breaking Cubs of 2016 was his own playing time. So hard pass on him, please.
Thankfully the Mets are going gangbusters now so that this may not be so much of an issue in the short term. But it'll be interesting to see how Plawecki adjusts to his new role of "the guy". Also, this has gotta stink for d'Arnaud. Who knows how long he has had this injury. Was it a holdover from the last regime who didn't see it at all? Is this a relatively new thing that was caught quickly? Could this have been why he started off slow this year?
Most of all, I'm sorry if I reverse jinxed him right to the disabled list. It was not my intent.