When looking up any NHL scoring record, Wayne Gretzky's name is inscribed on them all:  894 regular season goals. 122 playoff goals. 73 short-handed goals. 2,223 assists, including playoffs, and 3,239 career points, including playoffs.
Gretzky's numbers look like those accumulated by an NHL19 create a player, set on easy. He is a human cheat-code. With 12 seasons of 40-or-more goals under his belt, it's hard to even imagine anyone in the modern NHL coming close to any of these numbers.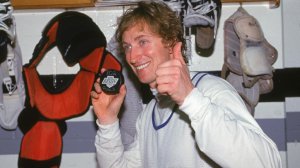 In Yahoo's NHL Mail Bag, writer Ryan Lambert was asked the question, "Will Alex Ovechkin pass Gretzky in all-time goals?" This got us looking extra hard at the kinds of records that "The Great One" holds.
Putting the Great 8's stats next to The Great One's is unfair when you consider the following: Ovechkin is still playing and has more years to accumulate goals and today's NHL is different than the time Gretzky roamed the ice.
When Gretzky was dishing out points like Halloween candy, goalies were less active and technical compared to today's netminders. Defenses have become more structured, with most players going 200 feet every shift. The ability to score is now based more on sniping than it is on moving a goalie out of position.
"I don't know if a guy like (Hall of Fame defenseman) Paul Coffey or myself … could play in this era, because our creativity would have just naturally taken over, and now the game is so systematic," Gretzky told the CBC's Peter Mansbridge in an interview in 2016.
"The goalies are bigger, the equipment is better, the goalies are more athletic now," Gretzky said. "Guys like Patrick Roy, Martin Brodeur and Grant Fuhr changed the position in goal from being the slow guy on your team to being the best athlete. It's hard to score 50 goals. I think any time there's talk of it, it's positive for the game and great for the sport," said Gretzky.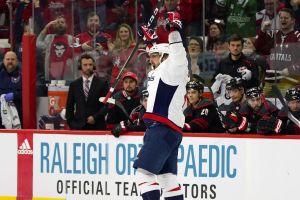 Alex Ovechkin is an offensive dream. Since his career began with the Washington Capitals in 2005, the 33-year-old Russian winger has already amassed 636 career goals and 61 playoff goals. The seven-time Rocket Richard Trophy winner hasn't scored 50 in a campaign since the 2015-2016 season, coming just one shy last season. If he scores career goal 650 by the end of the season, he would be 244 goals away from tying Gretzky's record.
Ovechkin has already passed Gretzky's power-play goals total of 204 with 235. The Capitals captain also has more game-winning goals (104) than Gretzky. He sits 15th on the all-time goal-scoring list right behind Hall of Famer Dave Andreychuk, who played in the NHL for 24 years.
With Ovechkin scoring at the highest pace in his career at age 33, it's starting to look like he's going to do it. He's got 29 goals in 32 games which is on pace for 74 goals which would be the most he has ever scored in a single season. Back in his third NHL season, when he was 23, he netted 65. With a contract signed through the end of the 2020-2021 season, The Great 8 may be the first player to pass Gretzky's 894 career goals.
Follow us on Twitter @NHLShout and "Like" us on Facebook. You can also email us at info@nhlshout.com.