There's a lot to unpack with this Edwin Diaz trade, which isn't official yet but is expected to be in some form over the next 24-48-72-Infinity hours. In this space, I will aim to focus on the inclusion of Jarred Kelenic, because it's a relevant discussion even if the trade somehow falls apart or is consummated without Kelenic.
First off, I want to take care of one potential argument that I know some of you will have, and have brought up to others. And that point is: "You've probably never seen Kelenic play a day in your life, and you barely knew who he was before this trade happened." My response to you is this: "Yes, I know." I'm not Jonathan Mayo. Trust me: I know my place in this ecosystem. What I know on my own is that Kelenic was the sixth overall pick in the 2018 draft … was generally known as a slot pick … and tore up the Gulf Coast league hitting .413 in 51 plate appearances this season before moving on to the Appalachian State league and hitting .253 with a .781 OPS in 200 PA's. He's 6′ 1″, and throws left handed. That's it. It's nothing that you couldn't look up on Baseball Reference and figure out on your own.
But I do trust in what others say about him. And scouts love Jarred Kelenic. Absolutely love him. Which brings me to the second argument about him:
He's 19. I could care less what raw tools he has and what his ceiling could be in 4 years. No one – not you, not a scout, not a GM, knows what Kelenic is going to be for sure. Give it a rest.

— Deputy Van Halen (@BrainGamesLI) November 30, 2018
The argument that nobody knows what Kelenic is going to be is a rational argument. But my argument for that is that this is irrelevant in whether he should be included in this deal. Same way it was and still is irrelevant that Scott Kazmir only had an okay career and not a Hall of Fame career after he was traded for Victor Zambrano. Kazmir was the 12th ranked prospect by Baseball America before the 2004 season. There were whispers that a prospect like Kazmir could have gotten them Todd Helton if they wanted to trade him. (And as an aside I bet you he would have helped down the stretch in 2007 and 2008 at the very least.)
Jim Duquette, the man who made the Kazmir trade, admitted what made this transaction so costly when he was on MLB Network on Friday. I'll paraphrase, but he basically said that his tunnel vision in making the Kazmir deal is that he didn't realize that Kazmir was a pitcher who had value around the league. If he had taken a step back, perhaps he could have maximized the return, but he was so focused on getting the Zambrano deal done.
What Duquette said might be the issue with this Diaz deal to the nth degree. Kazmir for Zambrano was a one-for-one deal. This deal that Brodie is working on now involves four major league players, three prospects, and money (we'll get to that). This is a brand new GM looking to "make a splash" and make his mark on the club. Of course he's going to have tunnel vision about this. Who knows what he knows about prospect value, real or perceived. In this case, perception is reality … and that's my whole point on prospects.
You can find a lot of examples to support whatever your theory is, but here's mine: Trea Turner was the 62nd best prospect on MLB's Top 100 before the 2015 season, just like Kelenic. Turner was three years older than Kelenic (and in his first year of pro ball) but still had a relatively high ceiling when he was involved in a trade from the San Diego Padres. It was a three-team deal which netted the Padres … among other players … Wil Myers, an everyday player entering his age 24 season. (Remember this was the deal where Turner had to play for the Padres farm club for the first half of 2015 before being the PTBNL in this deal.) People knew that Turner was a steal for Washington, but at least San Diego's chance was taken on a young everyday player, and not a relief pitcher who has had one great year but is still a relief pitcher who could have an ERA of 3.00 and a WHIP of 1.20 just as easily in 2019.
If Brodie were to learn from the mistakes of Jim Duquette's past (oh, who are we kidding, nobody learns from mistakes in this organization, but let's pretend), he would get this deal done without including Kelenic, and maybe put him in another deal if he wants to win now. Not that I'm about starting rumors, but let's say hypothetically, what about a deal like this:
The Rockies Get:
Jarred Kelenic
Noah Syndergaard
Todd Frazier
The Mets Get:
Maybe this isn't exactly how this trade would work out, and I'm not saying the Mets should go and do this. (I'm not a fan of the idea of trading Syndergaard, as you know.) I'm also not saying the Rockies would entertain this thought. But my point is this: wouldn't you feel more comfortable including Kelenic in a deal like this than in a deal for Diaz and Robinson Cano, a salary dump?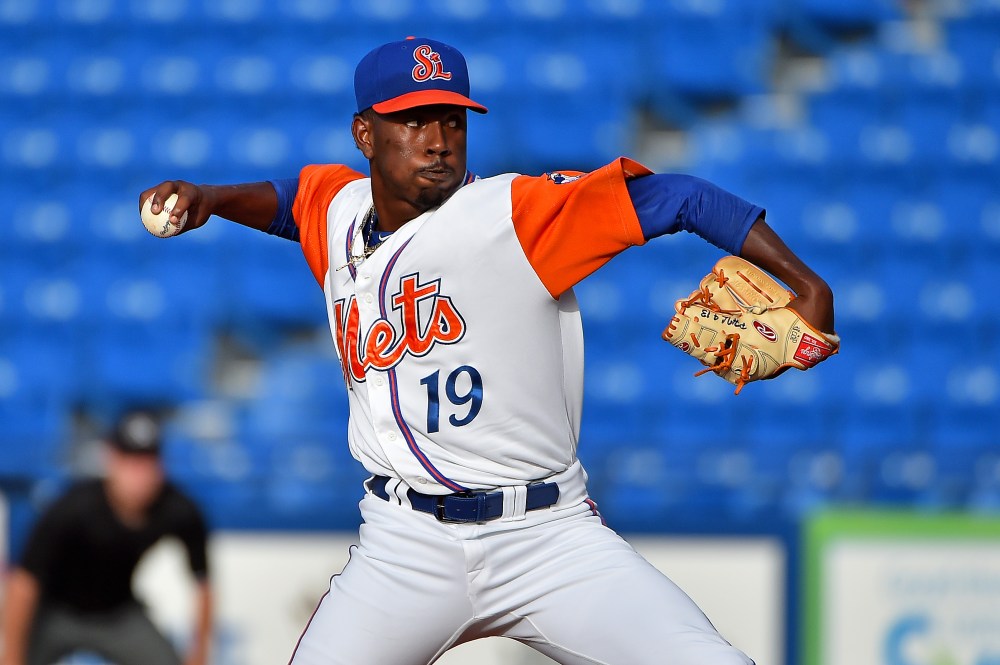 And that's where we end up … the money. Isn't it always where we end up when we talk about the New York Mets? The reason the deal isn't finalized as of now is money. (Big f'n shocker.) Some reports had the Mariners taking on half of Cano's remaining salary: $60 million over five years. The weird part is that if Seattle is so desperate to dump his salary, then why would the Mets allow them to take on so much money if it meant getting rid of both Jared Kelenic and Justin Dunn, the 89th ranked prospect out of 100? I guess that's the whole question of what do you value? Some would value prospects while others would value liquidity, and we know which side the Mets have been falling on lately. Half of Cano's salary, along with the salaries of Jay Bruce and Anthony Swarzak ($36.5 million) isn't insignificant. But …
The Mets-Mariners deal, as @joelsherman1 said, won't be done today and is likely to be pushed to Monday, sources told Yahoo Sports. The question is how much money Seattle sends to covers Robinson Canó's contract, and sources say it's likely to be in the mid-$20 million range.

— Jeff Passan (@JeffPassan) December 1, 2018
Now we're talking more in the range of paying Cano $95 million, minus the $36.5 million of losing Bruce and Swarzak. That's close to $60 million as opposed to the $23.5 million net they might have had to pay. That makes this more of a salary dump than an actual deal. And if that's the case, then there's no way that both Kelenic and Dunn should be in this deal. That's my biggest problem with it, and when it's boiled down, I think that's the problem that the people who are labeled as "prospect huggers" would have. It's just too much to pay in money and prospects for a guy that Seattle thinks is washed up, and a reliever (as good as he was last season).
To me, this is two different deals. Cano for Bruce, Swarzak, and Bautista, and Diaz for Kelenic and Dunn. At best, each deal is even because of the money. The first deal is even because of the money, and the second one only if Diaz proves to be a consistent, elite closer. (Did you know that only eight relievers in history have reached 3.0 WAR in consecutive seasons?) Even isn't good enough when dealing with a desperate team, not to me and not in this case.
The question is thus: What do you value? Do you value the prospects? Or do you value the salary relief? Either way you choose, the Mets should be able to have one or the other, in addition to "winning now". You can trade prospects to win now, or trade money to win now. The Mets shouldn't have to sacrifice both … not for the return they're getting.
(Feel free to bookmark this post for when this happens again in 14 years.)