I thought the best way to lead off the 2018 Washington Nationals preview was to give you the best of the Valentine's Day memes (or as pronounced by Bryce Harper: "meh-MAY") starring the Nationals (forgive the crudeness):
As they say: Savage.
Key Additions
MGR Dave Martinez
1B Matt Adams
C Miguel Montero
IF Matt Reynolds
IF Reid Brignac
RP Joaquin Benoit
SP Jeremy Hellickson
Key Subtractions
LF Jayson Werth
C Jose Lobaton
RP Oliver Perez
RP Matt Albers
The Last Time This Franchise Won A Playoff Series
The changes made to the Nationals for 2018 are largely cosmetic. They still have Bryce Harper. They still have Anthony Rendon. They still have Max Scherzer and Steven Strasburg and Gio Gonzalez and Sean Doolittle and Trea Turner. And Ryan Zimmerman too. Adam Eaton returns from injury to replace Jayson Werth, and Daniel Murphy is back too, but will start the season on the disabled list. The Nationals, as you know them, are back for what might be one final go 'round together.
The challenge that Washington has is getting through this regular season. I don't mean that in the way that they're going to have a lot of stiff competition from the start. The Mets, Phillies, and quite possibly the Braves will act early on like cats that jump from behind boxes to latch a claw and a fang to the Nationals' ankles before Washington stays in stride and pulls away. But there is no accomplishment in that for the Nats' whose success will solely be measured by whether they get that third, seventh, and eleventh playoff win before Harper and Murphy enter the Twilight Zone of free agency. The regular season will hold no joy for them, even if they go win 117 games. So what would happen if, say, one of the other teams stays even with them in the standings through June? July? August? And now: "Oh no! We may not even make the playoffs so that we can prove ourselves one last time!" Then what?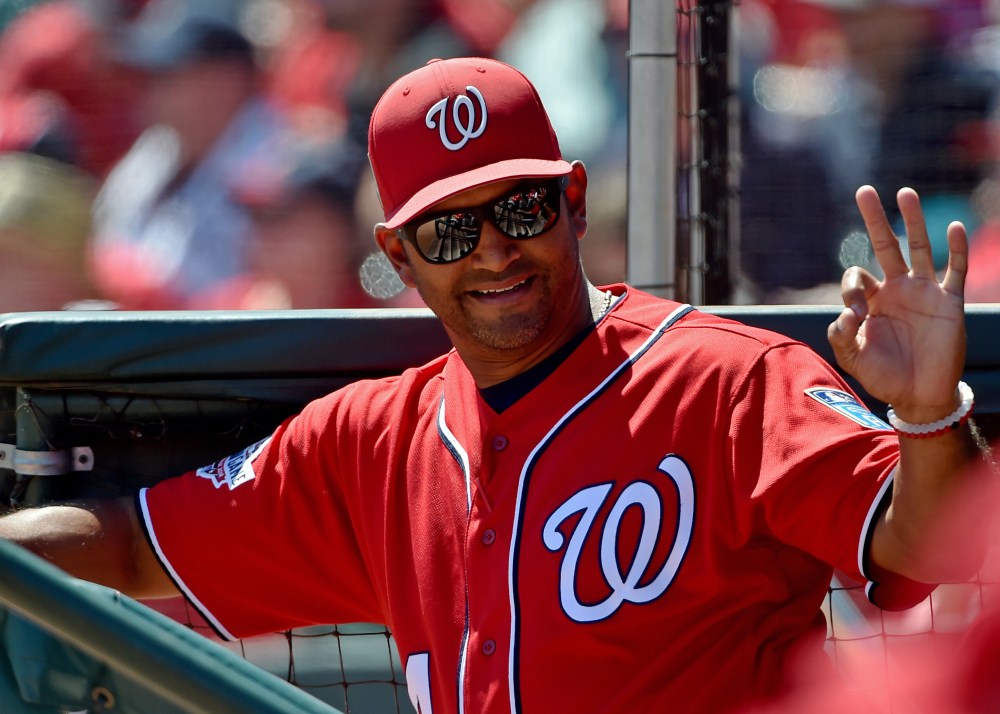 The Dave Martinez Effect
This is where Dave Martinez comes in. Martinez's challenge will be different from the challenges faced by other new managers in the N.L. East. Gabe Kapler is changing culture. Mickey Callaway is redefining pitching cadence. Martinez doesn't really have to change anything, but he has to keep things loose in a clubhouse which may or may not be affected by missing a guy like Werth. Martinez, a disciple of Joe Maddon, has already started to keep the place loose by having the team practice walk-off celebrations and bringing camels to work. Maybe it's silly stuff. But maybe for this particular group, it's just what they need to get through the doldrums and stay out of their own heads. This team, more than any, will need that to distract them from the fact that this might be the last chance they get to win the pennant with this group of players.
Key Players
Adam Eaton You forgot the Nationals had Eaton, didn't you? Admit it. I did too. His presence will be much needed as slides into a corner spot to replace Werth and make room for Michael A. Taylor, who has emerged as a lynchpin on that roster after opening eyes during the playoffs last season. Eaton's performance after tearing his ACL could be the difference between the Nats' running and hiding in the division to being in a dogfight for another title.
Ryan Zimmerman If a player's OPS went down for six straight seasons, then shot back up to .930 from .642 at age 32, what would you expect for the following season? That's Zimmerman. And it's really tough to find a good comp for Zimmerman's unique situation. But I can't imagine that it would be easy to have the same season twice in a row after such a prolonged decline. If it happens, then maybe I should take up yoga.
Gio Gonzalez This is a similar, though not as obvious a decline as Zimmerman, with the same kind of rebirth. Gonzalez's ERA rose every season since his 21-8 season in 2012. He was basically a .500 pitcher from 2013-16. Then his ERA went to 2.96 and his WHIP went from 1.42 to 1.34 to 1.19 the last three seasons. This is despite leading the league in walks last season. Could that be a sign of a descent to earth for Gonzalez? Or was it just cost of doing business? The Nationals should hope it's the latter. It can't be just Scherzer and Strasburg in 2018.
Prognosis
This team should win the division. That's not to say there isn't a path to destruction. If Martinez is tactically more Matt Williams than Dusty Baker, if Eaton can't fill the production void left by Werth, if Harper is at all distracted by his upcoming free agency trip, if there's a Met like injury rash … you get the idea. I don't think this race will be over by July. But the Nationals should have enough to start to pull away once August comes. The one thing to look out for is that this team is a better front runner than a closer. We saw what happened in 2015 when the Mets got Yoenis Cespedes and closed that gap. If the Nats get a comfortable lead in the division, they won't be caught. If they get cocky, even the littlest of bit:
But they'll win the division. The only question is whether they will win a playoff round, or will the Valentine's Day me-mays will exist for all time.
91-71