One of the more intriguing camp battles shaping up as the Chargers head into the 2017 preseason, the competition at the free safety position might be the most compelling.  Veteran incumbent,(31), has bounced around the league quite a bit before arriving in San Diego last year.
Since being drafted in the 4th round out of San Jose State, by the NY Jets in 2008, Lowery also spent three, injury-plagued seasons with Jacksonville. Since the Jaguars decided to go in another direction for 2014, Lowery's been more or less freelancing.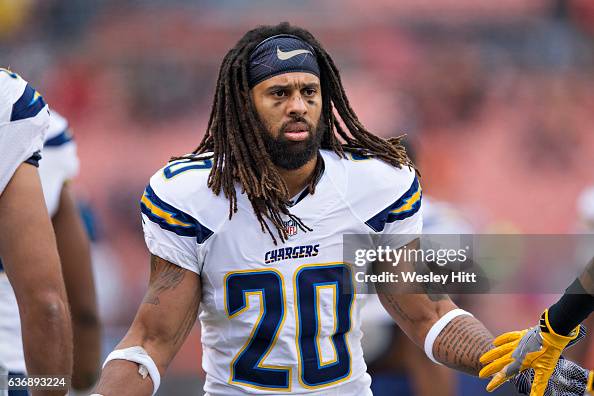 For the last three seasons, the journeyman back up has provided experienced, veteran, leadership, serving as a "stop-gap' solution at free safety for the Falcons, Colts, and Chargers. PFF's player rating for Lowery (77.8) seems accurate, an average player with enough experience and leadership ability to manage the secondary and get everyone in position in the defensive backfield. Sometimes just being available and not a liability are valuable enough traits on their own merit.
Presumably, it will be Lowry's job to lose but it's hard to ignore Tre Boston's superior energy, youth, and overall upside potential. Brought over from Carolina during the offseason, Boston became expendable at free safety for the Panthers, after essentially being beat-out for the spot by Kurt Colman. Colman slid over from SS after Mike Adams was acquired at which point the investment in Boston simply became too steep to justify, as PFF points out.
DENVER, CO – SEPTEMBER 08: Running back C.J. Anderson #22 of the Denver Broncos runs the ball against free safety Tre Boston #33 of the Carolina Panthers in the first half at Sports Authority Field at Mile High on September 8, 2016 in Denver, Colorado. (Photo by Justin Edmonds/Getty Images)
At 25, though, coming into his fourth season with only 16 full starts in 42 games under his belt, Boston is still developing and learning the position.  We should expect to see improvements as the game continues to slow down for him hence the reason for the Chargers' interest, no doubt. The coaching staff likes the high-energy, vocal presence he provides outlined in this article by Hayley Elwood at Chargers.com.
Though it might be asking too much for Boston come in, learn the defense, and beat out a solid, perhaps unspectacular veteran like Lowery remains to be seen. Either way, the battle shaping up should be a good one.