The Mets did a commendable job keeping close to the Red Sox on Saturday, fighting Rick Porcello with a pea shooter known as "Bullpen Game". As the Mets attempt to find out what they're about for next season, a bullpen game against the Red Sox is a good way to go about it, as their bullpen is in desperate need of an upgrade.
Daniel Zamora looks like he could be an interesting option with his 80% slider usage. I've always liked Drew Smith's performances up with the big club. If Drew Gagnon walked up to me on 5th avenue and hit me over the head with his satchel, I wouldn't recognize him. But that's not necessarily a bad thing.
Paul Sewald?
Paul Sewald matches Bob L. Miller for most losses from the start of his Mets career without a win (0-12).

— Greg Prince (@greg_prince) September 15, 2018
Paul Sewald, well he isn't that good. #Mets

— Michael Baron (@michaelgbaron) September 15, 2018
Paul Sewald is the guy who you may know going forward as the guy who wasn't traded for Jason Kipnis. I'll know him as the guy they dragged into Jerry Blevins' sock commercial to say "cool". Also, he's 0-6. As we look to upgrade certain roster spots on the Mets next season, Sewald's spot is probably in trouble, especially since the bullpen is one of those spots on the Mets where it seems so easy to upgrade in one fell swoop, and it involves the guy who closed out the game for the Red Sox today.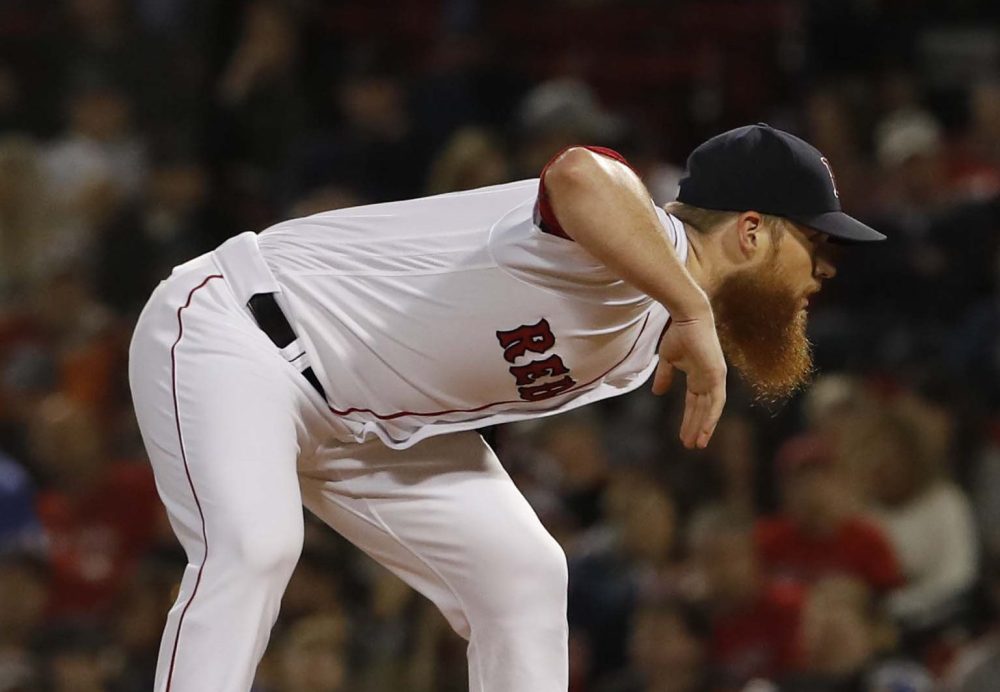 Look, I was around in 2009. I know the perils of upgrading the back end of the bullpen and thinking "okay, we're done!" I understand the perils of trading for a reliever and then not giving him a physical. I also understand that pumping a boatload of money to shore up the back end of the bullpen is a dicey proposition, especially since Kimbrel in on the other side of 30 with numbers that went down from Playstation to really, really good. But I'm willing to take that chance, especially if another reliever comes to back him up. Then Seth Lugo and Robert Gsellman can be deployed as the secret weapons they were meant to be, and not have to conform to baseball's belief as to what a reliever should be. That would be Kimbrel's job.
Kimbrel replacing Sewald would be a hell of a roster upgrade … Playstation or no Playstation.
Sewald got the first two outs in the fifth inning today but then gave up a couple of hits before Jackie Bradley Jr. hit a double off the very, very, very top of the wall (prompting a four hour review to conclude that it was a double). Then after an abracadabra walk, Drew Smith came into the game and gave up a double to pinch hitter Brock Holt to drive in two more runs. But for those of you that missed it, whether it be because you were in Boston partying with the 7 Line or you were watching an extramural collegiate sporting event of some sort, there was a very important development in that sequence, as Mickey Callaway waited until Brock Holt's name was announced to make the pitching change.
Our little manager is growing up. Before you know it, he'll be graduating and off into the real world to lead another team to a World Series title.
Today's Hate List
Our great country is divided. But the Red Sox and Mets fans at Fenway Park just joined together to chant "Yankees suck."

Truly heartwarming.

— Pete Abraham (@PeteAbe) September 15, 2018
Kumbaya, baby!!!