I'll never forget my first WWE SummerSlam. I was nervous, excited and trying to take in everything all at once. I remember getting to the arena and wondering, 'what match I would be assigned?' WWE referees were informed of our assignments when we arrived. There were some very big matches on the card, and it was SummerSlam!
The build-up to SummerSlam was at its peak, this was the show where match angles were going to be settled. This was still one of WWE's "Big Four" PPV's. I remember calling my parents, who were on vacation in Arizona, to remind them to watch the PPV. My father asked if I was going to referee, and I let him know I didn't know if I would. I hadn't been told what match I had, if any at all. My father said they would watch and hoped to see me on PPV.
As I entered the locker room, you could feel the anticipation and energy of the show building. As we entered the floor for rehearsals, Sgt. Slaughter, who was an agent, was informing referees of their match assignments. One by one, he let us know privately. As he walked up to me, he pulled me aside and asked, "so what match do you think you have tonight?" I told him I had no idea but I was happy to receive any match, as this was WWE SummerSlam and I was blessed to be there!
Sarge laughed, and said, "don't start crying on me!" Sarge then told me "'kid', go make the best of this match and enjoy it. Stuff like this doesn't happen to everyone!" I asked him, 'what do you mean?' He said, "you have the Hulk Hogan vs Randy Orton match tonight!"
My heart sank, and I asked him to repeat what he said. He said, "you have the Hogan match, have fun!" Right there and then, I had flashbacks to when I would take my younger brothers to the LA Sports Arena to see Hulk Hogan in the late 80s early 90s. I surely thought Sarge was ribbing me! But this was no rib!
As word got out about assignments, I was asked how I got such a high profile match. I didn't know what to say; it was just assigned to me, I didn't ask for it! I did find out later that John Laurinaitis assigned me the match because he believed in my ability and knew I was a great referee. Although I hadn't been with WWE that long, he knew I would do great.
I went and met with Randy Orton and let him know I was the referee for the match and Randy told me he was waiting for Hulk to lay out the match. We waited about an hour when Micheal P.S. Hayes came in and got both me and Randy Orton. Hulk was in his dressing room and wanted to discuss the match. As Hayes lead us to Hulk's dressing room, I was walking in a haze of "OMG"!
https://twitter.com/SethHanson1982/status/982833134113837056
I kept remembering back to when I was attending shows in LA to see Hulk Hogan, and here I was about to talk over a match with him? Life is so surreal at times and takes you places you never dreamed of!
As we entered the dressing room, there sat Hulk Hogan, Jimmy "Mouth Of The South" Hart, and Brutus "The Barber" Beefcake. As we discussed the match, the issue of who was "going over" came up and it went back and forth for a bit. Vince McMahon finally came into the dressing room to chat with Hulk and the issue of who was "over" was settled right there.
Vince told everyone that Hulk was "up" and we would discuss things further later.  As the match was put together, there was a spot Hulk wanted to "get the crowd" and it involved me! If you go back and look at the "spot", it was when I counted "3" without realizing Hulk's foot was on the bottom rope.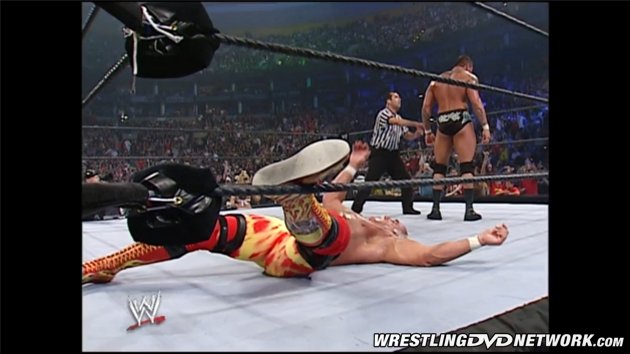 Hulk was very specific in what he wanted from me, he told me, "'Brother', you really need to sell the moment and sympathize with what just happened!" He told me how to react and to use my facials to really get the spot OVER!
Here again was another surreal moment; Hulk Hogan giving me pointers on what he wanted me to do to enhance the match. As we concluded going over the match, we all went our separate ways. I snuck out to call my younger brother, who to this day is a huge Hulk Hogan fan. My brother thought I was pulling his leg when I told him what match I had. He kept asking, "are you sure, are you sure?" He couldn't believe it, and he mentioned, "remember when we went to see Hulk Hogan, now you're going to be on PPV with him!" He told me he was proud of me and told me he'd be watching.
As a WWE referee, you have certain duties such as ring crew, locker room, check-in and other duties as needed. I was in charge of the lineup board just outside of the "Gorilla Position". As I was writing up the board, I was smiling ear to ear writing my name next to Hulk Hogan's, as I again flashed back to the times I went to see him wrestle.
As the show started, I went to ask Hulk if everything was good and to make sure nothing had changed. I went to talk to Randy Orton as well, and Randy was good, too. As I left, Randy said, "have fun, I know what you're feeling! I remember seeing Hulk Hogan wrestling my dad (Cowboy Bob Orton) when I was young, and to be wrestling him today, is surreal man!"
Picture Of The Day! Hulk Hogan's Final WWE Match Vs Randy Orton, SummerSlam 2006. @HulkHogan #WWENetwork #WWE pic.twitter.com/ucuJ9x82wJ

— WWE Today In History 🌐 (@WWE__History) May 10, 2015
It was now time and I went up to "Gorilla Position", and to the ring. As I stood there in a sold-out building, I couldn't help but get emotional! As the video package finished it was time! Randy made his entrance first and then what felt like forever, Hulk Hogan's theme "Real American" hit! I then got emotional and choked up as I was standing there in a WWE ring waiting for Hulk Hogan to enter!
That feeling of achievement and all the hard work was beyond anything I had experienced up until that point. Knowing my parents were watching was an added bonus! Needless to say, the match went on without a hitch. As I stood raising Hulk Hogan's hand in victory I thanked God for such a blessing! After the match, Hulk stopped me in the hallway and told me, "great job!"
With that said, always live like there's no tomorrow, shout at the devil, and know life is beautiful! Treat others with love and respect and be a good human being.
Follow Marty Elias on Twitter @Marty67Elias, and be sure to catch the latest episodes of Lucha Underground on the El Rey Network.