Let's cut right to the chase – Matt Stafford is a mediocre quarterback on his very best day.
Unfortunately, we live in a stats driven society in which fans favor personal numbers (see recent Antonio Brown drama) over the inability of a quarterback to win for his team when it matters most (see Tony Romo's entire career).
Given the above, Detroit Lions head coach Matt Patricia finds himself in a very troublesome spot as he looks ahead to his sophomore year at the helm following an ugly 6-10 start.
The first postseason move The Lions made was to fire offensive coordinator Jim Bob Cooter, and the reality is Cooter's firing will be tantamount to putting a band-aid on a corpse. At the end of the day, even the best offensive coordinator in the world cannot improve Stafford beyond a b-level QB, and any great offensive coordinator knows joining The Lions is a direct path to the unemployment line within three years.
This brings us back to Matt Patricia, who is effectively caught between a rock and Matt Stafford, or as a friend of mine calls him, Pat Statfford, considering he and his fans cling to stat patting to justify a career filled with stacks upon stacks of disappointing seasons. Stafford has solid personal numbers on paper, but also carries with him a proven track record of consistently throwing game losing picks, and the embarrassment of his three losing playoff efforts. He might send your fantasy numbers north, but he's never actually won the north, and it remains doubtful he ever will.
[lawrence-related id=868460]
Stafford defenders will blame coaching or a weak offensive line when it comes to diagnosing The Lions' problems, but Eric Ebron is tearing it up in Indy after a subpar run in Detroit, Jim Caldwell, Jim Schwartz and Matt Patricia are Super Bowl winning coaches, and many quarterbacks have had far greater success than Stafford when paired with mediocre offensive lines. Besides, The Lions cannot afford to build up an offensive line considering Stafford has pocketed the entire team's salary. Simply put, when Stafford signed his contact extension with The Lions, it made him the highest paid player in the NFL at the time. On what planet does Matt Stafford belong making more money than Aaron Rodgers, Tom Brady, or even the Cleveland Browns' waterboy?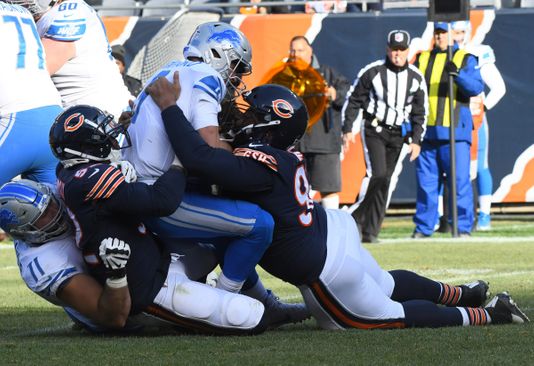 The pressure is on Matt Patricia to win and win now, as evidenced by the Lions firing Jim Caldwell after winning nine games in the 2017 season. But how can Patricia win with Stafford leading the charge? The Lions can't get rid of Stafford as no team will take his absurdly high contract, and no coach will publicly admit his QB is second rate. Especially when Stafford is the only "name" on an NFL team that shuffles backs and receivers more than a dealer does a pack of cards.
In the end, Matt Patricia's dilemma remains: he can't win with Stafford and he can't get rid of him. So in two years, when The Lions miss yet another postseason, will team management finally consider sending Stafford to the chopping block? Or will a new coach suffer the fate of history in The Motor City?