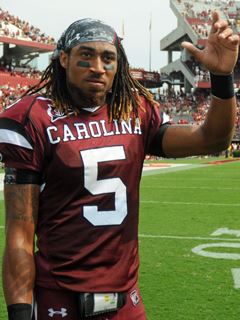 Sources: The Bills are not making the playoffs.
Sorry kids, but I hate to break the "Santa Claus or the Easter Bunny isn't real" newsflash, but I don't see them winning 5 of their next 6 games. The playoff drought is going to be old enough to see an "R" rated movie. Hello, BOOBS!
At 5-5, this Bills season basically feels like the same as almost every year since the drought. Sure, you are looking at the schedule and wondering if the Bills can somehow sneak in the playoffs like you are looking at trying to fit a new couch in your studio apartment door, but for most part it's the same stuff. The Bills feel like an average football team in a terrible conference and their hopes rest on other teams being worse.
To me, the next 6 games aren't about this season, but about the seasons ahead of us. It's about the young core of players who may or may not be on their way out. I'd like to hit up Stephon Gilmore since he's been hit around a lot this season. Let's be honest here, if you are reading this piece still (High-five), you've probably taken a colossal shit on him.
I've been a Bills fan for awhile now and if there's one thing I'd warn players about if they play for our city, it's playing during your contract year. You make one mistake and it's manifested X 1000. Nate Clements went through it it in 2005 and 2006. I remember a trainer duct-taped "Playmaker" on his locker room and it became a flippant talking point in articles or when fans wanted to take a dump on him. The Bills didn't pay him and rolled out Jason Webster in 2007 and he sucked. The Bills went from 6th in passing defense in 2006 (With Clements) to 28th in 2007 (Without Clements). And you know what? Not many people wanted him back cause they didn't want to pay him (More on paying someone later) and they were outraged because "Playmaker" was on his locker.
Then we got Jason Peters. You remember him? The franchise left tackle who was being paid like a franchise kicker. Peters was a hell of a player and still is to this day. Yeah, he held out in 2008 and wasn't nearly as good as he was in 2006 and 2007, but holy crap did fans and media forget about what he did the previous two seasons. "YOU PLAY OUT YOUR CONTRACT!!" was echoed even though NFL contracts aren't guaranteed (More on guaranteed contracts later). The Bills traded him for a 1st round pick which became Eric Wood (Note: Wood is a nice player, but he's not nearly as good as Jason Peters is), but the offensive line was a disaster in 2009. The Bills rolled out Demetress "Don't call me Karl Malone's son" Bell as their LT and he was awful. The Bills had 3 players who never started an NFL game on the OL in 2009 and the talent and inexperience showed. The Bills went from giving up 38 sacks to 46 sacks.
We can hit up Jairus Byrd who some were questioning his toughness about sitting out during the first month of the season in his 2013 franchise tag season. I know, you think the Bills made the right decision with Byrd because he's struggled with the Saints. HOWEVER, how many people have been bitching about the safety position for the Bills this season?
Now we get to Stephon Gilmore, whose criticism has easily eviscerated the above players mentioned. Has he struggled this season? Yeah, at times. But guess what? He's easily been the Bills best defensive back this season. He shut down Larry Fitzgerald and he's been playing well the last two weeks. If you let Gilmore go, your secondary is going to look awfully thin and I'm not about to anoint Ronald Darby and Robey as my #1 and #2 corners to go along with a band-aid at safety right now.
However, because Gilmore's due a large contract (More on that later, promise), anytime he makes a mistake, it is as if he allowed a Super Bowl game winning TD. He had 2 picks on Sunday and there will still people who were completely shitting on him. "Oh, the ball was thrown right at him and he allowed a 3 yard TD" WHAAAAT?! Like guessing the route or not having the ball thrown your way or when the safety fucks up coverage on a TD doesn't count???
[Editor's note – I'd also point out that of the two interceptions, the second where he peels off his zone to assist and winds up making the pick was not only athletic, but a sound football IQ move. Carry on – Rich]
And the on the field play is just the half of it! I'm seeing dipshits on Twitter or in the media pissed off that he did a jersey exchange with Richard Sherman? Big fucking deal. Google jersey exchange and see how many fucking players do this. I got Vic "I pray that Bill Polian returns to the Bills to give me exclusives" Carucci who wrote a piece last week where the headline says "player questions Rex Ryan's defense". If you got past all of the ballyhoo of Vic talking about Stephon, here was Gilmore's death knell quote:
"We probably play the most man in the league," he said. "You can't name a team that plays more man than we play, so you've got to stop everything. You can't just play vertical passing game. You've got to stop every route."
That's calling someone out? I'm not a journalism major over here, but my reading comprehension is telling me this an observation, not a criticism. Then we can hit up Jerry Sullivan and Bucky who tweet out that Gilmore isn't worth half of what he'll get in the open market (This is where I mentioned Gilmore was ranked in the top 15 at CB by PFF in 2014 and 2015). Sullivan has even bitched about Gilmore's body language which is such a crap observation. Like these guys are fucking robots or players don't get frustrated when assignments are missed.
I've seen Richie Incognito throw a Dolphins helmet across the field. I've seen Rex Ryan call out Gilmore this year. Anyone have an issue with those? Of course not, because Stephon is about to get paid (More on that later) .
Any while I'm circling the wagons on media takes, how about WGR and specifically, Jeremy White. Jeremy has been the biggest Gilmore fan since 2012. It's been his go-to talking point when it comes to trying to wile up fans because he felt Gilmore was elite and fans didn't know what they were talking about when it came to criticizing him. And guess what happens over the summer? White decides to say "Thanks, but no thanks" when it comes to paying him. Really? He's elite, but you wouldn't pay him.  Call it a hunch, but I'd bet dollars to donuts the Bills have basically leaked out that Gilmore wants too much money and once some of these guys hear that a player wants too much money and probably isn't coming back, well, fuck them, why should I stick up for them if they are leaving town?
I think a lot of bloggers and fans on Twitter have adapted this heel turn because they know there's a good chance he's leaving. When you are a good player and there isn't a hint that you are leaving the #billsmafia, you are NWO 4-life. But when they think you are dead man walking, you aren't viewed the same and it's easier to take shots. When Kiko Alonso was here, he was Jesus to Bills fans. When they traded him, he wasn't as good as Preston Brown or Nigel Bradham.
And here comes the contract part that I've been teasing. Why the fuck do any of you care about what Gilmore is going to get paid? Is it your money? No. It's Terry Pegula's money and I've seen enough football contracts to know that you can basically manipulate the cap to not have a giant cap number. Hell, the Bills saved money on their cap when they gave Glenn a new contract. The Saints gave Byrd a 50-million dollar deal when they were like 2-million over the cap. Also, for those who think he's not going to get paid 15-million by an NFL team, well, I got news for you…Teams overpay players. Mario Williams wasn't a top 5 defensive player, yet, he was paid like one when he hit FA. Same went for Nate Clements. Teams always pay players who are like Gilmore. Guys who had 2-3 really good years and are still in their 20s will get paid.
They always do.
Futhermore, you can get the hell out of a contract since…wait for it.. [Blows into the Knight's Watch horn on The Wall] NFL contracts aren't guaranteed!!! Yes, Tyrod Taylor isn't going to get 90-million dollars just like Mario Williams didn't get 100 million. Additionally, the Bills have 20-million in cap space right now for next year and I'm going to assume they can get more by reworking deals. So, why is everyone pissed?
Yes, Gilmore has had his ups and downs, but I'm willing to bet the Bills being mediocre and the 17 years of playoffs has made everyone an asshole. Plus, fans/media are obsessed with how much these players make. It makes it easier I guess to ridicule someone if they "Aren't earning their 90-million dollar contract" when it comes to writing hawt takes while forgetting that contracts aren't guaranteed. It also gives lamestreamers another way to shit on a player while bringing up their salary and fanning the flames of a fan who probably hates these damn millennials who make a shitload of money. Hey, greed is good, but when it's not your greed, it sucks.
So, now comes the question..Would I…Joe BuffaloWins guy, re-sign Gilmore? My worry is simple: What is your plan if Gilmore leaves? You going to draft a CB within the first 2 rounds when you probably want to draft a safety, tackle, 2 WRs, and maybe a QB? You going to roll out Darby/Robey/Seymour as your main CBs? You going to use that money to pay for another WR (Note: Are there any out there?). This is not a SLAM DUNK GTFO that some are making this out to be. I've seen one too many Jason Websters and Demetress Bells walk in through the doors over the years to go along with drafting a RB in the 1st round because you didn't want to pay Henry…and then McGahee…and then Lynch.
Fuck it. I'd sign him because it's not my money and I know Rex's defense needs his CBs to be better than Jason Webster.